Zimbabwe holds largest anti-Mugabe protest in years
Agency Staff | April 14 2016 | Business Day
HARARE — Demonstrators in Zimbabwe held the largest protest against President Robert Mugabe in nearly a decade on Thursday, marching through central Harare demanding that the 92-year-old leader make a "dignified exit."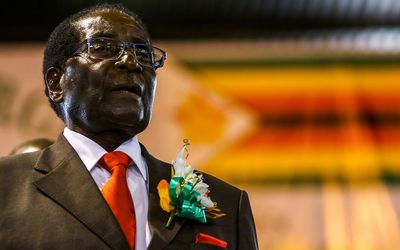 Under the watchful eye of riot police, more than 2,000 supporters of the Movement for Democratic Change (MDC) carried anti-Mugabe placards and sang party songs before their leader Morgan Tsvangirai gave a speech attacking Mr Mugabe's rule.
Anti-government protests have often been brutally broken up by police under the authoritarian regime of the president, who has been in power since independence in 1980. Mr Mugabe remains active but his increasingly fragile health has sparked intense speculation over his successor and the fate of the country when his rule comes to an end.
Zimbabwe has suffered years of economic collapse and mass emigration during an era marked by intolerance of dissent, vote rigging and accusations of human rights abuses. "Mugabe has no solution to the crisis," Mr Tsvangirai said in a brief speech to supporters gathered in Africa Unity Square wearing T-shirts in the party's red colours.
"We are here to tell Mugabe and his regime that you have failed. "We are not demanding an overthrow of the government… We are demanding a dignified exit for the tired Mugabe.
"It's time Mugabe listens to the voice of the people. The people shall liberate themselves." The march, which had been authorised on Wednesday in a last-minute court ruling, was peaceful, with police on duty in full riot gear armed with batons and water cannon.
"This is a demonstration against poverty and corruption," Douglas Mwonzora, an MDC party spokesman, told journalists. "We have an empty promise of 2.2-million jobs which are not there. We have massive corruption." The MDC has vowed to hold more protests around the country, which is also beset by severe food shortages worsened by its economic decline since the controversial seizures of white-owned farms since 2000.
"Old clueless Mugabe must go," read one protest placard, while another said "Enough" in Zimbabwe's three main languages. Marchers were greeted by blaring car horns, and clapping and whistles by onlookers, including some people waving from windows in high-rise buildings.
Mr Mugabe, who still gives fiery 90-minute speeches on his feet, is expected to stand again for election in 2018. The ruling ZANU-PF party has been riven by factional fights over his succession, although officials have sought to downplay any divisions.
Regime loyalist Vice President Emmerson Mnangagwa is viewed as the likely next leader, with Mugabe's wife Grace, 50, also a possible candidate. In the 2013 presidential election, Mr Mugabe won 61% of the vote against 34.9% recorded by Mr Tsvangirai, who dismissed the result as rigged.
The MDC has suffered several splits and appeared to have lost public profile in recent years. David Sibanda, 40, one of the protesters at Thursday's rally, said he had not found formal employment since completing high school.
"We want the government to create jobs and for them to craft policies that attract investment," he said. The last big demonstration in Harare was in 2007 when police beat up Mr Tsvangirai and other political leaders who had gathered for a prayer meeting.