The map that shows the countries with the least press freedom in the world
Katie Foster | Saturday 23 April 2016 | The Independent
The UK is described as having a 'satisfactory situation' but has dropped two places in the 2016 World Press Freedom Index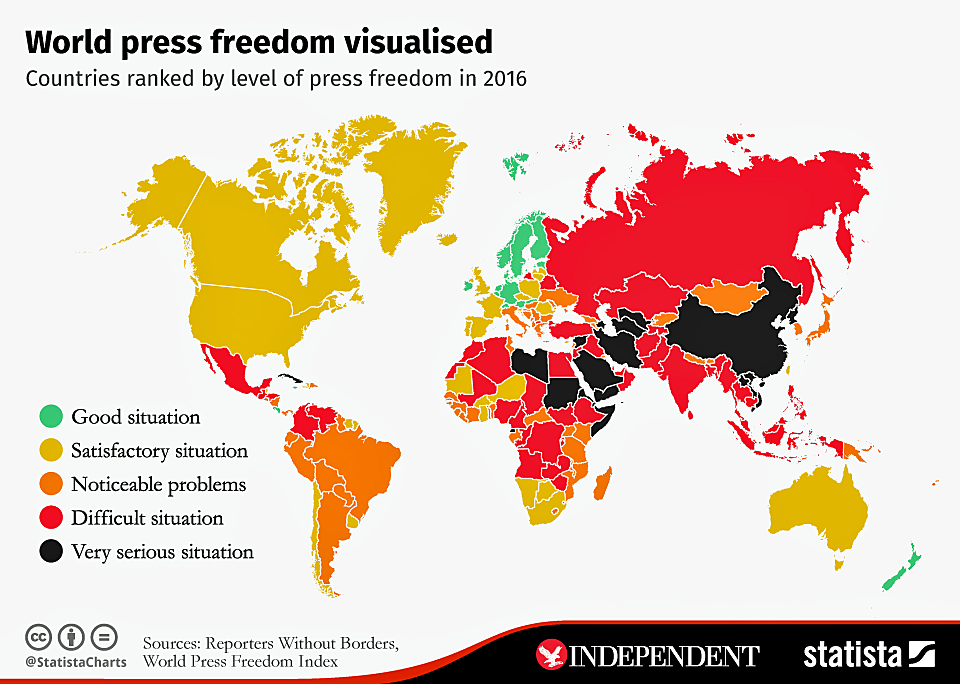 This map shows the countries where journalists are free to report the news – and the places in which the media is most strictly controlled.
The nations with the least press freedom are Eritrea, North Korea and Turkmenistan.
The UK is rated as having a "satisfactory situation" – worse than Germany, Ireland and Costa Rica which are all described as having a "good situation".
The map, created for the Independent by statistics agency Statista, uses data from the Reporters Without Borders (RSF) 2016 World Press Freedom Index, which assessed how much freedom the media holds in 180 countries.
Press freedom around the world has fallen by nearly four per cent since last year, according to the report's measurements.
The secretary-general of RSF, Christophe Deloire, wrote in a statement that many world leaders are "developing a form of paranoia about legitimate journalism", resulting in clampdowns on debate and independent reporting.
The country with the highest degree of press freedom is Finland, followed by the Netherlands, Norway, Denmark and New Zealand, which are all classed as having a "good situation" when it comes to reporting.
While Europe is still by far the continent with the highest degree of press freedom – followed by Africa, which overtook the Americas for the first time this year – it is far from perfect and the situation is worsening, according to RSF.
"The continent that respects media freedom most seemed to be on a downhill course," RSF said in its report.
"Counter-espionage and counter-terrorist measures were misused. Laws were passed allowing mass surveillance. Conflicts of interest increased. Authorities tightened their grip on state media and sometimes privately owned media as well," it said.
Read more