Stage Five of the Tour Eritrea 2016
23 April 2016 | shabait.com
Asmara, 23 April 2016 – The fifth stage of the Tour Eritrea 2016 "Tour of Resilience and Development" consisted climbing long distance mountains and the expectation to observe breakaways, attacks and counter attacks was very high. As expected the attack and counter attack started in  Dongolo area.
The fifth stage conducted today was the last stage of the Tour Eritrea 2016 from Massawa to Asmara covering 133 k.m passing through  Dogali, Gahtelay, Embatkala and Nefasit to Asmara. It presented one intermediate sprint as well as four climbs.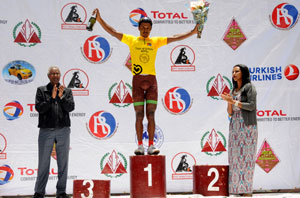 Given the hot weather the race started half an hour before scheduled time at 7:30. And at nearly 24 km the riders where still traveling in one group at a relatively slow speed, without any attempts of breaking the main field.
The intermediate sprint was in Mai Atal 29 km away from the starting point:  Zemenfes Selomon (Tsinaat), Meron Teshome (Bike Aid), Amanuel Menghis (Bike Aid) and Aron Debretsion (Eritrea) made the cut.
Near to Dongolo area a rider from team Rwanda tried to escape but the captain of team Salina, Dawit Haile stopped him; he raced in the front in a bid to slow him and eventually to stop him from making any attack.
The Dongolo climb of category 2, approached after the coverage of 55 km, with that Dawit Haile scored 5 points, followed by Kibrom Mahari (Tsiinat), Hanibal Tesfay (Salina) and Amanuel Million (Eritrea)
At almost 23 km left to the finish line in Asmara, Joseph Areruya  (Ruwanda) started to attack and led the race for some km until Million Amanuel caught in the final few kilometres.
Finally Million Amanuel (Eritrea) was the winner of the stage finishing the race in three hours, fifty eight second and fifty nanosecond while Joseph Areruya from Rwanda finished second.