The Worst Dictatorship You've Never Heard Of
Jeffrey Smith |
Gambia is facing its biggest protest movement in years. It will either be a breakthrough or a bloodbath.
Since taking power in a bloodless coup in 1994, Yahya Jammeh has presided over the worst dictatorship you've never heard of. The eccentric Gambian president, who performs ritual exorcisms and claims to heal everything from AIDS to infertility with herbal remedies, rules his tiny West African nation through a mix of superstition and fear. State-sanctioned torture, enforced disappearances, and arbitrary executions — these are just a few of the favored tactics employed by his notorious security and intelligence services.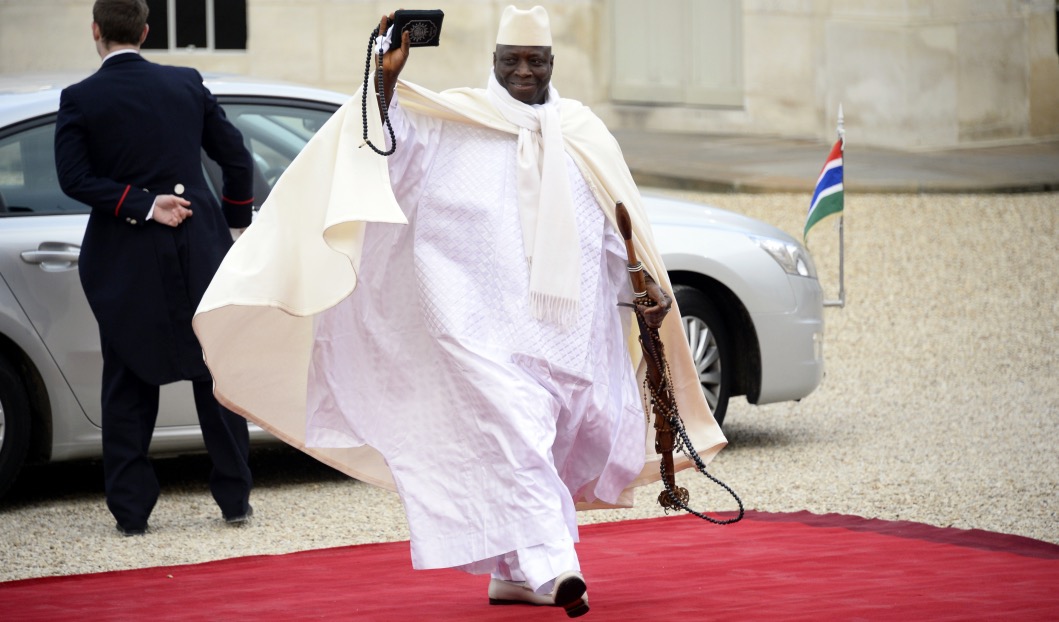 Elsewhere in Africa, rights advocates have increasingly lamented a plague of "third-termism" as more and more leaders move to scrap constitutional limits in order to remain in power. But in Gambia, Jammeh will probably cruise to a fifth five-year term in elections scheduled for December. That is, of course, unless the unprecedented wave of protests that began last week boil over into a full-fledged popular revolt.
Tensions have been slowly building in Gambia for years, not least because of the repressive security environment, widespread corruption, chronic food shortages, and terribly mismanaged economy.
Gambia ranks dead last in West Africa in terms of GDP per capita, the only country to experience a decline since 1994
(Gambia ranks dead last in West Africa in terms of GDP per capita, the only country to experience a decline since 1994.) But Jammeh has mostly succeeded in keeping discontent in check, in part because of Gambia's Indemnity Law — signed by the president in 2001 — occasioned by an incident the previous year in which security forces opened fire on a group of student protesters. In total, 14 people were murdered in broad daylight. The new law gave the president sweeping powers to prevent security forces from being prosecuted for quelling "unlawful assembly."
On April 14, however, long-simmering frustrations inevitably boiled over. Scores of Gambians bravely took to the streets that day to demand electoral reforms before the December elections. Unsurprisingly, Jammeh's riot police cut the demonstration short, roughing up protesters and firing tear gas to disperse the crowds that had gathered in a seaside suburb of the capital, Banjul.
The regime's initial response to the protests was actually quite subdued when compared with similar events in Gambia's past. But citizens mobilized again two days later, on April 16, staging the largest and most sustained act of public defiance against Jammeh since he seized power more than two decades ago. This time, the agitated police responded more forcefully, spraying demonstrators with live ammunition and assaulting people in the streets. In total, 55 people were reportedly arrested; many of them were brutalized in detention.
Most shockingly, Solo Sandeng, the leader of the youth wing of Gambia's main opposition movement, the United Democratic Party (UDP), was allegedly tortured to death while in state custody. After news of Sandeng's death broke, the UDP once again rallied, marching peacefully through the capital to demand answers. And once again, riot police rushed to the scene, arresting Ousainou Darboe, secretary-general of the UDP, and other senior members of the party. According to a UDP news release issued on the evening of April 16, over two dozen party members were reportedly detained and three people were killed, including Sandeng. Many of them have been charged with "unlawful assembly," among other crimes, but the party has said it will organize more demonstrations in the coming days.
U.N. Secretary-General Ban Ki-moon, the African Union, and the U.S. State Department all condemned the Gambian government's severe response to the peaceful protests, the latter urging the government to exercise "restraint" and "calm." But if the UDP goes ahead with its plan for more protests, there is a risk that Jammeh's paranoid government will respond with additional deadly force. In fact, the president has already threatened that "protesters will not be spared" and blamed Western countries for instigating the unrest.
It is for this reason that the United States should move beyond rhetoric and sanction Jammeh's regime for its clear record of abuse. It should impose travel restrictions on individuals implicated in grave human rights abuses and freeze the U.S. assets of Jammeh, his immediate family, and members of his inner circle. Jammeh's lavish $3.5 million mansion in Potomac, Maryland would certainly be a good place to start.
Part of the reason Jammeh's government is so jittery is that it weathered a coup attempt less than two years ago. In December 2014, an unlikely band of diaspora members — including two U.S. Army veterans and a Minnesota businessman — staged an assault on the presidential palace while Jammeh was outside the country. The putsch failed and the regime responded with fury, sentencing eight alleged coup plotters to death and indiscriminately jailing scores of Gambians suspected of being associated with them, some as old as 84 and as young as 14.
The crackdown drew harsh rebukes from rights activists, but it was later revealed that the United States may have indirectly tipped off the Gambian government that a coup was in the works. According to the Washington Post, the FBI had been monitoring some of the plotters' communications, and the State Department later informed another West African nation that one of them had left the United States in the hopes it would intercept him. Despite Jammeh's egregious rights record, the U.S. government has largely refrained from speaking out against him over the years. (The Gambian leader was welcomed to the White House as recently as August 2014, when he attended the first-ever U.S.-Africa Leaders Summit.)
But in truth, the tide had begun to turn against Jammeh months before the attempted coup, when he signed a harsh anti-gay law as part of an overhaul of the country's penal code. The European Union responded by suspending $186 million in aid while the United States made Gambia ineligible for the African Growth and Opportunity Act, a trade preference program that provides duty-free treatment to U.S. imports from sub-Saharan Africa, making it the only nation besides Swaziland and South Sudan to lose eligibility because of its dismal human rights record.
International isolation has made Jammeh only more vulnerable at home
International isolation has made Jammeh only more vulnerable at home. Before last week's protests, Gambia's notoriously fractious political opposition had begun to piece together a unified front, with top decision makers from different political parties putting forward a common agenda: namely, unseating Jammeh at the polls in December.
But even if the opposition works together, it will be fighting an uphill battle against Jammeh's ruthless political machine. So blatant was the government's intimidation of the opposition during the last election in 2011 that the Economic Community of West African States refused to send observers — an unprecedented move for the regional bloc. That is why it's crucial that international donors, namely the United States, both invest in Gambia's newly unified pro-democracy movement and signal to Jammeh that his government's brutal and ongoing crimes will no longer be tolerated.