'The gold sector is a charade': Randgold boss Mark Bristow digs in
Jon Yeomans |
By his own admission, Mark Bristow likes to have "fun". His latest scheme is to spend 30 days motorbiking across central Africa, from Mombasa in Kenya to the mouth of the Congo River in the Democratic Republic of Congo – a 5,000-mile odyssey that is not, he says with relish, technically possible. "Trying to cross the equator that way – you can't really do it because of all the rivers in the DRC. It's never been done before." Bristow and his teammates will have to take a roundabout route. "It's going to be hectic," he says.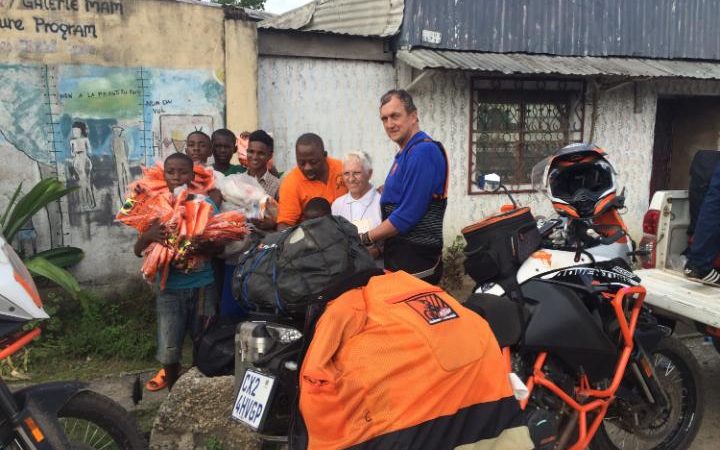 "Hectic" adventures around Africa might be a fitting summary of Bristow's career. Trained as a geologist, he co-founded Randgold Resources in 1995 and has been chief executive of the gold miner ever since, pursuing deals across west and central Africa and building it into a £6bn business. It listed on the FTSE in 1997.
Randgold has survived the recent downturn in commodity prices better than some of its FTSE 100 peers. While the big diversified miners – who dig up everything from iron ore to zinc – have reported huge losses and cut shareholder payouts, Randgold has been hailed as the "best house in a bad street". The company was able to raise its dividend by 10pc – a rarity in the mining sector. None the less, it reported a 26pc slump in pre-tax profits to $260m (£178m) in 2015, on the back of a 9pc fall in gold prices. Randgold presents its first-quarter results on Wednesday. "We are the only gold company on this planet of any size that hasn't impaired," Bristow points out.
In theory, it should be a good time to be a gold miner. Turmoil on the markets and political uncertainty across the globe has pushed up the price of the metal to around $1,280 an ounce, from a six-year low of $1,050 in December. Randgold can break even at $770 an ounce, Bristow says, putting it in a stronger position than its rivals.
"The gold sector is like a charade. It all looks fine, the gold price is up – but it's not changing anything," Bristow says. He is frustrated by competitors putting "unprofitable" gold on the market, and gobsmacked when he sees companies "who should really be out of business" raising hundreds of millions to fund their ventures. While Randgold is debt free, Bristow sees indebtedness across the sector. "Operationally, gold at $1,200 doesn't save the industry. Everyone's showing you a good picture, but it's an unsustainable picture at these sort of gold prices."
Bristow is bullish on the medium-term outlook for the metal, even if the price is currently "$150 higher than it should be". But "the next six months will not be a comfortable place to be in; it's going to be volatile as people try and work things out". This includes mergers between the junior players, Bristow predicts.
M&A opportunities for Randgold have been thin on the ground, despite the company announcing at the end of last year that it was on the lookout for "the next big thing", after backing out of a deal in Ghana that didn't fit its criteria. "In any other industry this would be Christmas for M&A. We just can't find the stuff that makes good sense [to buy], and we look all the time," Bristow says.
Randgold chased a few of the "really big fish in the gold industry" when prices were low last year, Bristow reveals, but their targets recovered their poise. "There was a time when the big guys were really struggling. We had a lot of support from the big pension funds and we tried our best, but we couldn't break the door down."
With "razzmatazz M&A" off the table for now, Bristow's answer is to go back to the company's roots as an explorer, scouring Africa for mineral rights and looking to grow its footprint in the countries in which it already operates: Mali, DRC, Ivory Coast and Senegal. The struggles of the juniors present an opportunity for Randgold: "In a bull market you just don't have access to the ground because the juniors pay more and governments start doling out [mineral rights] to other people. But in a bear market like we are now governments are only too happy to have us come in and spend money. We're one of the few explorers who are spending."
True to his geologist background, exploration is one of Bristow's passions – and one of his frequent bugbears. Randgold has made loud and repeated claims about the importance of looking for the next resource, to replace the metal that has already been found. "The gold industry has no pipeline to speak of," Bristow says.
Not content with putting the gold sector to rights, Bristow has plenty of stark opinions on mining in general, particularly its short-termism. "The mining industry exploits everything, and it's got worse since I started," he says. "What we did, 20 years ago is, we said, 'fundamentally we want to be profitable'. In that first assumption, you separate yourself from the rest of the industry, because the industry's about exploiting the moment rather than long-term profitability." And being profitable, he adds, means that off the bat you pay tax.
Born in Estcourt, South Africa, Bristow had a first taste of the "hectic stuff", as he describes it, during a one-year stint as a conscript in the army in 1978, when he saw action in Namibia and Angola in the South African Border War. "We were getting a hiding," he recalls. "It was a big learning experience for me personally… Realising that the people on the ground don't like you or the other side." From the army Bristow went straight to university, where he recalls the anti-apartheid demos of the 1980s that convulsed South Africa. "I was a big supporter of the change and [I remember] being bashed around by the nationalist party because we wanted blacks in our university. A very interesting time."
Age: 57
Education: PhD in Geology, Natal University, South Africa
Family: married with two grown-up sons
Lives: London, the US, South Africa and Mauritius
Rides: Huski 701
Today Bristow praises the "potential" of Africa, speaking with real pride about Randgold's policy of employing local people and forging partnerships, while laying some typically strong charges at the door of the industry. "We want to find the best businessmen in the country in which we operate… We don't drag in foreign service providers with us. The mining industry is terrible about ex-patriots, it's racist: if you're white, you're clever; if you're black, you're stupid."
Bristow argues that in countries such as Mali, where there are relatively few industries competing for talent, Randgold has its pick of the crop. "You've got the whole bell curve of intellect available to you in that country. You should see the type of people we've found." The senior management at Randgold's three mines in Mali are all African: "They operate more efficiently because they know the culture, they speak the language." It doesn't hurt, too, that many of his managers went to university with the politicians who are now in power – helping Randgold "interface" better with the governments who grant it mineral rights.
Mark Bristow can work up quite a head of steam when in full flow, but is momentarily stunned when reminded that he is now the FTSE 100's third longest-serving chief executive (and he will become its second longest when Admiral's Henry Engelhardt steps down on May 12). "It makes me feel old!" he laughs, shaking his head. "It's amazing. It just shows you."
However, Bristow is quick to insist that he has no plans to leave, though Randgold has discussed succession planning. He talks of "deepening the DNA of the organisation", and having a strong set of country managers so that any transition will be seamless. But it's clear the appetite to go another few rounds on the frontier is still there. "I think I'd like to build another mine. Either another mine or another big deal. That's a good time to go out," he says.
Having built Randgold from scratch, Bristow can hardly be blamed for not wanting to relinquish it. "When I started Randgold, it was a mission. Start-ups take time. But you've gotta work through the cycle," he says. It's a process he's going through all over again with an oil and gas start-up he has invested in, which has "sucked a lot of my money", as well as a diamond business in South Africa. And then there are the motorcycle jaunts, on which Bristow embarks every two years, raising money for his Nos Vies en Partage Foundation to fund social initiatives in Africa.
"I'm motivated," Bristow says, jolted into a reflective mood as he ponders his elder statesman role. "It's the difference we make to people's lives every day – it's the ability for us to challenge countries and governments about what they do with their natural resources. What I set out to do was prove to people that you can go to Africa and create value with Africans. That for me has been the most rewarding.
"So to be in the FTSE and be able to present that story, it's got to be encouraging for Africa."