Bahrain's Dragon City: China's Megamall Ambitions in the Middle East
Sara Birkenthal | Foreign Affairs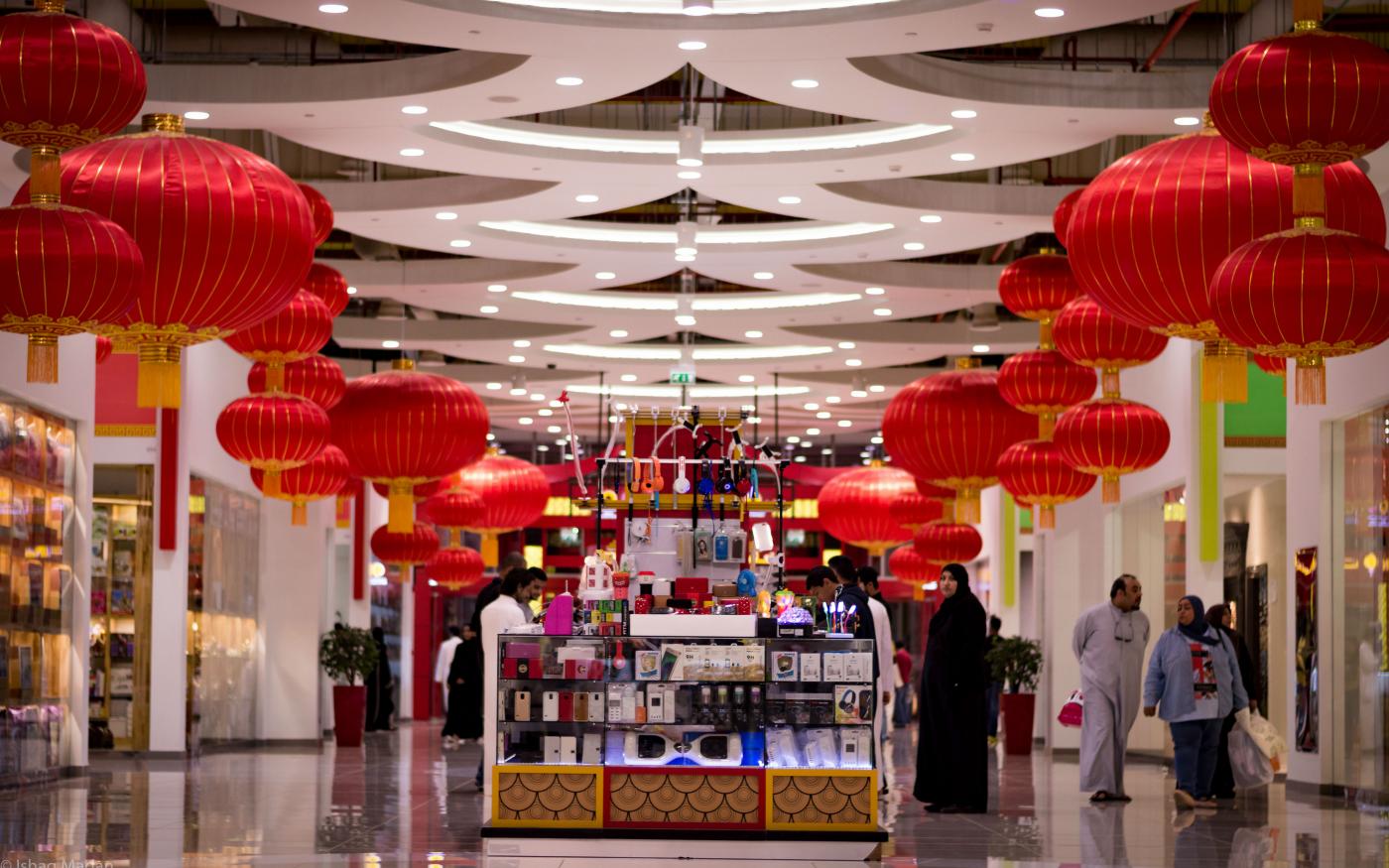 The pagoda-like buildings of Dragon City, a Chinese megamall, is an odd vision in the desert landscape of Muharraq, the third-largest city in Bahrain. The large complex, laid out in a traditional Chinese courtyard style, sports cavernous hallways lined with larger-than-life red lanterns hanging from industrial-looking ceiling beams. As I browsed a store designed to look like a high-end watch retailer, the afternoon adhan, or call to prayer, began to echo through the halls. Shoppers made their way to the specially designated male and female prayer rooms located on the ground floor of the mall. Many of the shopkeepers who were Chinese remained in their stores. One salesman hummed along with the call to prayer as he folded bedding. The emptying halls revealed an endless array of items for sale: light-up sneakers, crystal chandeliers, traditional Gulf incense, and custom-tailored abayas. And that was just the section for commercial goods. Another wing was devoted entirely to industrial items. There, I was greeted by a young shopkeeper named Zhu selling jet skis. She was originally from Beijing, but had just arrived the day before from Dubai, where she had lived for two years.
Zhu is but one of the thousands of Chinese workers who have come to the Gulf for better opportunities. The region is part of China's so-called New Silk Road project, which connects Chinese companies to markets in the Middle East, Africa, and throughout Asia. And Dragon City is an important brick in the road. As China's GDP growth slows, President Xi Jinping is looking for new channels to sustain the country's growth, and the ambitious New Silk Road project is part of the solution. At the heart of the initiative is the creation of a trading route that retraces the original Silk Road and aims to offload some of the country's excess labor and goods to places such as the Middle East.
Dragon City represents a sizeable investment of $100 million on the part of Diyar Al Muharraq, the Bahraini company that developed the mall. But it is managed by a Chinese company called Chinamex, the same one that oversees Dubai's Dragon Mart, the largest Chinese retail and wholesale trading center outside of China. But there is some ambiguity as to who both Dragon Mart and Dragon City's investors are and whether they are tied to the Chinese government.
Dragon City is located in a sparsely populated area in the far north of Bahrain that Diyar Al Muharraq is developing by building a number of housing compounds and shopping complexes. Zeid J. Kong, Chinamex's vice president, was a former member of the Chinese diplomatic corps. In December 2014, the Chinese government issued a call for Chinese companies like his to "go global." Although large Chinese companies, primarily state-owned enterprises, found opportunities outside of China, many small and medium-size business didn't have the resources to expand internationally. But projects such as Dragon Mart, and now Dragon City, which have China's support, even if it is not directly, allow smaller companies, such as the retailers, to set up shop inside the mall.
Dragon Mart in Dubai attracts two million customers annually, offers around one million different types of goods, and grosses billions of dollars for its enterprises. According to Kong, its success has come alongside a dramatic increase in bilateral trade between China and the United Arab Emirates, which has nearly doubled since 2004, the year when Dragon Mart first opened. Although it's unclear how much Dragon Mart contributed to the increase in China-UAE trade, the type of commerce carried out by the mall's retailers is certainly included in trade statistics. And so projects like Dragon City do play a role in trade relations with China.
So far, Dragon City, which opened in December 2015, has attracted a substantial number of Chinese investments, including from hundreds of Chinese industrial and trade companies, according to a Bahraini state news agency. Dragon City's management said that the complex incorporates over 780 commercial units for both retail and wholesale trade. Of those, 400 tenants are Chinese, leaving the remainder to Bahrainis and a small percentage to Western companies. The occupancy rate of the commercial center has already reached 95 percent.
Chinamex said it could not offer data about the facility's profitability but explained that business peaked during the first month the mall was open, then declined, and is now rising again. It also noted that although only 70 percent of its stores are open to the public at the moment, it hopes 90 percent will be ready for customers by May.
It seems unlikely that there will be enough demand to meet the vast supply of goods that the mall offers. Even after the afternoon prayer, the entire mall was jarringly empty, especially given that by that time, it was a Thursday—the beginning of the weekend in Bahrain. At 1,200,000 square feet, the mall's sheer size made its lack of foot traffic particularly apparent. The staff at a variety of stores said that with the exception of the weekends (Thursday night through Saturday in Bahrain), Dragon City doesn't attract as many customers as the mall is designed for and often feels quiet.
The sales staff I spoke with said that many potential customers only browse and don't actually purchase anything. According to Dragon City's management, this reluctance to buy may have something to do with the reputation of Chinese goods as cheap and of poor quality. But Chinamex says that it's not true, and that over time, shoppers will discover that items for sale here are a good value.
Even if sales lag, the stores in Dragon City might meet a secondary objective: promoting Chinese culture, which is a stated goal of Chinamex's development plan. Dragon City is a "cultural project" that presents "an opportunity to access China locally," according to Henry Hu, Chinamex's project manager. Hu said that for many of his Chinese tenants, opening up a shop at Dragon City is their first exposure to the Middle East. To address culture shock and language barriers, Hu and his management team offer the mall's store owners and sales staff basic Arab culture and language courses. Interactions between employees and shoppers must be going smoothly enough, said Hu, since Bahrainis and visitors from other Gulf countries have shown increasing interest in Chinese culture. When Dragon City hosted a Chinese New Year celebration in February, he said thousands of Bahrainis attended.
Still, if cultural awareness is the goal, Bahrain is an odd choice for a mall, especially since it has the smallest population and economy among the Gulf countries. Hameed Rahma, assistant undersecretary for domestic trade at the Bahraini Ministry of Industry and Commerce and also a member of Dragon City's management team, told me that the mall was developed in Bahrain not simply for the Bahraini market, but also to tap consumers from the broader Gulf—specifically, the much larger Saudi market.
Saudi Arabia itself turned out to be an unviable location for a Chinese megamall because of political restrictions, such as on women, which would limit expatriate female workers' ability to work and drive. But Bahrain is easily accessible to Saudis who regularly enter via the
King Fahd Causeway
, a 15-mile-long series of bridges and roads connecting the two countries. Chinamex estimates that 100 to 1,000 Saudis visit Dragon City each weekend.
As anyone who lives in Bahrain can attest, Saudis do seem eager to spend their leisure time and disposable income in Bahrain, where they can escape their country's strict laws. Bahrain provides a convenient haven where women are not required to wear abayas and alcohol is available for purchase from licensed vendors.
Even with this push, Dragon City still has a long way to go if it is to match the success of Dragon Mart, which benefits from its location in Dubai and which has emerged as a global trading hub. With 200 different nationalities living and working in the city, and tourists visiting from across the globe, Dragon Mart attracts a customer profile that can usually only be found online. Dragon City doesn't attract quite the same number of visitors, but there is no other mall like it in Bahrain, and it represents China's unique method of establishing a presence in the Middle East. The mall is also merely the tip of the iceberg for China. Xi and his recently established Asian Infrastructure Investment Bank have pledged $100 billion in financing for the New Silk Road project. Xi's first diplomatic visit to the Middle East this January, which included stops in Riyadh, Cairo, and Tehran, helped secure $55 billion worth of loans and investments in the region, mostly for infrastructure and industrial development. And although Dragon City is an important brick in Xi's New Silk Road, it is but one of many in a quickly growing route.