Mozambique's Invisible Civil War
Tom Bowker, Simon Kamm, Aurelio Sambo | May 6, 2016 | Foreign Policy
The government says everything's fine. But that's not what we heard from its victims.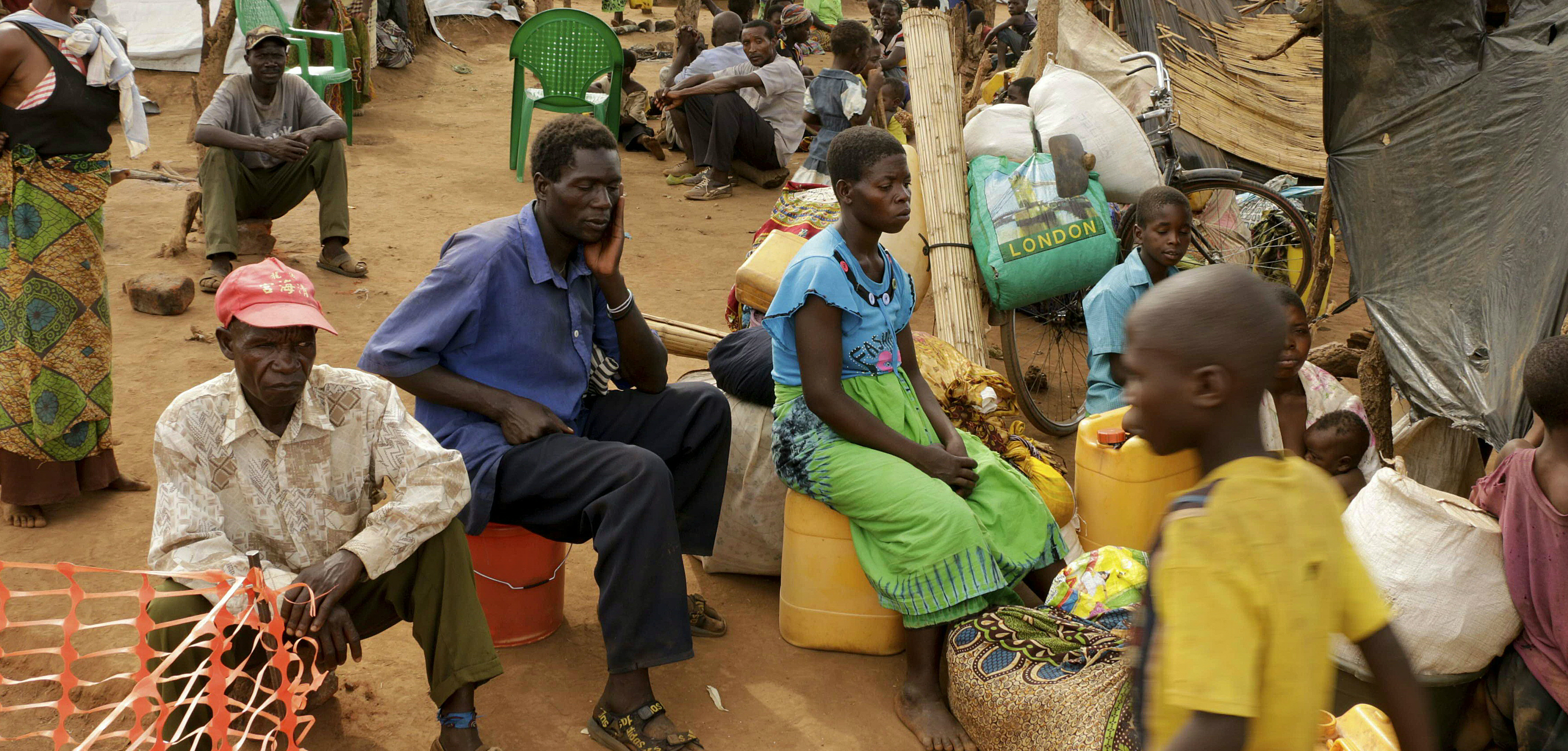 On April 28, local and Portuguese news outlets reported the discovery of a mass grave in central Mozambique containing some 120 bodies. A hasty inspection by local government officials concluded that the report was false — but two days later, a journalist who was prevented by police from visiting the grave itself found a pile of bodies nearby. Further investigations have discovered more bodies in the area.
The horrific discoveries add to a growing body of evidence that, almost a quarter century after the end of a 16-year civil war that killed a million people,
Mozambique is once again mired in conflict.
Mozambique is once again mired in conflict. Our own investigation, which was supported by the Journalism Fund, confirms that the country's civilian population is once again in the crosshairs — and that this time it's the government that's responsible.
Mozambique's civil war was noted for its brutality, meted out in particular by Renamo, a rebel group that was founded, financed, and armed by foreigners bent on destabilizing the country: first by white Rhodesia, then apartheid South Africa. A peace agreement ended the war in 1992 and led to multi-party elections in which Renamo came second, as it has done in every election since. But the rebels retained an armed force despite agreeing to disarm, claiming that Frelimo, the ruling party, has also reneged on its promises.
The peace deal held until 2013, when skirmishes began once again in the country's central regions. Renamo remains hugely popular there thanks to a perception — grounded in reality — that Mozambique's economic development has benefited political elites rather than the common citizen. In stark contrast to the earlier civil war, the victims of violence over the last three years — which has included the looting and burning of towns and villages, rape, and murder — attribute it exclusively to government forces.
In fear for their lives, 12,000 Mozambicans have fled to neighboring Malawi since the middle of 2015. In recent months, the UNHCR, Doctors Without Borders, and Human Rights Watch have reported the refugees' testimonies, in which they accuse government forces of torching their villages and carrying out sexual abuse and summary executions. It is fortunate that the plight of these refugees has been internationally recognized — but attention has, thus far, been limited to violence in the western province of Tete. In fact, human rights abuses in Mozambique have a far broader geographical scope.
Our investigation confirms that government forces have been the chief aggressors in Mozambique's latest civil conflict, contradicting the dominant narrative propagated by state-owned media that blame the Renamo rebels. What's more, we reveal a pattern of government violence against civilians that spans central Mozambique, not just the country's northwest. Furthermore, we provide proof that government forces are behind recent attempts on the life of Afonso Dhlakama, formerly the rebels' leader and now an opposition politician.
In the fall of last year, we heard from dozens of Mozambicans living in villages and refugee camps in both central Mozambique and Malawi.
Our interviewees testified that the government, not Renamo, have been the aggressors in the fighting.
Our interviewees testified that the government, not Renamo, have been the aggressors in the fighting. Many say they have lived in peace with the rebel movement.
Our findings are supported by a study conducted by Mozambique's Human Rights League in 2014, which also found evidence of rape and murder by government soldiers. The organization's report remains unpublished amid funding issues and fears for the safety of its staff, but we have seen the draft and interviewed its lead author.
The reasons behind the renewal of fighting are unclear, but are usually put down to Renamo's frustration at having failed to make any gains through democratic means. A 2015 report by London-based foreign policy think tank Chatham House talks of "a marked reversal of democratic progress" in the last years of former President Armando Guebuza's 10-year term in power, and after losing yet another election in October 2014, Dhlakama, the Renamo leader, threatened to take power by force in six of Mozambique's 11 provinces where the group had polled best.
Renamo is not blameless in the conflict; military convoys now escort traffic along the country's main highways following a series of attacks on civilian buses. Renamo claims the buses are transporting government troops disguised as civilians — but even if that's true, civilians have certainly been caught in the crossfire.
Clashes between Renamo and government forces have intensified throughout 2015 and into 2016. Other than the military convoys, the most obvious sign of the renewed conflict has been the flow of refugees into Malawi. In the face of growing evidence to the contrary, the Mozambican government continues to resist the interpretation that these "migrants" are fleeing government aggression. Mozambique's foreign minister has even accused the UNHCR of trying to persuade the refugees to stay in Malawi. In March, state-owned media launched an all-out offensive — in newspapers, television, and radio — to allege that the so-called refugees are either Renamo operatives or Malawians looking for hand-outs from international NGOs.
First-hand testimonies from the refugees are emphatic, however, that the fault for the violence lies squarely with the government.
Verniz Jose Joao Algundias, a 32-year-old subsistence farmer, told us that in August 2015 he saw government troops arrive at his village in Ndande, in the coal-rich district of Moatize, apparently looking for Renamo troops. "When they didn't find Renamo, they went for the population," Algundias told us. "They burned 16 houses in one go. In the coming days they burned the rest. We have nothing to go back to."
Ana-Maria Antonio, a 24-year-old single mother of four, says her village's attackers were wearing the grey uniforms of the ironically-titled "Protection Police." "When we heard shots, we went to hide in the river," she said. "When we went back, our houses were burned. Those bandits are still there."
Hundreds of kilometers away, on the road to Casa Banana, Renamo's civil war redoubt in the hills of central Mozambique, we spoke to locals in the village of Mucodza. After we satisfied them that we were no threat, a group of four motorcycle taxi drivers explained why they were so nervous. "The FIR [an elite police unit] come through here quite a bit," Toni said.
"Whenever we see them, we hide. If you've been hit before, you flinch every time."
"Whenever we see them, we hide. If you've been hit before, you flinch every time."
He showed us bullet holes that mark most of the village's houses. "They shot into the houses thinking Renamo men might be hiding in them," Toni explained of a 2013 assault. Another motorcyclist, Agostinho Manuel, says government forces burned houses to the ground using flame-throwers. "When they want to try out new arms, they come and do it here," he says.
Casa Banana was taken by government forces in 2014, and it seemed quiet when we passed by in October 2015. Dhlakama had just gone into hiding after his convoy came under attack twice within two weeks. A group of journalists travelling with the convoy confirmed the first attack, but the government denies responsibility for either incident.
According to the police, the second shoot-out on September 25 took place after Renamo men opened fire on a minibus which had tried to overtake the convoy. Locals who witnessed the incident, however, assured us that the minibus was caught in the crossfire of an ongoing firefight that started when the Renamo convoy was fired on from a nearby hill.
On the hill, we saw the remains of what seemed a well-planned ambush. At one vantage point, where Renamo's burned out cars were still visible on the road, we found spent rocket launchers that had been discarded. Empty cardboard boxes bearing Mozambican military inscriptions littered the ground, along with the remains of food rations and military camping stoves. Locals told us they had found discarded police uniforms and bulletproof vests on the scene that were subsequently removed by police.
Dhlakama and his men escaped into the surrounding countryside, which is full of Renamo supporters, with government forces in hot pursuit. Fighting was reported in the surrounding villages in the days following the ambush, and when we arrived a month later, locals recounted how government forces had taken over a primary school from which they launched rocket propelled grenades at houses suspected of harboring Renamo militia.
The government denies being behind the attacks on Dhlakama — or even that there's a civil war going on at all — describing the outbreaks of violence as localized disturbances which are dealt with by police, rather than the military.
In the meantime, Mozambique's president, Filipe Nyusi, continues to deny knowledge of the wider campaign of terror his troops are waging against suspected Renamo supporters. In the face of testimony from people on the ground, his protestations ring hollow. And while the leader of the opposition suffers real threats to his life, so do his repeated calls for peace.
The reporting for this story was made possible by support from the Journalism Fund.