What next as African leaders gang up against the West?
Eriasa Mukiibi Sserunjogi | Sunday, May 29, 2016  | The Monitor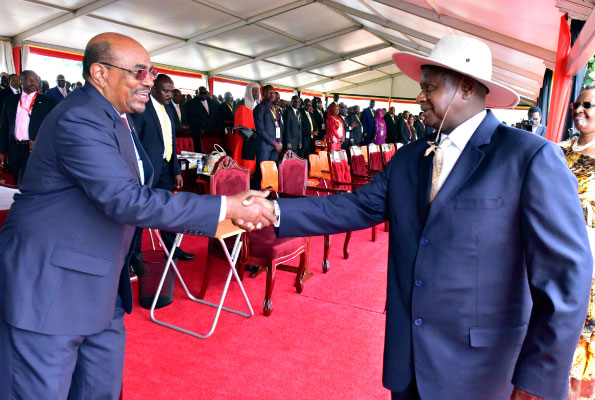 There is a frightening solidarity among African leaders these days. But "frightening" is perhaps the wrong word to use, for what is wrong with the leaders of Africa cooperating to push the continent forward?
There should be nothing wrong with it, of course, only that there are mounting fears that as African leaders forge closer ties among themselves, some of the long term aspirations of the African people may be at risk, at least in the short run.
President Museveni kicked off the ongoing open bickering between a number of African leaders and the West with a hissing outburst against the International Criminal Court (ICC) at the inauguration of Kenya's president Uhuru Kenyatta in April 2013.
Mr Kenyatta and his running mate, Mr William Ruto, had been elected despite having ICC indictments hanging on their heads over the post-election violence of 2007/08, which left more than 1,000 Kenyans dead and scores displaced.
Gen Museveni said at the function that whereas he "abhors" impunity and had supported the founding of the ICC, "the usual opinionated and arrogant actors, using their careless analysis, have distorted the purpose of that institution… (and) are now using it to install leaders of their choice in Africa and eliminate the ones they do not like."
He said a "legalistic process, especially an external one", could not correct what went wrong in Kenya because "events of this nature first and most importantly, need an ideological solution by discerning why they happened."
The evidence eventually disappeared and, unable to sustain its cases, the ICC dropped the charges against all the six Kenyans it had indicted. The case is dead and buried. Neither the government of Kenya, nor the African leaders through the African Union, have any process going to punish the crimes.
Catch 22 situation
It is hard to roundly dismiss Gen Museveni on matters of restoring order in a post-conflict society. He has been at it for more than three decades now, with a good measure of success.
One may further argue that the Western countries, the chief promoters of the ICC, have no admirable record to speak about regarding handling conflict in Africa, if the Rwandan genocide of 1994 and the collapse of Somalia, just to give two examples, are to go by.
Gen Museveni and his African peers now apply these and other arguments to demand that they are left alone to manage their countries.
In praising the hands-off approach of the Chinese and castigating the rather more hands-on style of the Western powers as far as Africa's governance is concerned, Gen Museveni said at his inauguration on May 12: "If a man has his own house and he goes in another man's house … How foolish are you?"
At the height of the quarrel between Zimbabwe's Robert Mugabe and the Western powers, a Zimbabwean spokesperson, in asserting his country's independence, is reported as having said: "It is our right to govern or misgovern ourselves."
Makerere University political historian Mwambutsya Ndebesa, as a number of African leaders openly show disdain for the West in preference for China and in some cases Russia, says: "The challenge is that China and Russia don't care about human rights in their client states."
Much of the aid from the West to African countries goes into strengthening governance and protecting human rights, with civil society organisations pocketing a big chunk of it and some of it going into building the capacity of political parties with the view of ensuring a freer political atmosphere.
These are areas Mr Ndebesa says, the incumbent African leaders are not keen to strengthen as they maintain a stranglehold on affairs in their respective countries. This, he says, explains the African leaders' preference for China, which, perhaps ominously for African citizens, is by most accounts poised to rule the world economy in the decades ahead.
Maj Gen Mugisha Muntu, the president of the Forum for Democratic Change (FDC), however, is less bothered by whether Gen Museveni and other African leaders switch allegiances from the West to China, trusting the people to assert their rights.
"President Museveni can turn around any number of times – from east to west and from west to east – and that does not matter to him so long as it keeps him in power," Gen Muntu says, "The task is for Ugandans to demand for their rights and fight for them."
A peep into the past
When Gen Museveni shot to power in 1986, the world was still polarised by the Cold War divide between the Western bloc led by the US and the Eastern bloc led by the former USSR.
Heavily dependent African countries had been forced to align themselves with either of the two blocs, although some were struggling to maintain a semblance of independence under what was called the Non-Aligned Movement.
In his book, What is Africa's problem?, Gen Museveni explains how he handled the situation: "When we came into government in 1986, that was the first question I had to answer: 'Are you pro-East or are you pro-West?' … I told these people in my UN speech of 1987 that I was pro neither of them and that I was pro Uganda. I asked them whether we were just a bunch of nincompoops who did not have any interests of our own except to be pro someone else."
Although he pursued Western-oriented economic policies of liberalisation and privatisation, Gen Museveni continued to publicly struggle for a semblance of independence from the West, often emphasisng the need for Africa to hold its own and forge a future, for instance, in which it will depend not on aid but on proceeds from trade with the rest of the world on equal footing. Once in a while, he would talk about the "arrogance" of the West.
Even then, however, never before did Gen Museveni so publicly rebuke the West like in the recent past when he started claiming or insinuating that the Western powers favour his opponents.
At his inauguration in 2011, for instance, he referred to the need to "reject puppetry", insinuating that Dr Kizza Besigye, who had led rabblerousing walk-to-work protests after the contested elections, was a puppet of the West.
The rebuke against the West grew even stronger when Gen Museveni swore in again earlier this month and praised China and Russia as Uganda's genuine friends, while lambasting the West as arrogant. Western diplomats quietly walked away from the inauguration function when the rebuke started.
In the presence of Sudan's president Omar al Bashir, Gen Museveni referred to the ICC as "a bunch of useless people".
Gen Bashir, who stands indicted by the ICC and therefore had to be arrested, clapped feverishly and smiled broadly. Uganda, which is a signatory to the Rome Statute that set up the court, has a duty to arrest and hand over anyone on its soil who the ICC has indicted.
Gen Bashir is accused of orchestrating genocide against the non-Arab people of Darfur in Sudan, with hundreds of thousands reported dead and many more displaced without livelihoods to speak about.
Regarding the debate on genocide, a classic case of interest is Gen Paul Kagame, president of Rwanda. Gen Kagame missed Gen Museveni's swearing-in because Rwanda was hosting the World Economic Forum, and one would have imagined that gave him the perfect excuse to avoid being in the same company with a man accused of perpetrating genocide.
But Gen Kagame did not leave the world guessing for long, and quickly affirmed that now that Rwanda was looking to host the African Union in June/July, he expected Gen Bashir to be among the guests.
"We are not the organisers of the AU summit; we will be the hosts," Gen Kagame told reporters in Kigali, "So if the AU invite Bashir, then we can only host him."
But Rwanda is not like any other country. Just over two decades ago, about a quarter of its population was facing extermination in what has been regarded as the worst genocide in recorded history. Gen Kagame led the effort to stop it and put Rwanda back on track.
When Mobutu Sese Seko and Daniel Arap Moi, former presidents of what is now the Democratic Republic of the Congo and Kenya, respectively, were not cooperating in the effort to apprehend the perpetrators of the 1994 Rwandan genocide, the American journalist and author Philip Gourevitch reported, Gen Kagame grew frustrated.
Mr Gourevitch wrote in his book on the genocide: "Watching the old boy network of African strongmen protect its own (allies of former Rwandan leader Juvenal Habarimana), Kagame spoke of "a feeling of betrayal, even by our African brothers," and added, ominously, "We shall remind them that what happened here can happen elsewhere – it can happen in those other countries – and then I am sure they will run to us. It can happen tomorrow. Things have happened, and they can happen again." The book title is We wish to inform you that tomorrow we will be killed with our families.
Why are African leaders so united?
It is likely the people of Darfur who may wish to see Gen Bashir tried over the alleged genocide and related charges have similar feelings as Gen Kagame and Rwandans had towards Mobutu and Moi when they did not cooperate in punishing the heinous crimes.
Different African leaders, of course, have always cooperated. But the binding glue that brought them together in the past seemed to be the West, with those who were ostracised by the West generally regarded as outcasts.
This brings to mind leaders like Muammar Gaddafi, formerly of Libya, Mr Mugabe of Zimbabwe and Gen Bashir. When they faced the wrath of the West, they faced it alone, with most other leaders unwilling to openly come to their defence.
But at Gen Museveni's recent swearing in, the reintegration of Mr Mugabe and Gen Bashir in the community of leaders was clearly complete.
Mr Mugabe, who has visited violence on the Opposition and people of Zimbabwe and collapsed the country's economy, was long reintegrated into the mainstream when he became chairman of the African Union in 2015.
In short, any African leader who speaks in favour of what are perceived as Western values, like genuine free and fair elections, is the one regarded as an outcast.
Commentators like the author Dambisa Moyo opine that given the West's relative economic strength in relation to China, the West, including the US, has lost its command around the world, and African leaders are keenly aware of this.
In keeping with this spirit, President Barack Obama's statement that invading Gaddafi's Libya without a plan on how to put the country back on track afterwards was the biggest mistake of his presidency. When a president speaks like that with half a year left of his presidency, it is logical to expect him not to participate in any such expedition again.
With the African leaders safe in the knowledge that the US cannot possibly do much about them, and also buoyed by the knowledge that the West may engage them in new ways in order to stave off the emergence of China, it is probably the best time for African leaders to have a free hand.
And with many of them bent on keeping in power perpetually, the circumstances may just present a golden opportunity for them to stick together and rule.
African leaders at Museveni swearing in
When Gen Museveni swore in on May 12, fourteen heads of state and heads of government were in attendance, something which had not happened in a long time.
The visitors included Teodoro Obiang Nguema Mbasogo of Equatorial Guinea, King Letsie III of Lesotho, Robert Mugabe of Zimbabwe, Mahamadou Issoufou of Niger and Mr Salva Kiir of South Sudan.
Others were Hailemariam Desalegn, prime minister of Ethiopia, Hassan Sheikh Mohamoud of Somalia, Ibrahim Boubacar Keïta of Mali, Edgar Lungu, president of Zambia and Tanzania's John Pombe Magufuli.
Kenya's Uhuru Kenyatta, Sudan's Omar al Bashir and South Africa's Jacob Zuma Zuma and Idriss Déby of Chad were also in attendance. Many other African countries sent representatives.
Some of the leaders, like Tanzania's Magufuli, who was on his maiden visit to Uganda as president, are fresh in office. And not all may know that among the visitors was a man who has ruled longer than Mugabe, who took power in 1980.
The man in question is Equatorial Guinea's Teodoro Obiang Nguema Mbasogo, who will turn 74 on June 5. Having shot to power on August 3, 1979, he is the longest serving president in the world.
When Nguema said he had returned the country to civilian rule in 1982, he was elected as president that year, and again in 1989, as the only candidate in the race. From 1996, after he had allowed other political parties some semblance of space, he still got re-elected with huge margins. In 2009, for instance, he scored 97 per cent of the votes amidst claims of fraud and intimidation.
Another interesting case is Chadian president Idriss Déby, the current chairman of the African Union, who on behalf of the visiting heads of state and heads of government, spoke at Museveni's inauguration.
Déby took power using the gun in 1990, won elections in1996 and 2001, before engineering a removal of term limits from the constitution and going on to retain power in 2006, 2011 and earlier this year.
Omar Bashir, the man who courted most controversy at the function, took power in a coup in 1989.