Adam Withnall | 29 May 2016 | The Independent
UN refugee agency says three wrecks over three days have made this the deadliest week in the crisis for more than a year
More than 700 refugees are believed to have died in three shipwrecks in the Mediterranean, in what would be the deadliest week in the refugee crisis for more than a year.
The UN's refugee agency said scores of bodies had been recovered from the sea off the coast of Libya in the last few days, representing only a fraction of those feared missing.
Carlotta Sami, a UNHCR spokeswoman, said around 100 people are thought to have drowned when a wooden smugglers' boat capsized on Wednesday, an incident captured in dramatic photos by the Italian Navy.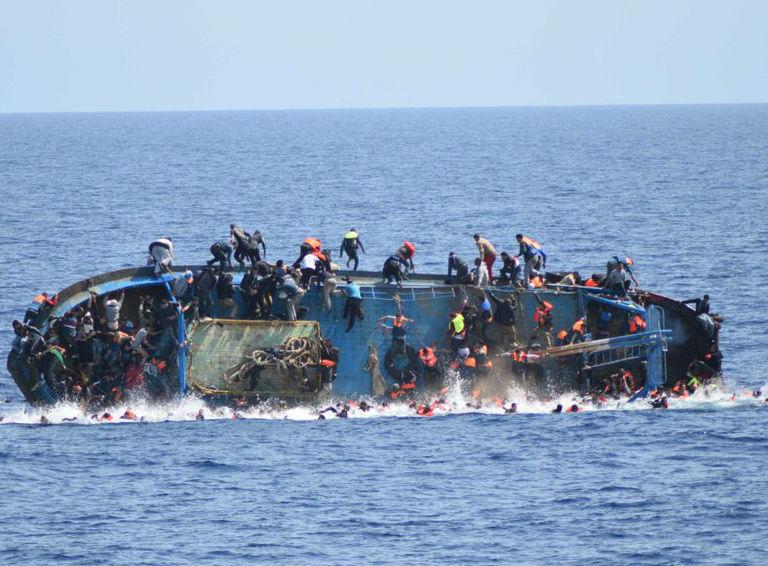 Another 550 are feared dead after a boat carrying 670 capsized on Thursday morning, having left the Libyan port of Sabratha a day earlier, Ms Sami said.
According to survivors, the boat didn't have an engine and was being towed. Some 25 people survived by swimming to that second boat, while another 79 were recovered by members of the international mission in the Mediterranean.
Ms Sami said a third shipwreck occurred on Friday, during which 135 people were rescued. At least 45 bodies were recovered, taking the overall toll up to 700 – but survivors say many more are missing still.
If confirmed, the shipwrecks would account for the largest loss of life in the Mediterranean since April 2015, when the capsizing of a single smugglers' boat is believed to have killed 800 people trapped inside.
Some 600 survivors arrived in Calabria on Italy's south-west coast on Sunday morning, while others were due to be taken to the mainland port of Taranto and to Pozzallo on the island of Sicily.
The UNHCR's update provides new clarity about Thursday's deadliest sinking, where initial reports only took into account the missing and dead from the smaller, powered boat.
Italian police have since corroborated the UN account, after their own interviews with survivors, though with slightly different numbers.
They say the boat being towed was carrying about 500 when it starting taking on water. Efforts to bail it out, with a line of passengers handing along 5-litre buckets, were insufficient and the boat was completely under water after an hour and a half, police said. At that point, the commander of the first smuggling boat ordered the tow rope to be cut.
"There were many women and children on board," Giovanna Di Benedetto, a spokeswoman for Save the Children, told Reuters. "We collected testimony from several of those rescued from both (the rubber and fishing) boats. They all say they saw the same thing."
Police in Ragusa have detained a man suspected to be the captain of the larger boat, state news agency Ansa have reported.
The traffic of people crossing in unseaworthy boats from Libya to Italy's southern islands has increased in recent days as other routes have grown more difficult and the seas have become warmer and calmer.
Last week, over 4,000 migrants were rescued at sea in one day alone by an Italian-led naval operation.
Read more