|
ADDIS ABABA, Ethi­o­pia — Cheers erupted Monday in a Senegalese courtroom as the Extraordinary African Chambers convicted former Chadian dictator Hissene Habre of crimes against humanity and sentenced him to life in prison.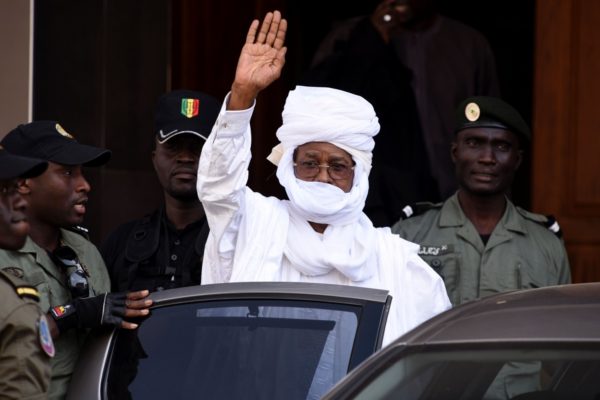 It was a conviction 16 years in the making, pushed by human rights activists and the victims of Habre's 1982-1990 brutal rule of Chad, and is a rare case of a former dictator being brought to justice.
It is the first trial of a former African ruler in another African country, under the auspices of the African Union, and could be seen as a new model for justice on the continent.
"This verdict sends a powerful message that the days when tyrants could brutalize their people, pillage their treasury and escape abroad to a life of luxury are coming to an end," said a statement by Reed Brody of Human Rights Watch, who has pursued the case since 2000.
"Today will be carved into history as the day that a band of unrelenting survivors brought their dictator to justice," he added, explaining that the trial could inspire victims of injustice everywhere.
For his part, the white-robed Habre appeared to take the news calmly and was escorted out of the courtroom under heavy security, according to the Associated Press. He pumped his fists in the air as supporters shouted and clapped.
Habre's attorney said he would appeal the verdict.
The trial is significant not just because a former African dictator was successfully prosecuted but because it was done in another African country by a court backed by the African Union.
Several African leaders view the International Criminal Court in The Hague as biased against Africa, but that charge cannot be leveled at Habre's trial.
"It was extremely important that he was convicted in Africa and not in his own country — it shows a strong desire in Africa to build pan-African justice for war crimes," said Richard Moncrieff, the project leader for Central Africa at the International Crisis Group.
"I'm not sure we will see a rapid multiplication of ex-heads of state tried in country after country, but there is a sense now that Africa can do this."
[Five human rights abusers backed by the U.S. whom you never heard of]
Secretary of State John F. Kerry issued a statement applauding the Senegalese and Chadian governments, as well as the African Union, for setting up the tribunal.
"This ruling is a landmark in the global fight against impunity for atrocities, including war crimes and crimes against humanity," the statement said. "Let this be a message to other perpetrators of mass atrocities, even those at the highest levels and including former heads of state."
Supported by the United States and France in his wars against Libyan leader Moammar Gaddafi, Habre was accused of killing up to 40,000 people and torturing hundreds of thousands.
His secret police, known as the Documentation and Security Directorate, were ruthless in seeking out and torturing opponents of the regime. Human Rights Watch called him "Africa's Pinochet," a reference to the Chilean coup leader of the 1970s and 1980s.
Overthrown by Chad's current president, Idriss Déby, in 1990, Habre fled the country and settled in Senegal, where he lived unmolested for years until a campaign by his victims resulted in pressure on Senegal to either try him or turn him over to an international court.
Their campaign was aided by a wealth of evidence compiled by researchers that was unusual for its sheer scale, after the archives of his dreaded police were discovered in 2001, including execution orders and death certificates.
After years of delays, Senegal set up the Extraordinary African Chambers and tried the case using judges from across the continent.
The case involved more than 90 witnesses, including victims, former police agents and even a handwriting expert who could link Habre directly to the deaths.
In the course of the trial, torture victims described how their heads would be squeezed by sticks and women recounted tales of sexual slavery.
[Life flourishes amid political chaos in Central Africa's Chad]
In his first court appearance, in July, Habre — dressed in flowing white robes, a turban and sunglasses — had to be carried into the chamber. He deemed the proceedings a farce, and his attorneys refused to attend, forcing the court to appoint counsel.
Chief Justice Bergdao Gustave Kam, the same man who read out Monday's conviction, told him at the time that "whether you agree or not, the court has ordered you to be brought here by force and, no matter what, the rule of law will prevail."