Eritrean national Medhanie Yehdego Mered – accused of raking in millions by carrying thousands of people across the Mediterranean – was caught in Sudan
Sudan has extradited to Italy an Eritrean national suspected of being a kingpin in an organised crime network responsible for bringing thousands of migrants and refugees to Europe.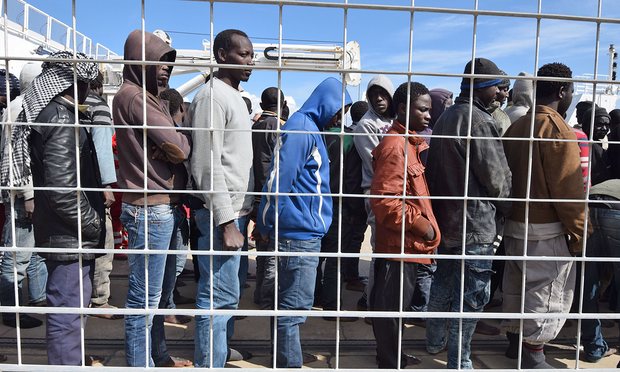 A court in Palermo, Sicily, has announced Medhanie Yehdego Mered, 35, was flown to Italy on Monday night after his arrest in Khartoum, Sudan, on 24 May. He had been sought since 2015 on accusations of international people smuggling.
It is the first time a suspected kingpin has been tracked down in Africa, where many of the smuggling networks are based, and brought to face justice in Italy since Europe's immigration crisis started almost three years ago.
"Mered is accused of being the advocate and boss of one of the most important criminal groups operating in central Africa and Libya that smuggles people first across the Sahara desert and then the Mediterranean Sea," the court led by prosecutor Francesco Lo Voi said in a statement.
Mered is suspected of working with an Ethiopian, Ghermay Ermias, who is still at large. Between them they allegedly raked in huge sums by bringing migrants from Libya to Italy across the Mediterranean on overcrowded and often unseaworthy boats.
Sicilian prosecutor Calogero Ferrara told Reuters in 2015 that the two controlled an operation that was "much larger, more complex and more structured than originally imagined".
Ferrara said they were opportunistic, purchasing kidnapped migrants from other criminals in Africa. By his calculations each boat trip of 600 people made the smugglers between $800,000 and $1m before costs.
The smuggling networks have mostly eluded international law enforcement agencies because they are based on anonymous cells spread across many countries.
Italy has been on the frontline of the immigration crisis. About 170,000 migrants reached Italy by sea in 2014 and 153,800 in 2015, according to the International Organisation for Migration. So far in 2016 more than 40,000 migrants have arrived.
More than 8,000 people are also believed to have died in the Mediterranean since the start of 2014, some off the Italian coast and others seeking to reach Greece. Medecins san Frontieres estimated that 900 died last week alone.