Dianna Games | 06 June 2016 | Business Day
NEWS about the recent conviction of former Chadian dictator Hissène Habré for substantial human rights abuses had us stepping back in time for a moment into a different Africa.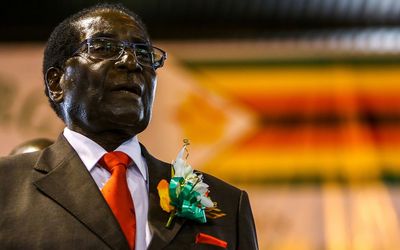 Recent conversations at events around the continent have been very much focused on issues such as the digital revolution and, inevitably, "leapfrogging" challenges with technology, entrepreneurship and economic self-sufficiency. Habré, the leader of Chad from 1982 until he was deposed in 1990, took one of Africa's poorest countries and not only impoverished it further, but killed an estimated 40,000 people in a reign of terror.
It is easy to look at his story and those of other "strongmen" of the time, and think that they represent an Africa of the past. But the truth is that many leaders who came to power in that era still lurk in the corridors of power. They also remain steeped in the failed policies of the 1980s that brought economic woe to many newly independent countries.
Some of these characters have enthusiastically embraced the trend of the "constitutional coup" through which they have extended the period of office indefinitely. Idress Déby has led Chad since taking power from Habré in 1990 despite — or, rather, through the shameless use of — human rights abuse, denial of democracy and large-scale corruption.
He has undermined economic development, while bolstering his power base. Another leader from this ignominious era is Republic of Congo's Denis Sassou Nguesso, presiding over one of Africa's poorest countries. He was voted in again this year for another term, extending a run in power that began in 1979, interrupted only by a five-year period after he lost an election in 1992.
In Uganda, President Yoweri Museveni, who entrenched two-term limits in the constitution in 1995 before engineering an adroit U-turn, has just won his fifth term in power. The main opposition leader, Kizza Besigye, is in jail.
Robert Mugabe is not only still in charge of Zimbabwe 36 years after coming to power, but has, since 1991, hosted former Ethiopian dictator Mengistu Haile Miriam, who ordered the slaughter of tens of thousands of his own citizens deemed to be opposed to his military Marxist regime in the 1970s. Mengistu's name has been linked to more than one of Mugabe's misguided policy initiatives.
And there are others of this type still in corners of Africa — Paul Biya in Cameroon, Eduardo dos Santos in Angola and Teodoro Obiang in Equatorial Guinea, among them. Now, the Democratic Republic of Congo's Joseph Kabila, despite being of a "younger" generation, is showing all the signs of having learnt from the old autocrats, lining himself up for a third term in a climate of growing intolerance for political opposition in his country.
In this environment, it is easy for people such as SA's Jacob Zuma to feel complacent about his position and his ability to easily shake off constitutional and other threats to his power. Of course, there is a new breed of younger leaders making positive changes in their countries and who are obviously more in touch with a modernising continent. But are they influential enough to turn around the continental ship and set it on course for "The Africa we Want" — the tag-line of Agenda 2063, the African Union's 50-year programme for the continent's development?
The emphasis in political and economic discussions should obviously be focused on youth, regional integration, technology, local resource mobilisation and economic self-sufficiency — the elements of a development trajectory a world away from the Africa of the 1980s. History is important in evolving nations, it provides a benchmark for and lessons about what we want and don't want.
Many leaders who should, by now, be part of that history — and not any sort of "golden past" — are still charting the future.
 • Games is CEO of business advisory Africa @ Work