Melinda D. Anderson |
 Research shows that interracial friendships decline as kids enter adolescence—and that teachers may play a role.
The image of black and white children hand-in-hand is possibly the most well-known and most often quoted line from Martin Luther King Jr.'s "I Have a Dream" speech. Over the years, black and white youngsters playing together has evolved from a civil-rights leader's vision of racial equality to a clothing retailer's marketing campaign, and in the process spawned a cultural meme—signaling everything from innocence and hope to a world free of interpersonal racism. Yet black and white childhood friendships, an inspiring notion, rarely happen organically.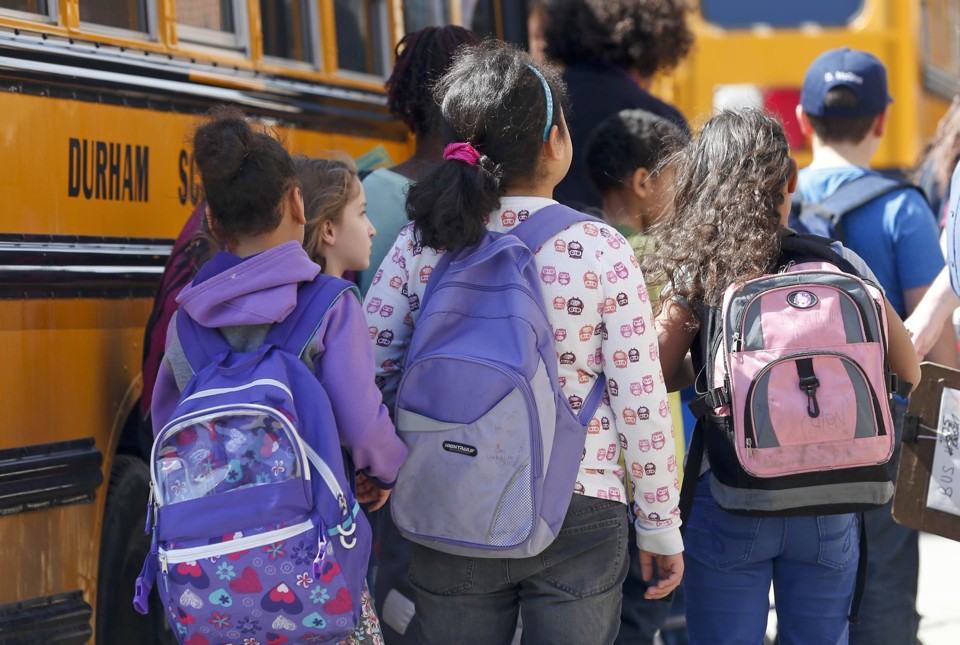 According to a new study of elementary- and middle-school students, teacher behaviors may shape how students select and maintain friends and affect the longevity of interracial friendships. The study, led by researchers with New York University's Steinhardt School, finds that as students move through a single school year, from the fall through the spring semester, their number of cross-racial friendships decreases. What's more, students' perceptions of their teachers—who may treat children in the same class differently, for example—influenced the rate of growth in same-race friendships from the fall to the spring.
Elise Cappella, an associate professor of applied psychology at NYU and the study's lead author, said the group started out with a common understanding, supported by popular wisdom and
established research
, that as young people approach and enter adolescence, their likelihood of forming friendships across racial and ethnic groups decreases. "We wanted to try to understand what might be influencing that change … and we wanted to go beyond simply understanding the opportunity piece [greater numbers of diverse peers] to understanding what parts of this social process or the teaching practices might make a difference in the changes that occur."
The research is drawn from a longitudinal study of the school experiences of 553 black and white students in a racially diverse, middle-class, and suburban unidentified district. That study, the Early Adolescent Development Study, collected detailed self-reported surveys during the 1996-97 school year from children ages 8 through 12 in grades three through five: 61 percent white, 39 percent black, with equal numbers of male and female students.
It's a notable data set for a couple reasons, Cappella said, emphasizing that in the age range studied "children still form most of their friendships in classrooms and in schools. That was the case in 1996, and that's still the case in 2016." The data in the Early Adolescent Development Study is also particularly useful for analyzing interracial friendships because it was conducted in a school district that at the time had relatively low levels of tracking and high levels of integration—an unusual combination—facilitating an analysis of factors such as cross-racial friendships. Further, because the composition of the class and the actual teacher didn't change, "if there were changes in cross- and same-race friendships [during] that year, we can isolate the effect [to] some aspect of that classroom."
After calculating the racial composition of the students' classes, the study's authors used an index to measure how many same-race friendships would be expected if friendships were randomly distributed. Despite the district's high level of racial integration, researchers found that the number of same-race friends grew for both black and white children over the school year, with white and older students showing the largest increases.
In the fall of the third grade, black students had 15 percent fewer same-race friendships and white students had 2 percent more same-race friends than would be expected by random chance. By the spring, black third-graders had 5 percent fewer same-race friendships than would be expected by random chance and white third-graders had 6 percent more. Among fifth-graders, black students started out with 2 percent more same-race friends than expected, and white students started out with 23 percent more. By year-end, fifth-grade black students had 10 percent more friends of the same race than expected and white students had 33 percent more.
As the argument goes and studies prove, children of all backgrounds benefit from diversified classrooms and schools where they can interact with peers of different races and ethnicities. Teaching Tolerance, an educational project of the Southern Poverty Law Center, concluded in a comprehensive review of research on racial and ethnic diversity in schools that "a racially integrated student body is necessary to obtain cross-racial understanding, which may lead to a reduction of harmful stereotypes and bias." But access to diversity is only the first step, not the destination, said Cappella, noting that the study points to the need for teachers to create classrooms where interracial friendships can develop and grow.The influence of teachers on students' cross-racial bonds manifests itself in two key ways. Researchers found smaller increases in same-race friendships from the fall to the spring in classrooms where student perceptions of teachers' warmth, respect, and trust—"My teacher pays attention to my feelings" and "My teacher helps children feel good about themselves"— were rated highest. And black children were more likely to make friends with white classmates during the school year in classrooms where teachers received high rankings on differential treatment—the survey asked children to rate their teacher's behavior toward a hypothetical high- or low-achieving peer.
While the study did not establish that teachers were favoring one racial group over another, researchers theorized based on
prior evidence
that black children choose to befriend more white peers "as they begin to internalize the higher value their teachers place on the white students." A
study from Johns Hopkins University
published in March also confirmed the comparatively low expectations white teachers have for black students.
Jennifer Orr, a white elementary-school teacher in northern Virginia, said she was fascinated on a personal and professional level by the study's analysis. Her oldest daughter, now in seventh grade, attended Annandale Terrace Elementary, a highly diverse school, from grades kindergarten through 5. "Her close circle [of friends] included a Korean girl, a few Latino girls and boys, and at least one girl from the Middle East, [but] she has only kept up with two friends from there: another white girl and a white boy." As a parent, Orr offered a caveat to the study's findings, bringing the role of parents into the picture. "The immediate thing that came to my mind … was how much parents may play a role" with race or ethnicity shaping how parents arrange get-togethers outside of school that can "deepen friendships while allowing others to flounder."
From her vantage point as a former teacher at Annandale Terrace for 16 years, Orr said she strived to create a classroom environment that fostered friendships across races and ethnicities through activities and lessons. When assigning class projects she encouraged diverse groupings of fourth- and fifth-graders to solidify existing friendships, adding "that's what strikes me the most from this study: The idea that friendships narrow during this age range." Orr also turned to literature, using books with interracial friendships "to help kids see these friendships as normal and good."
Keffrelyn Brown, an associate professor of cultural studies in the education college at the University of Texas at Austin, upholds the idea that teachers are fundamental to leveraging the promise of integrated schooling. Brown, who was a classroom teacher before becoming a researcher and teacher educator, stressed that "integration cannot only occur at the surface level. It must be seamlessly found across all [parts] of the … teaching and learning processes."
The creation of schools with racial and socioeconomic diversity must be complimented by classrooms that affirm all students, Brown said. "It's about cultivating a community of learners who are invested in the well-being of the community," she explained, envisioning a learning space that is keenly attentive to issues of justice, fairness, and equity.
As validated by the study, children's perceptions of teachers' traits are very important—and unlike curriculum decisions and other pressures, it's the one aspect that teachers can control. Cappella, the NYU researcher, said it's the daily interactions that teachers have with their students in the classroom—modeling how you treat one another and how you listen to one another—that can bolster the likelihood of interracial friendships enduring.
"When teachers [show] that everyone is valued … that everyone deserves warmth and support, then that trickles down to the students, particularly at this age," she said. "Those [actions] are the most salient and potentially the most powerful for influencing students in a more implicit way."