2016-06-21 | France24
The International Criminal Court on Tuesday sentenced former Congolese vice-president Jean-Pierre Bemba to 18 years in jail after he was convicted of a slew of rapes and murders in the Central African Republic over a decade ago.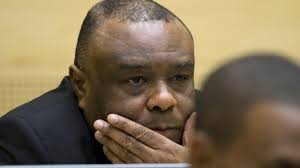 Bemba, 53, in March became the first person to be convicted by the global war crimes court of crimes of sexual violence in war, as well as the first to be held directly responsible for his subordinates' crimes.
The former rebel leader was found guilty on March 21 on five charges of war crimes and crimes against humanity committed by his private army, the Congolese Liberation Movement (MLC).
Bemba sent the MLC into the neighbouring Central African Republic from October 2002 to March 2003 to put down a coup against then president Ange-Felix Patasse.
In their March verdict, judges found Bemba turned a blind eye to a reign of terror by some 1,500 of his troops.
Despite knowing what was happening, Bemba "failed to take all necessary and reasonable measures to prevent" a litany of crimes, which included the gang rapes of men, women and children, sometimes as their relatives were forced to watch, the judges said.
The three trial judges concluded that Bemba could at any point have ended the MLC's five-month rampage, but instead did nothing.
Focus on rape

In different cases, the ICC has previously sentenced two other Congolese warlords to 14 and 12 years in prison.
Activists had warned that handing down a light sentence against Bemba would fail to send a warning to other military commanders about the use of rape as a weapon of war.
Many have expressed dismay at how long it has taken for sexual violence to be focused on in an international trial.
American actress Angelina Jolie urged the international community "to build on the important legal precedent" set by the Bemba case so that "we can collectively shatter impunity for the use of rape as a weapon of war and terrorism".
As well as the issue of rape as a weapon of war, the Bemba case is also the first at the ICC to focus on a military commander's responsibility for abuses by his troops, even if he did not order them.
Convicted 'on speculation'

Just hours before Tuesday's sentencing, Bemba's defence team alleged a slew of mistakes and failings by the trial judges in a written filing, announcing they would appeal his war crimes conviction and press for a mistrial.
"The appellant hereby files a list of the legal, factual and procedural errors which he intends to challenge on appeal," Bemba's top defence lawyer Peter Haynes wrote to the tribunal.
Haynes maintained the court had "failed to safeguard the fairness of the trial" because it knew that some of the "defence witnesses were imposters".
He also challenged the guilty verdict saying Bemba was "convicted of a case in which in material respects he was ignorant" arguing the former leader of the Democratic Republic of Congo was "not liable as a superior for the actions of the MLC" in CAR.
Bemba had been convicted "on the basis of speculation" in a case which was internally inconsistent, factually implausible, and based on a selective – and often flawed – assessment of evidence, the defence wrote.