Israel's Benjamin Netanyahu on historical visit to four African states pledges suport for terrorism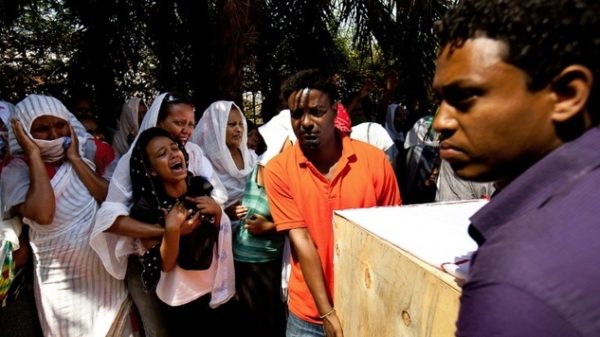 Israel is prepared to share intelligence with Kenya and other African countries to help the continent in its fight against Islamist terrorism, Israeli Prime Minister Benjamin Netanyahu pledged during the second day of a tour of Africa.
"There is a raging battle of terrorists," Netanyahu said at a joint  press conference with Kenyan President Uhuru Kenyatta in Nairobi.
He mentioned al-Shabaab, Boko Haram and Islamic State, all of which are active in Africa. "If you know an attack will take place, we will take steps to thwart those attacks, that will be direct assistance to save lives. … We will share intelligence with our friends in Kenya and Africa," Netanyahu told reporters.
Strong ties
Kenyatta said his country had a long tradition of security cooperation with Israel, referring to the support Kenya gave Israel during a 1976 raid at Entebbe airport in Uganda to release more than 100 hostages held by Palestinian and German militants. Netanyahu came to Kenya from Uganda, where he marked the 40th anniversary of the raid, in which his brother Yoni was killed.
The militants hijacked a plane en route from Tel Aviv to Paris and forced it to land in Entebbe. Kenya allowed Israel to use Nairobi airport and provided a base for Mossad agents to gather intelligence on Entebbe prior to the raid. Nonetheless, more than 30 people were killed. "We paid the price, for many of our citizens were subsequently killed" on the orders of Uganda's then dictator Idi Amin, Kenyatta said. Netanyahu laid a wreath at the mausoleum of Jomo Kenyatta, Kenya's founding father, who was president at the time of the Entebbe raid. Kenyatta said the time had come to reactivate that partnership and to strengthen Israel's ties with Africa. "There is a need to re-engage Israel. Kenya will regain this partnership. … We are keen to see this re-engagement," he said.
Joining the African Union
During his visit to Uganda, Netanyahu said Israel would relaunch its relations with Africa. The relations have suffered due to pressure from African countries' Arab allies. African countries also resented Israel's security links with apartheid-era South Africa. Kenyatta said Kenya would propose that Israel be allowed to join the African Union as an observer. "This is very significant from our point of view," Netanyahu said. "Africa is a continent with 54 countries. The possibility of changing their direction and their attitude toward Israel would be a strategic change in Israel's international position."
He said such as step "will have very considerable effect regarding Israel's international relations in the future, vis-a-vis our effort to bring about a very great number of countries that support Israel." Kenyatta offered his country's assistance in establishing peace between Israel and the Palestinians, saying Kenya could use its experience in restoring order following its 2007-2008 post-election violence. The two countries signed agreements on cooperation in the health sector, emergency preparedness and abolished certain categories of visas.
On the first day of his African tour in Uganda, Netanyahu had met leaders from six African countries who pledged to step up anti-terrorism cooperation with Israel. The first Israeli premier to visit sub-Saharan Africa for decades, Netanyahu is looking for business deals while also hoping for African political support in a hostile world.  His four-day tour will still take him to Rwanda and Ethiopia.
Seeking closer ties
On the flight from his first stop, Uganda, Netanyahu laid out the diplomatic agenda that sent an Israeli prime minister on a first trip to sub-Saharan Africa in 29 years: a quest for open political support from countries that have largely sided with Arab nations on resolutions critical of Israel in the United Nations and African Union.
"It might take a decade, but we will change the automatic majority against Israel," he said. "I believe that this meeting will be seen as a turning point in Israel's ability to reach a broad number of African countries, which is our goal."
Ties Unraveled
Israel has a long history of ties with Africa built on exports of arms and agricultural products, and imports of oil, diamonds and other natural resources.
Alliances unraveled after many African states severed ties to avoid entanglement in the Arab oil embargo following the 1973 Middle East war. Ties have begun to deepen again over the threat of radical Islam and Israel's outreach beyond its traditional Western allies.
As he builds diplomatic bonds, Netanyahu is more immediately trying to drum up business for Israeli companies during a visit that also takes him to Uganda, Ethiopia and Rwanda. With a delegation of 70 business executives, the African excursion is part of Netanyahu's effort to cultivate new growth markets while economies languish in the country's biggest trade partners, the U.S. and European Union.
In Uganda, he joined leaders from the four countries on his itinerary, plus Zambia, South Sudan and Tanzania, to discuss how Israel could help African countries with technical expertise in areas such as anti-terrorism, water management and high-yield farming.
Companies sending executives with Netanyahu include Elbit Systems Ltd., Israel's biggest publicly traded defense contractor; Netafim Ltd., which makes irrigation systems; Magal Security Systems Ltd., a specialist in perimeter security at airports; Israel Chemicals Ltd., a fertilizer producer; and dronemaker Aeronautics Ltd.