Christopher Mahove | Africa / 07 Jul '16 | THE INDEPENDENT ON SATURDAY

Harare – Normalcy returned to Zimbabwe Thursday after violent protests saw citizens clash with anti-riot police in several areas around the country Wednesday, but a group calling itself #Tajamuka has warned of more protests in the near future.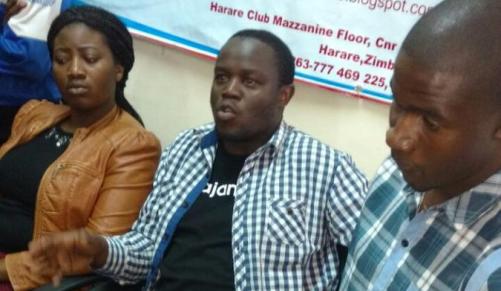 Addressing a press conference in Harare Thursday, #Tajamuka spokesperson, Promise Mkwananzi said the Wednesday protests had shaken the corridors of power in the country as evidenced by the immediate payment of civil servants' salaries.
This, he said, had proved people power was able to make leaders accountable for their actions or to recall them when they failed to deliver.
"In that regard, we wish to thank the people of Zimbabwe for their courage and sacrifice.
"There is no going back now. We need to press the regime until it has met our non-negotiable demands. If we retreat now, we stand to lose much more than we will gain from pushing forward until the current government resigns and spells out a peaceful transitional mechanism," he said.
He added: "We urge you to remain vigilant as we forge ahead with pressuring the government to comply with our demands. This is just the beginning of a historic process in ensuring the transformation and regeneration of our country. We will be advising on the next course of action, in consultation and in line with the wishes and aspirations of the people," Mkwananzi said.
#Tajamuka, translated as "we have rejected", was demanding that President Robert Mugabe, in power since the country attained independence from Britain in 1980, should provide a timeline for the transitional process in the country and urgently indicate when he intended to step down.
Government, he said, should immediately reverse its policies on the importation of goods until the economy normalised and also abandon its plans to introduce the bond notes, which he said were totally rejected by the people.
He also called for the immediate release of all the activists arrested for engaging in protests which started across the country last week, adding the police should refrain from using force when dealing with citizens.
"In this regard, government must also return Itai Dzamara to his family. The police must stop brutality (traffic roadblocks) against kombi operators and general citizens and any police officer found wanting must be brought to book," he said.
The group made several other demands on government, among them electoral reforms to ensure free and undisputed elections in Zimbabwe and to desist from criminalising or intimidating lawful and legitimate operations of human rights and social movements.
The group, however, distanced themselves from messages circulating on social media calling on citizens to march to State House on July 9, saying it was the work of the State which was desperate to criminalise the actions of protesters.
"The problem we now have is that the State is also generating fictitious messages in their desperate attempt to criminalise Tajamuka. We do our things openly and publicly because we believe the things we are doing are very lawful and peaceful, so we are not operating behind the scenes or under the darkness, we are operating in public and our call for President Mugabe to step down, or at least indicate when he intends to step down, is a public call. It is a lawful call so that is how we are going to be operating," Mkwananzi said.
He however, maintained that the public should expect more action in various forms until all demands were met.