BINDURA, Zimbabwe | MacDonald Dzirutwe | Fri Jul 8, 2016 | REUTERS

Zimbabwean President Robert Mugabe said on Friday a delay in paying wages to public workers was "a temporary problem" that did not justify their strike this week, and warned of a plot to overthrow his ruling ZANU-PF party.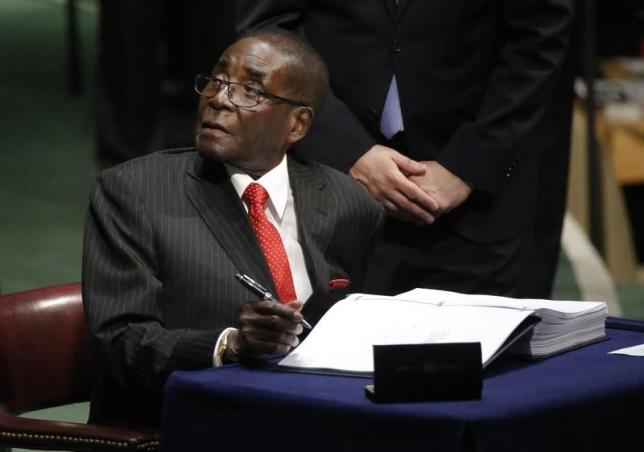 Strike organizers have said they plan to continue the action until Mugabe, in power since independence from Britain in 1980, falls. A spontaneous social media movement has coalesced into the biggest uprising against his rule in nearly a decade.
Economic hardships including high unemployment have been compounded by a devastating drought, while an acute cash shortage has angered Zimbabwe's citizens.
"The enemy has his eye on overthrowing ZANU-PF," Mugabe told a political rally in Bindura, north of the capital Harare. "Let's beware and let's have our eyes open and look out for the enemy. Let your heart remain ZANU-PF."
He did not elaborate on who the "enemy" was.
"The issue of salary delays is a temporary problem. It's not a reason for teachers, doctors and nurses to go on strike. Most of them don't understand where we have come from during times of colonialism," Mugabe said in a brief speech, his first public comment since the protests flared.
At a rally attended by about 2,500 people, some of whom waited for the president for nine hours, 92-year-old Mugabe said the southern African nation faced hardships.
"We should remember that we are not a country without problems. We have sanctions," he said.
Western powers imposed sanctions on Mugabe's government over allegations of vote rigging and human rights abuses, which he rejects, while lenders such as the International Monetary Fund have frozen financial aid since Harare defaulted in 1999.
The United States first imposed sanctions in March 2003 and later widened them to apply to about 250 officials accused of undermining democracy.
Zimbabweans have used the internet in recent weeks to call for street protests against the government, bypassing traditional opposition parties as anger grows over his administration's handling of a failing economy.
Mugabe's government is desperate for money and struggling to finance its $4 billion budget. The shortfalls have led to soldiers, policemen, doctors and teachers being paid weeks late.
As well as the strike by public sector workers, many Zimbabweans stayed at home on Tuesday and Wednesday and most businesses in the capital shut down, in a protest against economic crisis and corruption.
Zimbabwe last witnessed protests on this scale in April 2007 when opposition leader Morgan Tsvangirai led anti-Mugabe demonstrations.
The protests come amid a severe shortage of bank notes that began in March. Since January 2009, Zimbabwe has used foreign currencies, including the U.S. dollar, British pound and Chinese yuan after dumping the Zimbabwe dollar to curb inflation that hit 500 billion percent in 2008.
The central bank plans to circulate special local bank notes or "bond notes", equivalent to U.S. dollars in value.
"The bond notes are meant to address that issue of sanctions. It's real money," Mugabe said at the rally.
Mugabe also addressed the country's worst drought in a quarter century that has left 4 million people facing food shortages. He said the government is importing to fill the gap.
"We don't want anyone here to die of hunger, it will embarrass us. Talk to the party if you are not getting food, which we are importing," said Mugabe.