AGGREY MUTAMBO | Monday July 11 2016 | DAILY NATION
Violence erupted in Juba following a fight among guards protecting President Salva Kiir and Vice-President Riek Machar.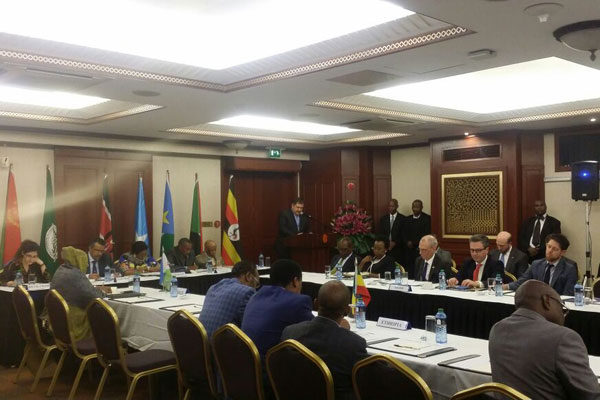 Foreign ministers of regional bloc Igad and donors have gathered in Nairobi to respond to the emerging violence in South Sudan. The meeting, according to Foreign Affairs Cabinet Secretary Amina Mohamed, is supposed to "come up with concrete resolutions" of taming a possible bloodbath in South Sudan.
Violence erupted in Juba on Thursday following a fight among guards protecting President Salva Kiir and First Vice President Riek Machar. The two leaders immediately called for calm, but the situation worsened.
On Monday, Dr Machar wrote on his Twitter page that his side was being attacked by forces allied to President Kiir. "In the last two hours, we went through heavy bombardments by President Kiir helicopters. This tells that our partner is not interested in peace.
"I urge calm and restraint throughout these skirmishes. I am safe and no one should take laws in their own hands to destabilise this country. "In all these, I hope that we have a future as a country…" he wrote in a series of Tweets.
AFP reported on Monday morning that fighting in the capital had been going on as more civilians fled to a UN camp. It is only in April that Dr Machar agreed to form a transitional government with Mr Kiir for 30 months.
The fighting is an indication that the agreement the two leaders signed is collapsing. But during a preliminary briefing to journalists, Intergovernmental Authority on Development (Igad) foreign ministers, flanked by donors from the European Union and the Troika (US, UK, Norway), said they were appealing to both sides to respect the agreement.
US ambassador Robert Godec suggested that Igad send a team to Juba to talk the leaders into working for peace again. In fact, Igad Executive Secretary Mahboub Maalim told journalists that the region would engage with South Sudan leaders as belonging to one government, despite the few "spoilers" who must be tamed.
"It is critical that we work together urgently to press leaders in South Sudan," he said. Igad midwifed the agreement meant to end three years of civil war in the youngest African nation.
The agreement was sponsored by the EU, the Troika and China, but new fighting means the peace remains elusive. Ethiopian Foreign Minister Tedros Adhanom, whose country chairs Igad, said renewed conflict in South Sudan adds to stalled implementation of the peace agreement that was already an issue of concern.
"This is alarming and remains a matter of grave concern…I call upon the transitional government to commit to the peace dialogue." "What is most needed urgently now is to stop the fighting and respect the peace agreement which all parties signed.
"Leaders must also listen to their people," he told journalists. The meeting in Nairobi is being attended by Cirino Hiteng, the deputy foreign minister for South Sudan. He will be expected to update the forum on measures his government is making to stop the fighting.
Also present is the Igad chairman for the Joint Monitoring and Evaluation Commission, former Botswana President Festus Mogae.