Israel's regional tactics
Ahmed Eleiba | 14 July, 2016 | Al-Ahram

Tel Aviv is seeking to consolidate its influence in Africa and neutralise its regional rivals, writes Ahmed Eleiba
In speeches and statements during his four-day visit to Ethiopia, Uganda, Kenya, and Burundi Israeli Prime Minister Benjamin Netanyahu focused on security as a central priority of Israeli-African relations. He stressed the need for closer cooperation in light of unconventional threats, not least in the realm of cyber security.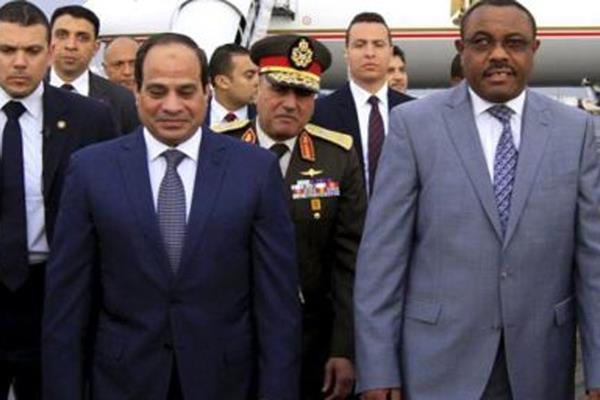 The four African nations face common threats emanating from neighbouring collapsed states such as Somalia which export violence and anarchy, and from extremist groups near their borders such as the Shabab and Boko Haram which declared allegiance to IS a year ago.
Netanyahu is marketing Israel as an alternative to Arab African nations which once enjoyed special relations with sub-Saharan countries.
The Israeli PR campaign has not gone unreciprocated. The Israeli prime minister was met with more than the conventional welcome accorded to foreign heads of state. He seemed to glow amidst the unusual warmth, fanfare and splendour of his African reception. Protocol was elevated to a pageant in elaborate costume, weighted with historical and ideological symbols and infused with religious insignia and scriptural iconography. The displays were most ardent in Ethiopia, leading the Times of Israel to speak of a "new love story" between Tel Aviv and Addis Ababa.
Beyond the pomp and formalities of the reception the substance of the visit addressed international ties in the light of regional and international developments. As Kenyan President Uhuru Kenyatta put it in his joint press conference with Netanyahu: "We think that the world has changed. The nature of the global problems we now share differs from 30 years ago. We need to partner with each other, we need to be able to deal with the security threats that we face together and we believe that there is need for us, as a continent, to begin re-engaging Israel on a more positive basis, with an understanding that our partnership can help make the world that much more secure."
The common security threats to which the Kenyan president alluded are neither ephemeral nor potential but substantive. Israel supported Ethiopia during the Eritrean secession. Israel has helped secure and protect ruling regimes and it supplies them with weapons. International reports on armament trends reveal huge deals between Israel and African countries.
However, Netanyahu's recent tour clearly had a greater strategic ambition. Israel's aim is to take relations with African states beyond the bilateral and build an alliance with a core quartet of African countries. An October 2014 report published by the National Security Studies Institute at the University of Tel Aviv states that the aim of current Israeli-African relations is to create a buffer zone between these African countries and areas of upheaval as well as to remove them from the Arab World's strategic depth. The report noted that it was in Israel's interests to isolate those countries from Khartoum which was, until recently, a centre for radical Islamist groups such as Al-Qaeda. Israel also wants to safeguard Israeli navigation in the Red Sea and, politically, hopes to secure a caucus of supporters in international forums.
Netanyahu's visit is part of a drive in an area where Israel is manoeuvring against major regional rivals Iran and Turkey. While the recent Turkish-Israeli reconciliation will probably neutralise competition between Ankara and Tel Aviv in Africa, Tehran will be keeping a vigilant eye on Israeli manoeuvring. The two countries are engaged in a fierce war of espionage in the Horn of Africa. Recently Israel established an intelligence base in Eritrea as a counterweight to Iranian surveillance in the Horn.
Tensions between Cairo and Addis over the Renaissance Dam intensified speculation over the significance of Netanyahu's African tour with regards to Egypt. Analysts are divided over whether Israel has intervened on behalf of Egypt or is working to undermine Egypt's efforts to re-establish its role in Africa after decades of neglect during which other regional players established their own presence.
Foreign Minister Sameh Shoukri's visit to Israel added to the controversy. Many read his trip as a sign Israel was working on behalf of Egypt in Ethiopia. Arab-Israeli political analyst Jackie Khouri told Al-Ahram Weekly: "In Israel some believe that Shoukri's visit broached the question of Israeli-African relations and what Israel could do for Egypt in this context."
General Mohamed Ibrahim, director of the Israeli Studies Unit at the Egyptian Foreign Affairs Council, argues Shoukri's visit should not be viewed in the light of Netanyahu's African tour. It was, he says, concerned solely with the peace process.
Hossam Kheirallah, a former deputy director of the General Intelligence Service, told the Weekly: "It is impossible to imagine that Israel can perform a role in favour of Egypt in these countries when it comes to the question of the Nile water. And even if it could it would demand a price for doing so."
"Israel was the first to plant the notion in the African mind of putting a price on potable water and of non-oil producing nations thus becoming wealthy. This will have repercussions on Egyptian national security in the near future."
Said Okasha, advisor to the Mukhtarat Israeliya periodical produced by Al-Ahram Centre for Political and Strategic Studies, believes Israel has succeeded in breaking out of the regional and international isolation imposed on it in the framework of the Palestinian cause. He also notes that Israeli-Turkish reconciliation has eliminated any rivalry between Ankara and Tel Aviv in Africa.
Ibrahim agrees, adding that Israel's drive has clearly identified aims.
"It is eager to establish a presence in the Great Lakes region and, with this in mind, has contributed to exacerbating instability in this important area. It is also determined to strengthen its relations with countries of the Nile Basin and to establish a presence among the most important states at the source of the Nile."
Egypt is facing major regional challenges posed by the changing dynamic of the Turkish-Israeli relationship; the relationship between Moscow and Ankara following the flare-up between the two over developments in Syria and in the ties between Israel and Saudi Arabia which have begun to emerge into the open against a backdrop of shared concerns over the regional threat posed by Iran. Security is the key to all these developments.
There can be no doubt that Israel has benefitted greatly from the changes. It has reaped far more gains from the turmoil, and at a much lower cost, than during its decades of war against the Arabs.