As part of the Guardian's series on technology in Africa, we meet 10 leaders of the continent's digital transformation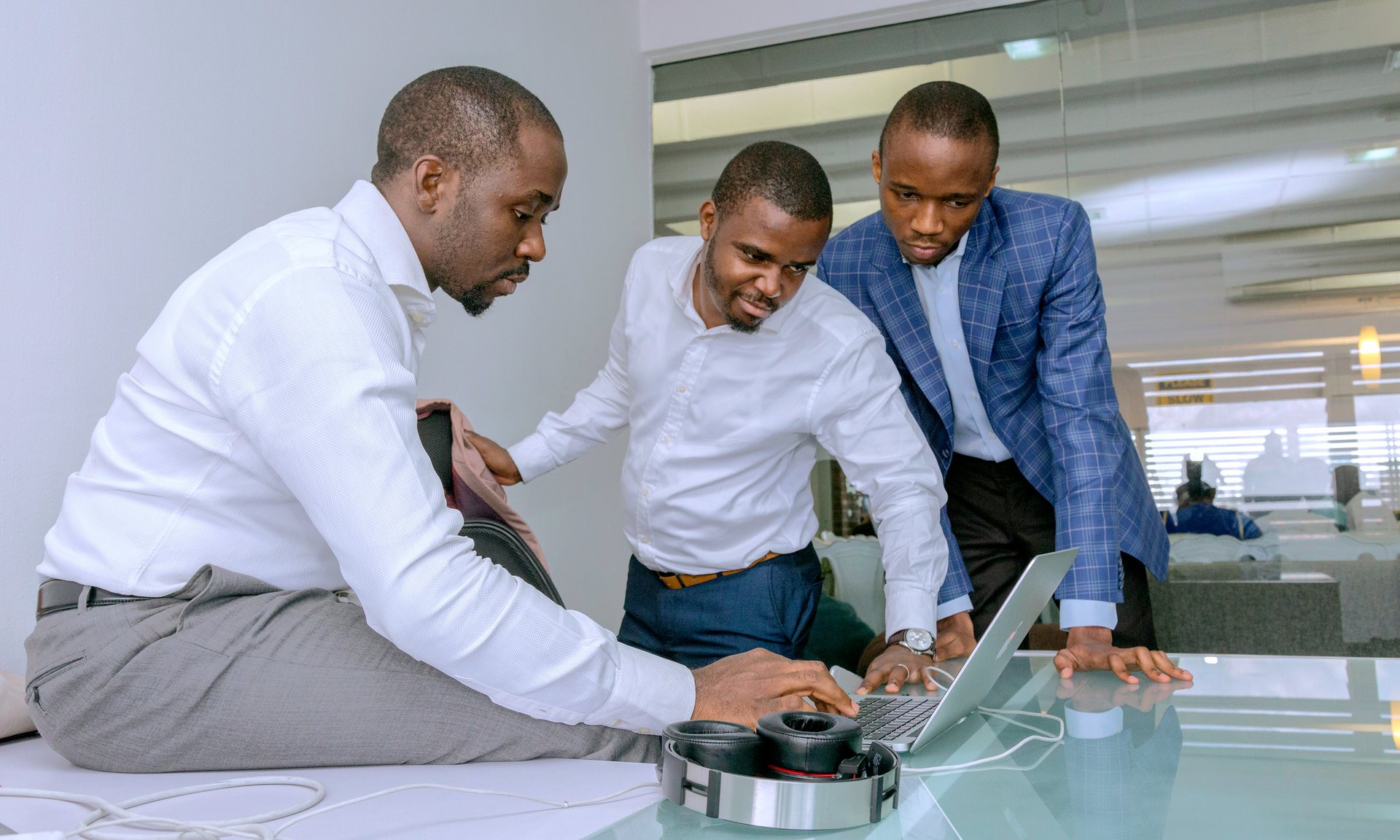 Africa's digital transformation would be nothing without the tens of thousands of people who have invested, and continue to invest, energy into propelling it forward.
They are the leading lights driving change in infrastructure, mobile connectivity, online activism, e-commerce and financial services. Some are opening up digital cultural spaces or working to bring in investment for tech startups.
As part of the Guardian's focus on technology in Africa we've listed 10 individuals who've been pioneers in the transformation from Tanzania to Tunisia, with the three of sub-Saharan Africa's big tech hitters – South Africa, Nigeria and Kenya – particularly well represented.
And in a bid to look forward we asked each of the 10 pioneers to predict the next development in Africa's digital transformation and to each nominate an emerging talent to watch.
Jason Njoku, Nigeria: 'We've got everything to play for, but it won't be easy'
The British-Nigerian entrepreneur founded iROKOtv which hosts the most extensive online catalogue of Nollywood content in the world. Nicknamed the Netflix of Africa, iROKOtv is one of the continent's biggest internet TV providers and has raised over $35m in international investment.
He says
Africa's digital transformation is ahead of us. By my calculations, we haven't even really started, we're still building, we're still scaling.
Everything is to play for – the majority of Africa's potential digital population aren't properly online yet, but it's not going to be an easy ride. We need homegrown investors to get behind the tech sector and understand the opportunities that are under our noses.
He nominates
Fikayo Ogundipe, co-founder of ToLet.com.ng which has completely reshaped Nigeria's property market, starting with Lagos. Buying, selling and renting houses in the city isn't for the faint-hearted but Fikayo and his team have painstakingly researched the market, pouring their findings into a website to help consumers navigate the process. But Fikayo is not building the Foxtons of Nigeria, he's building a Nigerian company for Nigerians, that tackles the problems encountered by Nigerians in the Nigerian property market.
Lina Ben Mhenni, Tunisia: 'Digital action must be combined with real world action'
Author of the blog A Tunisian Girl, Lina Ben Mhenni rose to prominence during the Tunisian revolution in 2011, as she documented the Tunisian uprising and violence at the hands of the security forces.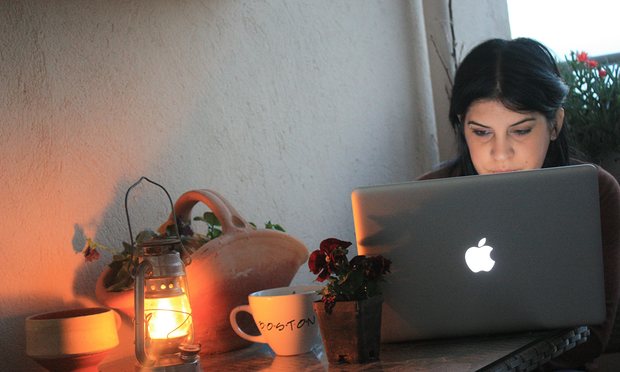 Mhenni was one of the few Tunisian cyber activists who blogged under her real name while President Zine Ben Ali was still in office. Her blog was turned into a book and she was later a favourite for the Nobel peace prize.
She says
After Ben Ali fled Tunisia, people all around the world focused on the role of the internet in his departure.
Some talked about a Facebook or internet revolution. But this ignored the sacrifices of the people who took to the streets and demonstrated, often against live fire.
No one can deny the importance of the internet and social networks – when a regime imposes a media blackout, they can be used to both inform and mobilise people. But some have overestimated its role. Action in the digital world must be combined with actions in the real world.
She nominates
Rahma Sghaier a young leader who is using ICT to bring change to Tunisia, Rahma blogs on the YaLa platform, commenting on politics and advocating for international peace.
Her main mission is to support young Tunisians to write, create photo essays and videos and explore their talents. She also promotes citizen journalism through blogging and vlogging and wants to train young girls in how to make videos.
Ory Okolloh, Kenya: 'We've reached the important stage of African-led technology that's not over-hyped'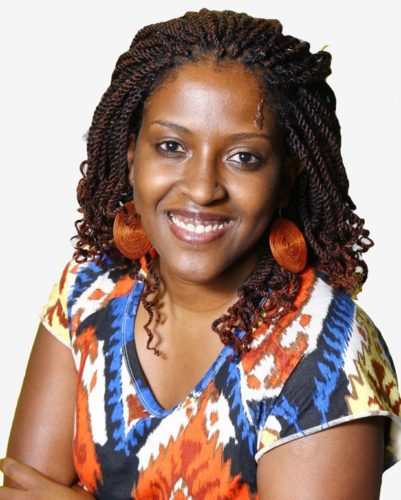 Ory Okolloh is an activist, lawyer, blogger and technology commentator. She helped to create Ushahidi, and mapping platform that crowd-sourced incidents of violence after Kenya's disputed 2007 election. The site has since been used to map crisis everywhere from Haiti to Gaza.
Okolloh was previously Google's policy manager for Africa and now works with the Omidyar Network. In 2014 she was featured in Time magazine's top 100 list of the world's most influential people.
She says
What's next? To borrow a phrase from founders of mobile money providers Paystack we must "do the difficult things differently". We are maturing from the "look how amazing Africans can code" to a phase of solid African-built-and-led technology: companies tackling real problems or without much hype. This is an important stage because it's how we get to a sustainable digital Africa.
She nominates
Billikiss Adebiyi-Abiola, co-founder of recycling company Wecyclers. Why? I've long spoken against the tendency to embrace tech as a solution to the myriad of problems facing Africa as an end in itself, rather than a means to an end.
Bilikiss turns this on its head. At the heart of her work is solving a problem that previously seemed intractable: creating livelihoods and leveraging technology to improve how we live in our cities. She's also a fantastic entrepreneur.
*Okolloh is commenting in a personal capacity
Nii Quaynor, Ghana: 'The internet improved development by making communication more efficient'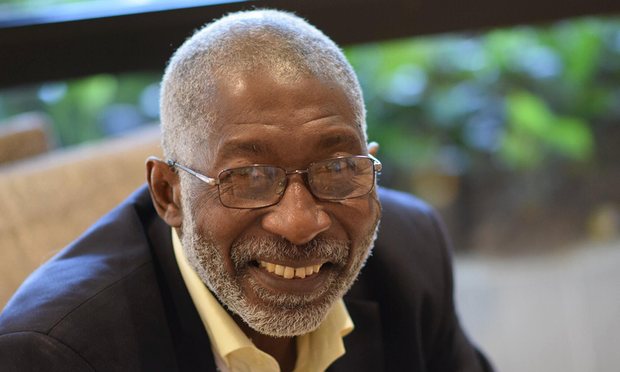 The computer scientist and engineer is a pioneer of internet development and expansion on the continent. He was the first African to be elected to the board of the Internet Corporation for Assigned Names and Numbers (ICANN), the global non-profit body that coordinates databases across the internet and is often referred to as the "father of the internet in Africa".
He says
The internet has already improved development by making communication more efficient in Africa, but the next steps are to look at how we improve digital currency transactions like Bitcoin. Citizens currently rely on companies to act as the go-between when transferring money, but when they are able to transfer money directly between peers then development will be further improved.
He nominates
Ashifi Gogo, the CEO and founder of Sproxil, a company that uses mobile phones to fight counterfeiting in developing country markets. The product allows consumers to check if their products are genuine with a free text message.
Gogo came up with the idea after witnessing how damaging counterfeit medicines were for developing countries. Now, customers can check their pills in one simple step. The technology is also being used verify other products from cars to electrical goods.
Mbwana Alliy, Tanzania: 'Drones are the next big thing for Africa'
Mbwana Alliy is the founder and managing partner of Savannah Fund for tech startups in Africa, specialising in $25,000-$500,000 seed investments. As of this year, Alliy has invested in 22 companies across six African countries – Kenya, Uganda, South Africa, Zimbabwe Nigeria and Ghana – and hhas [sic] generated over 200 full-time jobs and raised more than $20m.
He says
Drones are the next big thing and the possibilities go way beyond delivery. Drones can help farmers understand their land better, they can help with mapping, with construction and mining, even market research.
They are becoming available to the masses with prices starting as low as $300. Drones may well bring the most exciting potential to marry the real and vast physical challenges of Africa with the digital revolution.
He nominates
South African telecommunications entrepreneur Alan Knott-Craig for all the work that he is doing to improve internet access through mobiles and public wifi.
Anyone who is spreading affordable internet access – not under a corporate umbrella – deserves a lot of respect. Without air, you can't breathe and without reliable and affordable internet, we're doomed in Africa tech.
Jepchumba, South Africa and Kenya: 'Our digital transformation will be seen through the content we create'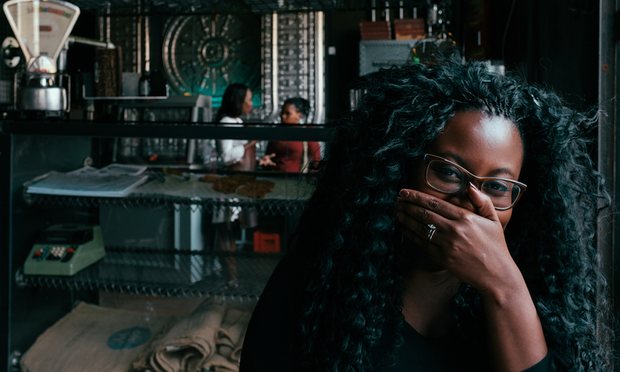 A digital artist and founder of the African Digital Art project, that provides an online space to display the work of African artists using technology in their work, and a space for digital artists to connect. She recently received a Creative Disturbance Fellowship, and has been listed by Forbes as one of the 20 Youngest Power Women in Africa.
She says
With the explosion of mobile and access to new and faster devices, we have become an internet-consuming culture, hungry for digital content created in Africa.
The next frontier will be the exploration of our stories and collective culture: stories that will help us explore political instability, immigration, security, racism, religion and spiritualism. Our digital transformation will be seen through the content we create.
She nominates
Tegan Bristow, a Johannesburg-based interactive media arts and lecturer at the Digital Arts Division of the Wits School of the Arts. A behind-the-scenes champion of African culture and technology. She was also involved in Africa's first digital innovation festival, Fak'ugesi, in South Africa. A true pioneer in the development of digital art.
Opeyemi Awoyemi, Ayodeji Adewunmi and Olalekan Olude, Nigeria: 'We'll see transformations to our lives in ways we cannot yet expect'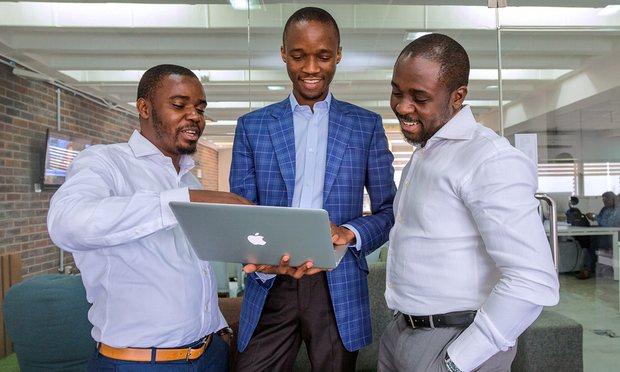 The idea for Jobberman, sub-Saharan Africa's largest jobs site was conceived in the student dorm room of its cofounders, Opeyemi Awoyemi, Ayodeji Adewunmi and Olalekan Olude, in 2009. Seven years on and the site is now used by over 45,000 companies and is valued at millions of dollars.
They say
Africa will see transformations that touch the fundamental aspects of our lives in ways we cannot yet expect, or have not yet experienced, all made possible by the ubiquitous presence of the mobile phone on a continent with limited infrastructure.
They nominate
Solar electricity provider Txtlight, which wants to bring light to the 90 million Nigerians who currently live off grid. They provide home solar panels linked to indoor storage units and the Lumos service that provides a "pay-as-you-go" option , letting people purchase electricity by text message.
Hilda Moraa, Kenya: 'Financial technology is set to grow and grow'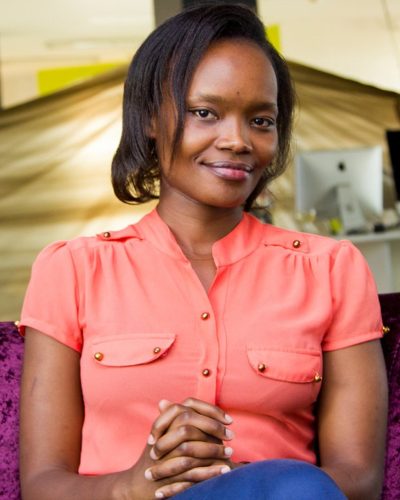 Hilda Moraa is known for her work as the founder and CEO of Weza Tele Ltd. A Kenyan startup that offers supply chain, payroll and distribution solutions for businesses and a company that sold for over $1m in 2015. Moraa has since become a director at PesaZetu, a mobile lending marketplace.
She says
The financial technology space is set to grow and grow. Nearly 80% of adults in Africa do not have access to formal or semi-formal banking services – the majority of the continent is still unbanked. The failure of three Kenyan banks in the past year has made mobile money more attractive as the Uber effect forces the banks that remain to think about how their services work online.
She nominates
Wangechi Mwangi, CEO of Valuraha a company that is trying to foster a new generation of African investors. The company, which Mwangi founded as a student in Nairobi, runs investment clubs in schools where students learn about personal finance and practice investing in a virtual trading platform, a platform recently opened up to the public via a low-cost subscription. Last year she won the Global Social Impact Award at the Global Student Entrepreneur Awards.
Mteto Nyati, South Africa: 'Entertainment-on-the-go is gaining traction'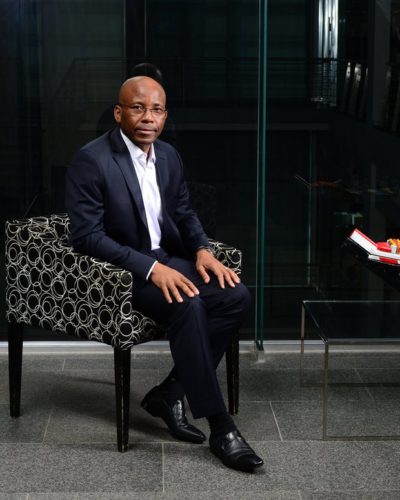 Mteto Nyati has been CEO of MTN South Africa, the country's second largest telecommunications provider, since July 2015. He previously worked at MTN South Africa's parent MTN Group, and at Microsoft and IBM.
He says
Africa has already demonstrated leadership in innovation in the mobile ecosystem. We have seen a surge in e-commerce and we expect this momentum to continue as affordable sub-$50 smartphones are introduced to the market. Entertainment-on-the-go is also gaining traction and customers now demand TV viewing that is not dictated by broadcasters, but by their viewing requirements.
He nominates
Founded in Cape Town in 2013, Hepstar are trying to transform the insurance market by making policies more freely available online. It assists its partners, including airlines and online travel agencies, to maximise revenue from the sales of insurance providing "plug-and-play" options for websites to help customers sign up quickly and efficiently. It's an industry worth billions.
Funke Opeke, Nigeria: 'Submarine cables and satellites connect us, but mobile networks are congested'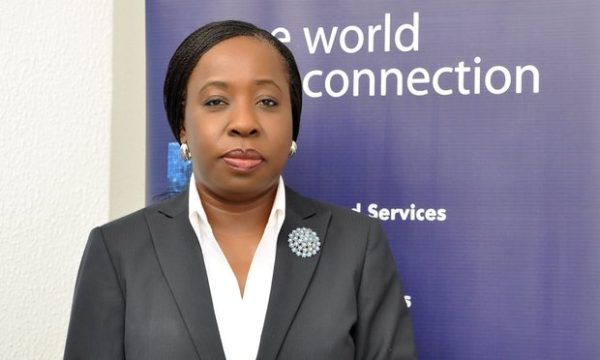 Funke Opeke is the CEO of MainOne, which was responsible for bringing broadband connectivity to Nigeria, and other west African countries, via a 7,000km undersea fibre optic cable from Portugal. The company now provides wholesale internet capacity to eight countries across the region.
She says
Submarine cables and satellites mean that Africa has more than adequate connectivity. Mobile penetration is high, 60%, of and more than 50% of those users have access to the internet. However the quality of the service is poor – limited infrastructure on the ground leads to congested mobile networks.
For digital services to become pervasive citizens need affordable access to the internet and businesses need to provide continent-specific services that address low incomes and limitations on infrastructure.
She nominates
Iyinoluwa Aboyeji, co-founder of Andela, a global talent website that trains developers and connects them with employers. The company recruits the brightest on the continent and helps them grow into the next generation of global technology leaders. Over the past two years, the company has trained over 200 tech talents.