What Donald Trump Doesn't Get about Ghazala and Khizr Khan
Amy Davidson | 01 August 2016 | The New Yorker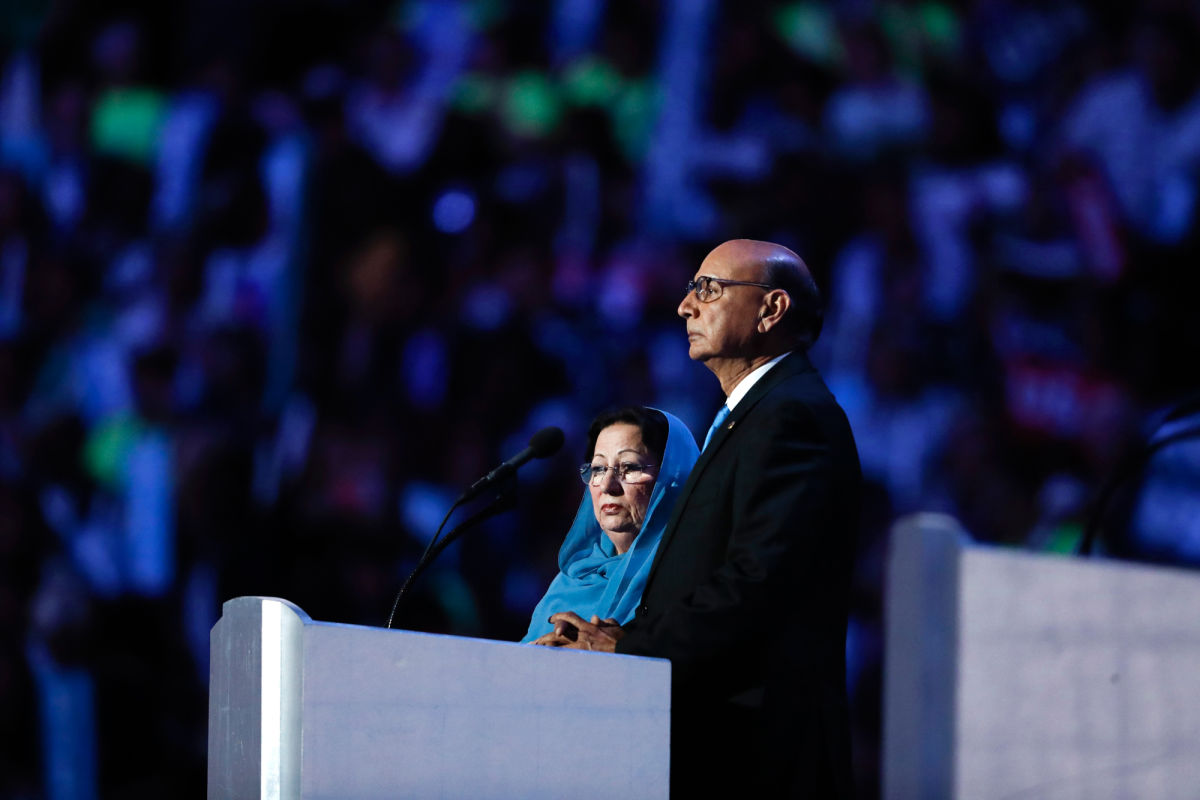 "I am much weaker than she is, in such matters," Khizr Khan said of his wife, Ghazala, in an interview on MSNBC with Lawrence O'Donnell on Friday, the day after he had addressed the Democratic National Convention. Ghazala was sitting beside him then, and she had been standing beside him the night before, as he told the story of their son, Captain Humayun Khan, an American soldier who died in Iraq. Watching them, it would seem difficult to doubt the strength of either the husband or the wife, or their shared pain and mutual commitment to being there, which was conveyed in each small gesture—difficult, that is, unless one's name is Donald J. Trump.
Khan, though his speech centered on the loss of his son, had made the case against Trump more powerfully than almost any other speaker. His son was, as a small child, a Muslim immigrant—the kind of person Trump has said he wants to ban. As an adult, in 2004, he told the soldiers under his command to stay back while he walked toward an uncertain threat. A car bomb went off; Captain Khan was killed, and his soldiers lived. Twelve years later, his father, speaking directly to Trump, said, "Let me ask you: Have you even read the United States Constitution? I will gladly lend you my copy." He had one, and he pulled it out and waved it at the crowd at the D.N.C. "In this document, look for the words 'liberty' and 'equal protection of law.' " He added, "You have sacrificed nothing and no one."
Trump didn't seem to be in a reading mood after hearing the speech, just a slurring and hectoring one. "His wife, if you look at his wife, she was standing there. She had nothing to say," he said in an interview Saturday, with George Stephanopoulos of ABC News. "She probably—maybe she wasn't allowed to have anything to say. You tell me, but plenty of people have written that. She was extremely quiet and looked like she had nothing to say."
What Trump may have meant by that was that Ghazala Khan, an older woman in a hijab, "looked like" someone who would "have nothing to say" that he, Trump, could possibly be interested in hearing. Trump certainly wasn't making a statement of Islamo-feminism, as much as he looks for opportunities to present himself as the "real" champion of women, gays and lesbians, Hispanics, and anyone else who might be disinclined to trust Trump. On MSNBC, Ghazala Khan had talked about how it was still hard for her to "come into a room where his pictures are," let alone an arena where her son's image was projected onto a giant screen, which is why she had let her husband speak there. That possibility seems to have eluded Trump. Instead, he wavered between the dismissal of the idea that Ghazala might have a thought in her head and the opportunity to insinuate that Khizr was a domestic crypto-Sharia tyrant.
After Trump tried to brush Khan away by wishing him "the best of luck" with some unspecified enterprise—mourning?—Stephanopoulos asked Trump, more precisely, what he would say to him. "Well, I would say, we have had a lot of problems with radical Islamic terrorism. That's what I'd say," Trump replied. As for sacrifices, he, Trump, had made plenty: "I've worked very, very hard"; "I've raised millions of dollars for the vets"; "I've created thousands and thousands of jobs" and "built great structures." Does any one of those "structures" say as much about what it means to be American as the gravestone raised for Captain Khan?
As the weekend progressed, more people watched Khan's speech—some of them stopped him on the street to shake his hand—and the appalling character of Trump's response to the Khans sunk in. Naturally, Trump's comments, on Twitter, escalated. On Sunday: "Captain Khan, killed 12 years ago, was a hero, but this is about RADICAL ISLAMIC TERROR and the weakness of our 'leaders' to eradicate it!" Then, half an hour later, more petulantly: "I was viciously attacked by Mr. Khan at the Democratic Convention. Am I not allowed to respond? Hillary voted for the Iraq war, not me!" And then, Monday morning: "This story is not about Mr. Khan, who is all over the place doing interviews, but rather RADICAL ISLAMIC TERRORISM and the U.S. Get smart!"
It is Trump, though, who has not been smart, not about what the Constitution says (he should, indeed, read it) and not about the power of the Khans' message. He had decided to take on the Khans and he was losing to them, not just because they were sympathetic figures but because they stood up to him and pushed back. Both have been clear that their message is not only an expression of grief but one of political warning. Khizr said, on MSNBC, that he was speaking in Philadelphia to two specific people: Senator Mitch McConnell and Speaker of the House Paul Ryan, whom he referred to as otherwise decent men who had failed a crucial test. "Isn't it time to repudiate Trump?" he said. "I appeal to both of these leaders: this is the time—there comes a time in the history of a nation where an emphatical moral stand has to be taken, regardless of the political cost." Both McConnell and Ryan have issued statements generally praising Captain Khan and reiterating their disagreement with a ban on Muslims entering the country, and yet neither has stepped away from his endorsement of Trump. At this moment, to Khan, that is what matters. (John McCain denounced Trump's remarks on Monday, but also failed to revoke his endorsement.) On Sunday, on "Meet the Press," Khan told Chuck Todd that he would keep speaking directly to them and to Republicans: "This is a political process. It's a wonderful, beautiful political process. But in that political process, there are some moral, ethical values of this country that need to be maintained and managed." Trump lacked a "moral compass," Khan said, adding, "The way he showed disrespect towards the Gold Star mother of this country, that says it all."
"Your wife?" Todd said.
"My wife, the brave mother of my son, Captain Humayun Khan. Hero of this country. We don't take these values lightly," Khan said.
On Sunday, Ghazala Khan published an op-ed, in the Washington Post. "Donald Trump said I had nothing to say. I do," she wrote. She remembered the son who had gone willingly to Iraq because he had believed in his commitment to his country, as he did in all his commitments. He taught disabled children to swim, telling her, "I love when they have a little bit of progress and their faces, they light up"; after his death, she couldn't bear to clean out his closet. Her husband, she said, had asked her to speak, but she felt she could not. It shouldn't have mattered: "Whoever saw me felt me in their heart."
As her husband acknowledged, though, it was not only her grief that she added. Asked by Todd about his speech, Khizr said, "Those were my thoughts, and edited by my wonderful wife. I would read it to her while getting ready, while travelling on the train. And she would edit. And she would say, 'No, you're not going to say this. No, this is not for the occasion.' " What she took out, he said, was some personal invective about Trump, and cracks, for example, about plagiarism in Melania Trump's speech. Of all the addresses at the Convention, Khan's said most plainly that the wrongness of Trump is not his style or tackiness or even obliviousness to world events; it is in his clearly formulated anti-Americanism. Ghazala Khan, it appears, made sure of that.
"She's my coach, and she was there," Khizr Khan said on MSNBC. "I was strengthened by her presence. Forty years of marriage has brought us in a position where we are strength for one another. So her being there was the strength I could hold my composure." Is that kind of reliance, and respect, in any context, something Trump could ever understand?
Amy Davidson is a New Yorker staff writer. She is a regular Comment contributor for the magazine and writes a Web column, in which she covers war, sports, and everything in between.