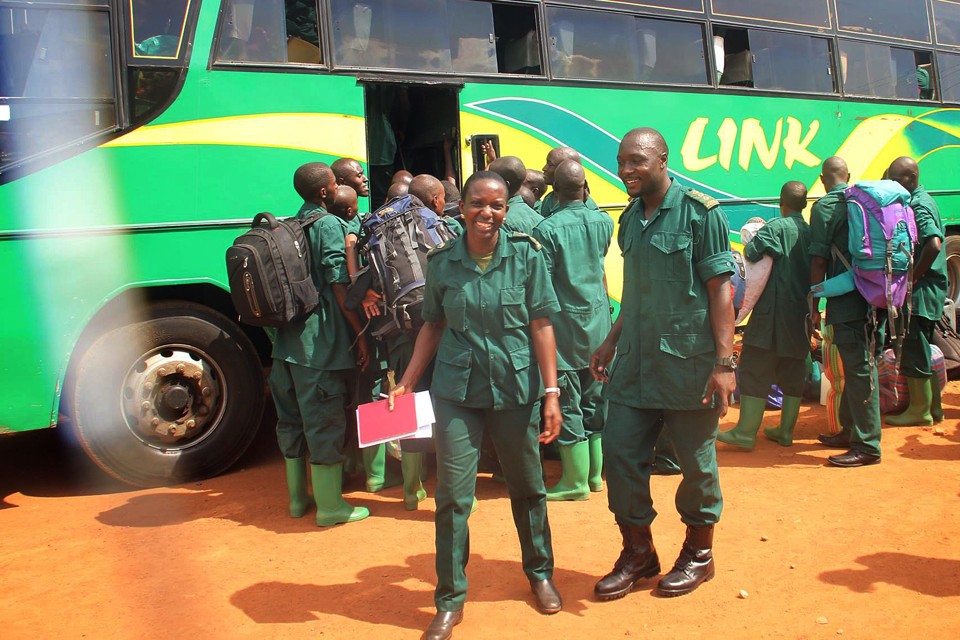 Sharmilla Ganesan |
Agnes Igoye is building a law-enforcement system to protect Uganda's girls.
Late one night in 1972, Agnes Igoye's father cycled her expectant mother through a jungle to the nearest hospital, stopping for contractions despite the threat of lions prowling nearby. The new mother made it safely to the hospital and gave birth to a healthy baby, Agnes, but when the family returned to the village, they suffered ridicule from relatives and villagers. In their home in the Pallisa district of Uganda, the arrival of a baby girl was no cause for celebration, but was viewed instead as a burden.
As one of Uganda's leading crusaders against human trafficking, Igoye's job today is eradicating such prejudices, both by highlighting the stories of female victims of trafficking, and by teaching women to take active roles in counter-trafficking efforts.Igoye wears multiple hats in her job with Uganda's Ministry of Internal Affairs: She is the deputy national coordinator of the Prevention of Trafficking in Persons department, and the training manager for the Directorate of Citizenship and Immigration Control. Besides monitoring and coordinating all counter-trafficking activities in the country, she has also trained about 2,000 law-enforcement officers in counter-trafficking measures. Her work spans 13 different ministries, directorates, and agencies, as well as outreach to various non-governmental organizations and the media. She recently began a year-long fellowship at Harvard University, though she continues her regular work as well; her latest passion project is building a center for female human-trafficking survivors in Uganda with the $50,000 in prize money that she was awarded by the Diller-von Furstenberg Family Foundation in April.
I recently spoke to Igoye about her life, her work, and how female leaders can encourage other women to strive for positions of influence. This is an edited and condensed transcript of our conversation.
---
Sharmilla Ganesan: What does your job involve?
Agnes Igoye: My life is chaotic! Right now I'm training 300 new recruits for the counter-trafficking task force, and one of the things I always try to do is teach the women to be as effective as the men.
There are certain things women do subconsciously, and I want them to be aware of it. For example, when the men come into the sick bay, they are given their medication and then told to go back to training. When women come in sick, though, they rest there even when it is not that bad. I tell them, they are not doing us a favor—the training is not going to wait for you.
When they had to run 10 kilometers for their first physical exercise, I ran with them. I lead by example. It tells the women they can do it. I told the trainers I wanted to see a woman being made one of the commanders for this batch. But we have to step up and also know that getting a position of leadership should not only be because of gender balance. I want them to be in that position because they deserve it.
By the nature of my job, I get involved in most parts of the counter-trafficking process. Prevention is of course important, and we need education for that, so I get all these books and take them to schools around the country, to both girls and boys. Education for me is huge, because right now in my country, over 75 percent of the country is young people. And it is as important to teach boys how to treat girls as it is to teach girls how to protect themselves.
Then there is the protection of women who are affected by trafficking, which is why I'm championing this center for survivors. To convict traffickers, you need survivors who are empowered to give testimony. These women need to be brought back to a bearable life. And traffickers have to pay for what they've done. If we don't lock them up, they will think they can get away with it. For this we need collaboration between stakeholders, and between countries, and to realize that this goes beyond competing for resources or pitting for power.
I'm currently working with the nonprofit Vital Voices on a campaign to end child trafficking in various parts of Uganda through community theater. It's amazing; in just two days, we managed to reach about 2,000 people in schools around the country. I also talk about trafficking all the time, at home and globally; when I'm on leave that's what I do. The last time I was off, I went to Colorado on a state tour, speaking to various universities and schools, media outlets, and even the cadets at the U.S. Air Force Academy.Ganesan: What drew you to anti-human-trafficking work?

Igoye: Growing up, my family lived through war. My parents were teachers who shifted around a lot and once, we were living on the front line. We had to stay indoors all the time; there was gunfire outside, and we had to crawl out to the cassava garden for food.

After that, my dad packed us all up to go back to our village home, but there, the Lord's Resistance Army rebels came. We had to flee because there was sexual exploitation and slavery, and as young girls, we were at risk of being taken. We ended up at a camp for internally displaced people at a mission and had to start over. Seeing what was happening around me as we were fleeing—the way people were exploited—left a big impact on me. It made me determined to help victims of such exploitation.

The world woke up to the fact that we had to do something about human trafficking with the United Nations' Palermo Protocol in 2000. But trafficking was happening in Uganda even before that. So when we crafted our own law in 2009, the Trafficking in Persons Act on the issue of exploitation, we included other things that are peculiar to Uganda: child marriage, the use of children in armed conflict, forced marriage, human sacrifice, removal of organs for witchcraft, and child labor. In Uganda, like the rest of the world, women are hugely affected. This is something I am particularly invested in, helping female victims and survivors of trafficking.

Ganesan: How does being a woman in a position of leadership change the dynamics of the work you do? What are the challenges you face?
Igoye: It helps me because I think about women. There are certain things that are so basic but don't get enough attention. As a woman, when I'm training, I think of simple things like providing sanitary towels. I think about women who are breastfeeding, or how women with children can have the time to come into work. When I consider posting a woman somewhere, I think about keeping her away from her family and about being flexible if she's pregnant.But women in these positions have to be tough. There are situations in which you go into a meeting and the things you say aren't recorded or seized on, while if a man says the same things they think it is worth doing. So as a woman, you have to assert yourself.

We are also very aware that we are representing all women. We are expected to lead by example, to perform—if you do something wrong, they'll say, "Ah, you see, women!" So you have that responsibility, which means you have to work extra hard to deliver, to prove yourself. That is why it is important to put the right role models out there for women, to show that they can be leaders.

Ganesan: Who are your role models? Where did you get an idea of what leadership could look like for you?

Igoye: My parents. My mother was a brilliant girl who couldn't study further because her family couldn't afford the school fees, so she became a teacher of the lowest grade. Much later, after I was born, she went back to school and got training to be a teacher for more advanced students. Seeing my mother do that, the leadership role she took and her contribution to our education, that was a big influence.

It is also important to have male champions. My father had a lot of influence on my life, giving me a chance to go to school even though people questioned why he educated his daughters. We showed the whole village that a girl child doesn't only have to be married, that we could make it. If I didn't have that father figure believing in me from such a young age, it would have been difficult to be who I am today. In my family, we are six girls and two boys—and the girls are the tough ones.