They Ran to the U.N. for Help. They Got Tear-Gassed Instead.
Joanne Mariner |
South Sudan's peacekeepers not only failed to protect civilians during the country's latest round of violence — it put them in even greater danger.
JUBA, South Sudan — They trusted that the United Nations would protect them. Instead, U.N. police officers with megaphones ordered them back toward the danger, opening fire with tear gas canisters when they refused to budge.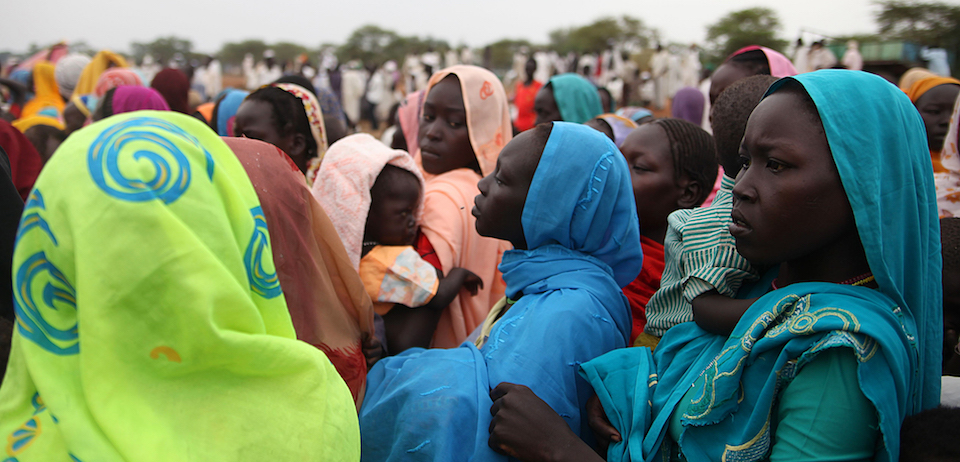 It was a little after 9 a.m. July 12, and thousands of displaced people were holed up on a U.N. base in Juba, the South Sudanese capital, after days of fighting that left more than 300 people dead. Two days previously, bullets and artillery shells had rained down on the so-called Protection of Civilians (PoC) sites on the U.N. base, forcing some civilians to take refuge in a better protected area of the compound that is normally reserved for U.N. staff. Now they were being forced back into the dangerously exposed PoC.
A tentative cease-fire had been declared, but sporadic violence continued.
A tentative cease-fire had been declared, but sporadic violence continued. Most of the civilians were terrified, hungry, and exhausted.
"It will take a long time for our trust in the U.N. to return," said an elder from the Nuer tribe who was among those who claim to have been tear-gassed by the U.N. police.
In interviews conducted this month by Amnesty International, dozens of civilians living in the PoCs at the U.N. base in Juba's Jebel neighborhood recounted stories of panic, vulnerability, and suffering as the country's civil war rekindled in early July. According to these accounts, U.N. peacekeepers and police not only failed to defend thousands of displaced people under their protection, they also put them at greater danger by forcibly expelling them from a more protected area of the U.N. base.
Since the peace agreement signed last August by South Sudan's warring leaders fell apart last month, the U.N. Mission in South Sudan (UNMISS), which has 13,000 peacekeepers under its command, has come under intense scrutiny for repeatedly failing to protect civilians who have taken refuge in and around its bases. South Sudanese soldiers raped dozens of civilians immediately outside the U.N. compound in Jebel in mid-July, with peacekeepers reportedly witnessing at least one of these rapes and doing nothing to stop it. The U.N. also failed to respond to a July 11 attack against South Sudanese and foreign humanitarian staff at the Terrain camp, a residential compound where one person was killed and several were brutally gang-raped. The Terrain camp was less than a mile from the U.N. base in Jebel.
The U.N.'s failures in Juba came on the heels of a similar incident in the northern city of Malakal, where at least 40 people died in February after peacekeepers abandoned their posts during an attack on a U.N. base there. A U.N. board of inquiry later excoriated the peacekeepers for their "combination of inaction, abandonment of post, and refusal to engage." Their report concluded that the peacekeepers' actions ensured "that civilians would be placed in serious risk in the very location to which they had come for protection."
After the Malakal attack, U.N. peacekeeping chief Hervé Ladsous acknowledged the mission's failures and said some peacekeepers will be sent home. He also pledged to "do a better job in training" so that this won't happen again. But the events of mid-July suggest that the lessons of Malakal have yet to be learned. Although the facts of UNMISS's response to the July violence are still contested, there is compelling evidence to suggest that U.N. peacekeepers failed in their duties toward civilians yet again.
When fighting erupted in Juba on July 8, over 27,000 civilians were holed up in the two PoCs — called PoC1 and PoC3 — at the U.N. base in Jebel. As forces loyal to President Salva Kiir engaged in active combat with those loyal to his first vice president, former rebel leader Riek Machar, both compounds came under heavy fire. On July 10 and 11, the two most intense days of fighting, more than a dozen civilians in the camps were killed and many more were injured. Two Chinese peacekeepers were killed after an explosive device struck their vehicle.
Despite what their name suggests, the PoCs did not protect civilians from the fighting outside. Ringed by barbed-wire fences and, in some places, dirt barricades, they offered little defense from the bullets and artillery shells raining down on them. When I visited the PoCs in early August, people showed me numerous bullet holes in their shelters — mostly made from plastic sheeting or hardened mud. One woman recounted how her daughter was shot in the arm while hiding under a bed with her three siblings. Medical workers said three people were wounded so severely that they now use colostomy bags.
One mother of five whose name is being withheld for safety reasons was sitting with her children near the barbed-wire barrier that separates PoC1 from the main section of the U.N. base on July 10, when a shell or rocket exploded next to them.
"I came running when I heard the blast," her husband recalled. What he found devastated him. "All of my children were unconscious. I didn't know who was dead and who was alive."
The mother and four of her children were wounded but survived. The couple's youngest daughter was not so lucky. A piece of shrapnel struck the 2-year-old behind her left ear and exited from her forehead, killing her instantly.
Amid the violence on July 10, displaced people in the U.N. camps watched in horror as peacekeepers in PoC1 abandoned their sentry positions. While Ethiopian peacekeepers in PoC3 remained at their assigned posts throughout the fighting, camp inhabitants said Chinese and Nepalese troops in PoC1 retreated to the main U.N. base. "The people that we trust to protect us were the first to run away," an elderly man told me in disgust.
Elizabeth Chester, a spokeswoman for UNMISS, said peacekeepers were never ordered to leave their posts, but she acknowledged that it is possible that some troops "took cover" under heavy fire. Camp inhabitants say that after U.N. peacekeepers abandoned their posts — leaving them unprotected in the crossfire — large numbers of displaced people sought protection in the main section of the U.N. base, where civilian U.N. staff were sheltering in much more solid buildings.
In their panic, women and children scrambled over the barbed-wire barrier to reach the main section of the base. (Dozens of them later showed me scratches and cuts they sustained during their desperate dash to escape the shooting.) According to residents of PoC1, thousands of people managed to enter after holes were broken in one of the barriers. But once in the main base, residents said, they were met with baton-wielding U.N. police officers who prevented them from taking shelter indoors.
"Big guys in blue uniforms, carrying batons, stopped us," a young woman recalled. "We spent the whole night outside."
"Big guys in blue uniforms, carrying batons, stopped us," a young woman recalled. "We spent the whole night outside."
Fighting continued around the base the following day, July 11, and the displaced people were allowed to stay within the main section of the U.N. base — though outside and exposed while U.N. staff hunkered down behind solid walls. But when the shooting subsided on the morning of July 12, the group was told to return to PoC1.
When the displaced civilians refused to comply with these instructions, witnesses say U.N. police fired tear-gas canisters into the crowd. "One landed quite near me," said one elderly man. "I saw it rolling, and I saw the fumes coming out of it. People immediately began coughing, sneezing, and crying. My eyes hurt for three days."
Several women described how their babies developed breathing problems or fell unconscious due to the fumes. A medical supervisor in the camp said that he and his staff treated several people for tear-gas inhalation that day.
Asked about the use of tear gas at the Jebel base, Chester denied that it was ever activated against displaced people. She said "an accidental tear-gas explosion" was reported in the U.N. compound at 9:11 a.m. July 12 — exactly the moment that the camp's inhabitants claim they were being forced back into the PoC.
This month, UNMISS announced an independent special investigation into its lackluster response to the July violence. In addition to establishing a clear account of what went wrong at the Terrain complex and in the areas surrounding the PoCs, investigators should examine the factual discrepancies of the tear-gas incident. Although law enforcement agencies in many countries use the substance as a riot-control agent, the circumstances of its alleged use in Juba suggest a gross betrayal of the U.N.'s mandate to protect civilians. Not only does it appear that U.N. police officers unnecessarily exposed children, pregnant women, and the elderly to harsh toxins; it seems they did so in order to force civilians back into an exposed and potentially dangerous area of the camp.
The special investigation should establish a clear account of what happened at the U.N. base in Jebel on July 8-12, and recommend appropriate disciplinary and remedial actions. Regardless of what investigators find, the failures of UNMISS point to a systemic problem that is larger than any single incident.
The accumulation of missteps in South Sudan over the past several years — and in other peacekeeping operations — raises questions about whether the United Nations is capable of living up to its ambitious but necessary goal of protecting civilians. A broader effort of reflection and change may very well be needed.
Photo credit: HANNAH MCNEISH/AFP/GettyImages