Wednesday 31 Aug 2016 | Ahram Online
The irrigation ministers of Egypt, Ethiopia and Sudan will meet next week to sign the contracts of two consultancy firms responsible for investigating the possible impacts of the Grand Ethiopian Renaissance Dam.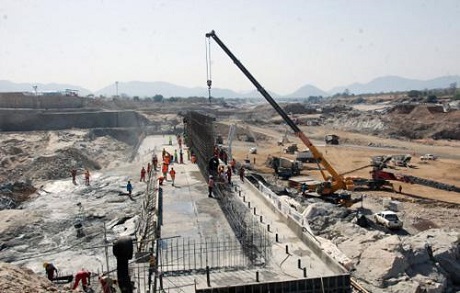 The two French firms, Artelia and BRL, have been selected to carry out various technical studies that will determine the impact of the under-construction dam on the Blue Nile, including effects on the downstream countries of Sudan and Egypt.
The signing will be held in Khartoum on 5-6 September, Al-Ahram daily reported, citing an official source who quashed reports that the Ethiopian side has asked for the signing to be postponed.
Egyptian officials have said that they were officially invited by Ethiopia to the meeting on 5-6 September and have not received any notice of a postponement, Al-Ahram reported.
Foreign Minister Sameh Shoukry said on 23 August that Egypt had received an official invitation; however, days later media reports quoted unnamed Ethiopian officials saying that no signing would occur on that date.
In the past, Egypt has expressed concerns that Ethiopia's $4.2 billion dam will affect the supply of its historical share of water, or, according to Prime Minister Sherif Ismail, that the hydroelectric dam could be used for reasons other than electricity generation.
Cairo argues it is guaranteed 55.5 billion cubic metres of Nile water per year under the terms of a 1959 bilateral accord with Sudan. Other Nile Basin countries, including Ethiopia, Kenya, Tanzania, Burundi, Uganda and Rwanda regard the agreement, which they were not parties to, as invalid, and in 2010 signed the Entebbe agreement which promotes equitable water allocation.
In March 2015, Egypt, Ethiopia and Sudan signed a trilateral declaration of principles that guarantees that all parties will take steps to avoid the Grand Ethiopian Dam harming the interests of the others.
President El-Sisi, who spoke at the Ethiopian parliament in a visit to Addis Ababa last year, told Egyptians in December that he understood their concern about water but that the matter was under control.
However, Egypt's former irrigation minister, Mohamed Nasr Allam, told Ahram Online in the same month that "the declaration (of principles) was a carte blanche from Egyptians to Ethiopians to build the dam while not guaranteeing Egypt's share of the Nile."
The dam is scheduled to be completed in 2017 and will be Africa's largest hydroelectric power plant on completion, with a storage capacity of 74 billion cubic metres. It is currently 70 percent complete.
Addis Ababa argues that the dam project with not affect downstream countries negatively.