How the world forgot "Africa's North Korea" Eritrea, and what this means for migration
Gabriel Pogrund | 9 September 2016  | New Statesman
Britain receives more asylum seekers from Eritrea than anywhere else, but the isolated African state somehow still hides in the world's blindspot.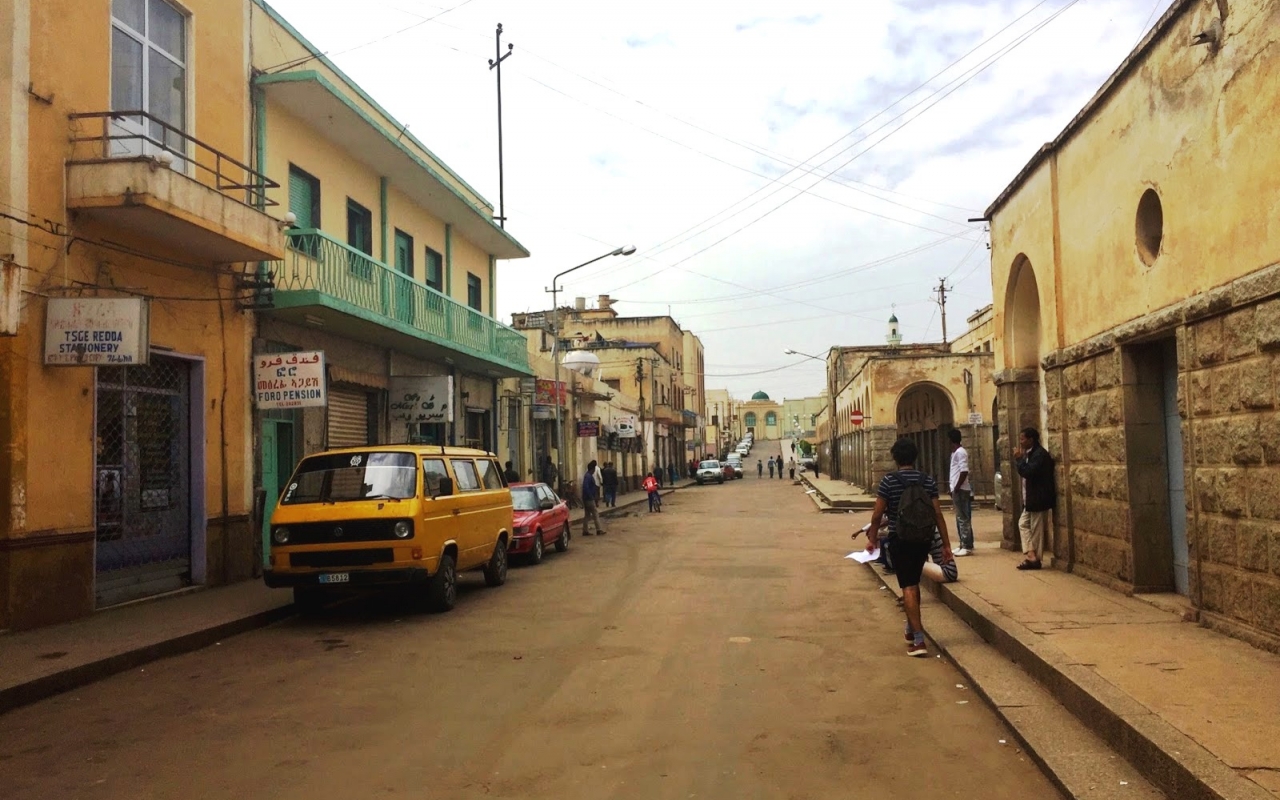 This summer, Eritrea turned 25. On a hazy evening in Asmara, the crumbling pastel-coloured capital, a foreign official offers a rare insight into the current state of its long-term leader.
Last week, she saw President Isaias Afwerki – or simply, Isaias – walking alone through the city's backstreets to a meeting at the World Health Organisation's local headquarters, wearing a Hawaiian t-shirt and chinos.
Isaias has ruled this land with an iron fist since winning the longest guerrilla war in history – against the Ethiopians – and gaining its independence, but little is known about him. "For 70 years old," another diplomat tells me, "he is in unfortunately good health" – a far cry from the well-publicised rumours of him being a heavy drinker.
And yet his country is ill. Behind the art deco buildings, espressos and oily iced buns of this former Italian colonial outpost lies an appalling dictatorship and a decaying economy.
The main scourge of Afwerki's regime is that military conscription here lasts indefinitely. Eritreans kiss goodbye to freedom aged 16, when they are called up to Sawa, the national military training camp, and asked to spend years defending the country's heavily militarised border with Ethiopia or working as slaves on road-laying and construction projects.
Citizens can get out of this service by fleeing, which is why more Eritreans illegally cross the Mediterranean than any other nationality, or by marrying – hence this country's oddly high rate of young marriage. Otherwise there are no guarantees: release from national service depends on the mercy of individual military generals.
Filmon*, who now lives in a Baltic refugee absorption centre, chose to flee. He walked alone across Sudan and Egypt before smuggling himself into Israel, where we met briefly last summer. A few months ago, he was "voluntarily deported" from Israel to Uganda – and from there he made his way to Europe. Does he regret leaving for a life like this? This relatively hesitant man barely allows me to finish the question: "No way, I would never go back to Sawa. Never."
What is poorly understood is that this state's philosophy of military conscription and self-sufficiency is not arbitrary. It is a response to the brutal Ethiopian occupation that the world supported for decades.
Eritrea had to battle an army backed by superpower sugar daddies – first the US and then the Soviets, the two greatest militaries the world has ever known – for 30 years without help from anyone but its diaspora.
This David beat Goliath on its own: why should it take lectures from anyone or rely on anyone for help now? Why should Eritrea take chances on its still restive border with Ethiopia?
Unfortunately, the anger of an abused child is rarely effective. What seemed in 1991 a valiant attempt at doing African independence differently has turned into aggressive self-isolation. There are almost no international organisations or companies here. And despite having an elongated coastline on the Red Sea – the maritime gateway to Africa, Asia and the Middle East – the port city of Massawa is practically empty when I visit.
This country is an economic basket case as a result of such behaviour. Adults earn an average of $500, while children on Liberation Avenue sell packs of knockoff chewing gum and plead with passersby for money and chocolate.
There may even be a famine in the north of the country, foreign diplomats whisper, but no one would know if there was. There is no freedom of press, and private communications are monitored by government, so these matters go unreported. In a country where there is no electricity for long expanses of the day, people are left literally and figuratively in the dark.
In some respects, though, self-isolation has worked. There is little international interest in the affairs of Eritrea considering its geopolitical significance. The last time the UN General Assembly or Security Council passed a resolution on its government's human rights abuses was 2011.
Shockingly, Britain only established an All-Party Parliamentary Group on Eritrea this year. Let us not forget more Eritreans illegally cross the Central Mediterranean than Syrians – and more Eritreans apply for asylum in Britain than any other nationality. Some blind spot.
Some of the best evidence here is anecdotal. Tell anyone you're going to Eritrea and they gawk, "isn't that the North Korea of Africa?!" (a moniker that seems to have stuck), before confessing to know little about what actually goes on there. Alternatively they stare back blankly.
And then there is the response of Eritreans themselves. The Red Sea port of Massawa was pulverised by Ethiopian cluster bombs in 1991 and has been left to rot in the 44 ℃ heat ever since. "Why are you here?" asks Habtom, a middle-aged English teacher. "No one comes here."
People we meet across the country are similarly confused.
Afwerki, which literally translates as "mouth of gold", is apparently looking for foreign investment in the country's reserves of that very metal. But when it comes to opening up the country or conscription or civil freedoms, Eritreans have learned not to take such reports too seriously.
Few believe this young country will move forward until its incumbent leader dies. This will fuel Eritrea's great irony: a country that tries to seal itself off from the world cannot stop its sons and daughters from leaving.
*The names of individuals in this piece have been changed in order to protect their identities.