Siobhán O'Grady |

Over the course of one weekend in early August, human rights groups reported that close to 100 Ethiopian civilians were killed across the country in clashes with security forces as they protested being politically and economically sidelined by the government.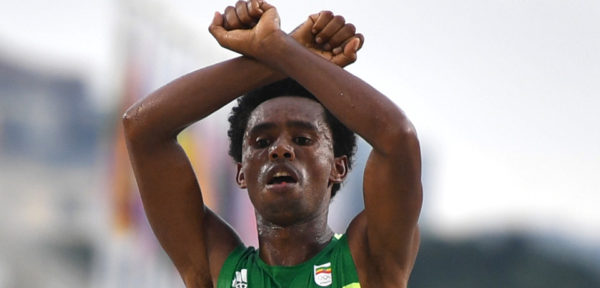 Later that month, Ethiopian Olympic marathoner Feyisa Lilesa — who belongs to the protesting Oromo ethnic group — crossed the finish line in second place in Rio de Janeiro and raised his arms in an X over his head. The move signaled solidarity with the dissidents, who have faced a brutal crackdown in their efforts to open the Ethiopian political sphere to Oromos. Despite making up 40 percent of the Ethiopian population, Oromos have been largely blocked from holding major office.
Lilesa knew the risks when he raised his arms that day, and according to the Washington Post he immediately packed his bags and fled from the Olympic Village to a hotel in Rio. Government officials in Addis Ababa claimed he had won the silver medal for them and would thus be welcomed like a hero when returning home — no matter his political beliefs.
Lilesa didn't trust them. He arrived in the United States last week, where he is now seeking asylum.
On Tuesday, Rep. Chris Smith (R-N.J.), chairman of the House subcommittee on Africa, pointed to the runner as a victim in the fight for democratic freedom in Ethiopia. The congressman said that although Ethiopia has proven itself as a longtime ally to the United States, the government has "intensified in its effort to shut down political opposition and critics in civil society."
Smith is calling on Ethiopian officials to respect the rights of Lilesa and other citizens to freely express opinions without fear of retribution. He said Tuesday he would file bipartisan legislation urging Ethiopia's leaders to allow a special United Nations rapporteur into the country to examine its human rights situation.
In Addis Ababa, the request will likely be seen as a rebuff against the government from a close ally. When reached by telephone, an officer at the Ethiopian Embassy in Washington asked Foreign Policy to try calling again on Wednesday.
In his remarks, Smith pointed to examples of other Ethiopian protesters who now fear their government, including Demssew Tsega Abebe, another runner who participated in a rally last year and later had his feet tortured by security forces. Over the past year, some 400 protesters are believed to have been killed at the hands of security forces.
"I have remained in contact with the Ethiopian government in an effort to convince them to moderate their behavior toward their citizens," Smith said. "Unfortunately this moderation has not taken place."
Lilesa might not be alone in seeking asylum in the United States this fall. On Monday, visually impaired Ethiopian paralympic runner Tamiru Demisse also earned a silver medal in his race in Rio — then raised his arms in an X over his head.