Ahram Online | Sunday 18 Sep 2016
Egypt's irrigation minister arrived Sunday evening to the Sudanese capital Khartoum to participate in the tripartite meeting between Egypt, Ethiopia and Sudan that will witness the signing of contracts with two foreign consultancy firms hired to study the impact of Ethiopia's Grand Renaissance Dam (GERD) on downriver countries, state-owned MENA news agency reported.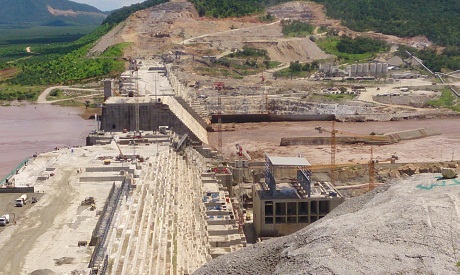 Irrigation minister Mohamed Abdel-Ati and an accompanying delegation were received by Sudanese irrigation minister Moataz Mousa and Egypt's envoy to Khartoum Osama Shaltoot. The meeting will take place on 19-20 September.
The anticipated signing of the contracts comes following a series of delays over "outstanding issues between the French consultancy firms [BRL and Artelia] conducting the technical studies and the legal firm wording the contracts."
In March 2015, Egypt, Ethiopia and Sudan signed a trilateral declaration of principles guaranteeing that the three countries would take steps to ensure that the building of the dam would not harm the interests of any of the parties involved.
Cairo previously expressed concerns that Ethiopia's $4.2 billion dam could affect its historical share of Nile water, though it has recently said it does not believe the construction of the dam will negatively impact Egypt.
Addis Ababa has maintained that the dam project, which Ethiopia says is needed to generate electricity, would not harm downstream countries.