Rowena Mason Deputy political editor |
Theresa May uses UN speech to outline plans to return Somali refugees and stop people trying to cross Mediterranean
More than £100m of the UK aid budget will be spent on returning Somali refugees to the country they fled and encouraging people escaping war zones not to cross the Mediterranean under plans outlined by Theresa May in New York.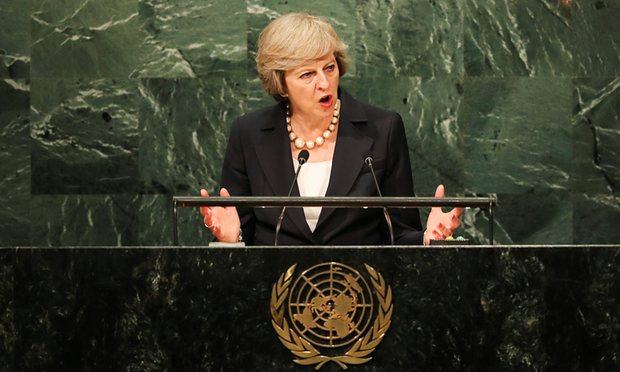 The prime minister used her maiden speech at the United Nations to expand on proposals aimed at stopping "mass uncontrolled population movement", which has seen refugees travelling long distances in search of better lives. Her plans attracted criticism earlier in the summit over the suggestion that those fleeing war zones should stay and claim asylum in the first safe country they reach, rather than seeking sanctuary in European nations such as Britain.
However, May pressed on with the argument on Tuesday in an address to the general assembly, as she focused on actions in north Africa to stop migrants crossing the Mediterranean.
In her speech, May said Britain would send more troops to Somalia to help train local troops to combat the al-Shabaab militant group, including up to 30 teams of between five and 30 personnel with no more than 70 in the country at any one time.
"The UK is now going to increase further our security support and we will be calling on others to do the same, hosting an international conference on Somalia in 2017 to maintain this vital momentum," the prime minister said.
While acknowledging Somalia is facing serious security problems, the government is also contributing £20m from the aid budget to encourage refugees who fled the country to return home from the Dadaab camp in Kenya.
"We will invest £16m in Somalia to help do things around food, education, shelter and sustainable livelihoods and then £4m to Kenya to help support the process of returning these people," a UK official said.
The process has recently been criticised by the Human Rights Watch group, which said the return of the refugees from Kenya to Somalia cannot be considered voluntary as the Dadaab camp is at risk of being shut down. The UN has insisted there are no forced returns.
At a later summit on refugees, hosted by the US president, Barack Obama, May said another £80m from the aid budget will be aimed at helping migrants, largely Eritreans, stay in Ethiopia through the financial support for the construction of new industrial parks offering 100,000 new jobs, including 30,000 for refugees.
This is an expansion of the programme used in Jordan, Turkey and Lebanon to try to encourage refugees to settle in the region rather than make journeys to European countries.
Of the 124,000 refugees who crossed the Mediterranean to Italy between January and September this year, 12% were Eritrean – second only to Nigerians who made up 20% of the numbers crossing.
At the Obama summit, May also announced that more of the UK's aid budget would be spent on humanitarian efforts.
A UK official said £1.5bn for the year would be going towards refugees and others in dire need, which is an increase of 10% on the aid budget. About £2.5m will go to an international fund to help resettle refugees in other countries.
However, May unveiled no new commitments for the UK to take in more than the 20,000 vulnerable Syrians who David Cameron agreed to accept by 2020, despite calls from charities and Labour for Britain to do more.
Speaking before the summit, May argued it was better to help a greater number of refugees at camps in countries bordering Syria than to resettle a smaller number in the UK.