Andrew Mayeda | October 25, 2016 | Bloomberg
African commodity exporters risk a "disorderly" hit to their economies if they don't adapt to the reality of low prices, said a senior official at the International Monetary Fund.
Some governments in sub-Saharan Africa have been slow to "internalize" the fact that prices of oil and other commodities are likely to remain low, said Abebe Aemro Selassie, director of the IMF's Africa department. Countries need to let their currencies adjust to lower demand, while shoring up their budget balances, implementing reforms to improve competitiveness and cushioning the impact on the poor, he said.
"The alternative is a more disorderly adjustment process when you eventually run out of foreign exchange, when you run out of fiscal space," Selassie said in an interview in Washington. "These are very difficult political decisions, and we're under no illusion that putting this in place is going to be easy."
Battered by the commodities slump and anemic global demand, sub-Saharan Africa's economy is set to expand 1.4 percent this year, the slowest pace in more than two decades, according to the Washington-based fund. Nigeria, one of Africa's largest oil producers, is poised for its first annual contraction in about 25 years, while growth is expected to be roughly flat this year in South Africa, which is the continent's biggest producer of gold, chrome and coal.
Oil Rut
While the price of crude oil has increased more than 35 percent this year to about $50 per barrel on Monday, it remains at about half of a June 2014 peak. The Bloomberg Commodity Index has fallen more than a third since then.
The IMF forecasts growth in the region will pick up next year to slightly less than 3 percent, from 1.4 percent this year, but only if authorities in the largest economies move promptly to correct imbalances and dispel policy uncertainty.
The growth picture has split into a tale of "two Africas," with the region's 23 commodity-exporting economies under severe strain and the remaining 22 nations posting reasonably high growth, the fund said in an outlook for the region released Tuesday.
Selassie said policy implementation by commodity producers has been "inadequate and incomplete."
"In some cases, it's basically an expectation that prices will recover, or there are some investments already in the pipeline in the oil sector," said Selassie, a native of Ethiopia and veteran IMF economist who took over the Africa department last month. "There's an expectation that an increase in production will make things better again."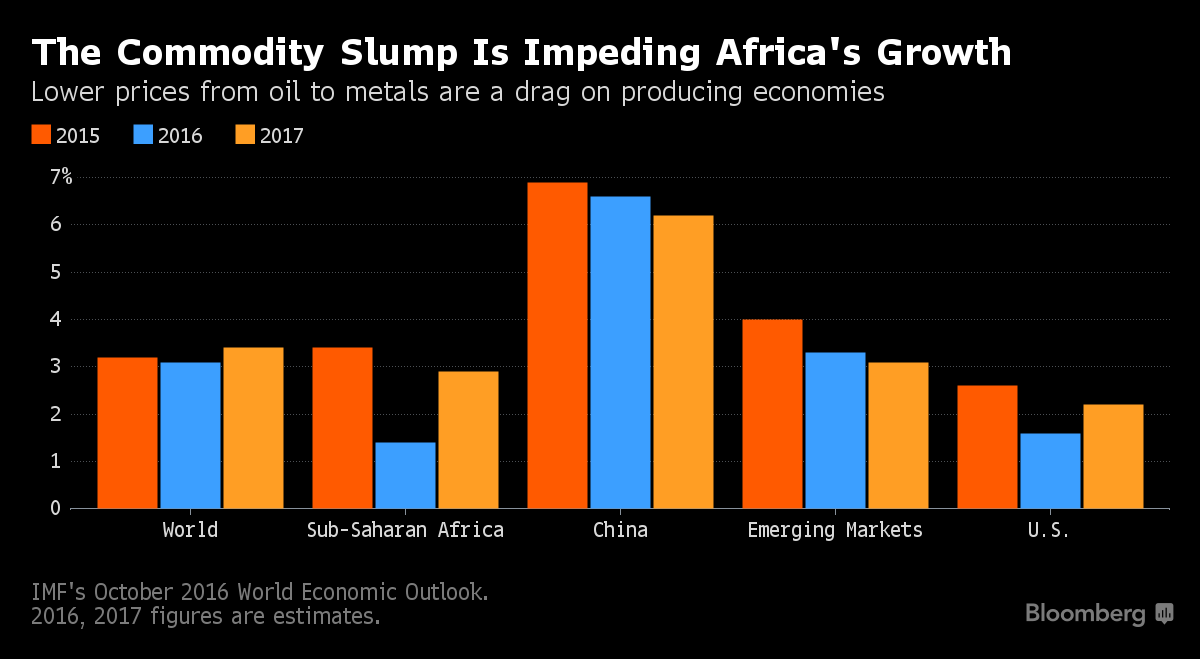 Governments have been cutting spending across the board to balance their budgets, rather than taking the preferred route of targeted cuts or durable steps to raise tax revenue, the IMF said in the outlook. Countries have been reluctant to let their currencies weaken as needed, the fund said.
The IMF is concerned the economic damage of the commodities slump is becoming ingrained, undermining the chances of a strong short-term rebound.
With foreign-exchange reserves dwindling and public debt accumulating rapidly, the return to growth depends "critically" on the availability of new financing, ideally on lenient terms, the IMF said.
Loan Programs
Africa's second-largest copper producer, Zambia, expects to agree on a support package by March with the IMF after asking for the lender's help. Ivory Coast, the world's biggest cocoa producer, reached a staff-level deal this month with the fund for $674 million in loans.
But countries such as Nigeria and Angola have so far declined to borrow from the lender. Nigeria has instead turned to the World Bank and China for financing, while Angola recently backed away from loan discussions with the IMF. Selassie said the fund isn't discussing loans with either country.
"What is most important is really the right policies are being pursued," he said. "To the extent that you do those policies, you don't need the sort of exceptional balance of payments support that the fund provides."