Autistic black teen got lost running a 5K – and was assaulted by a man who feared getting mugged
Amy B. Wang | 01 November 2016  The Independent
Chase Coleman's mother was waiting for him near a reservoir she knew the runners would pass – but he never appeared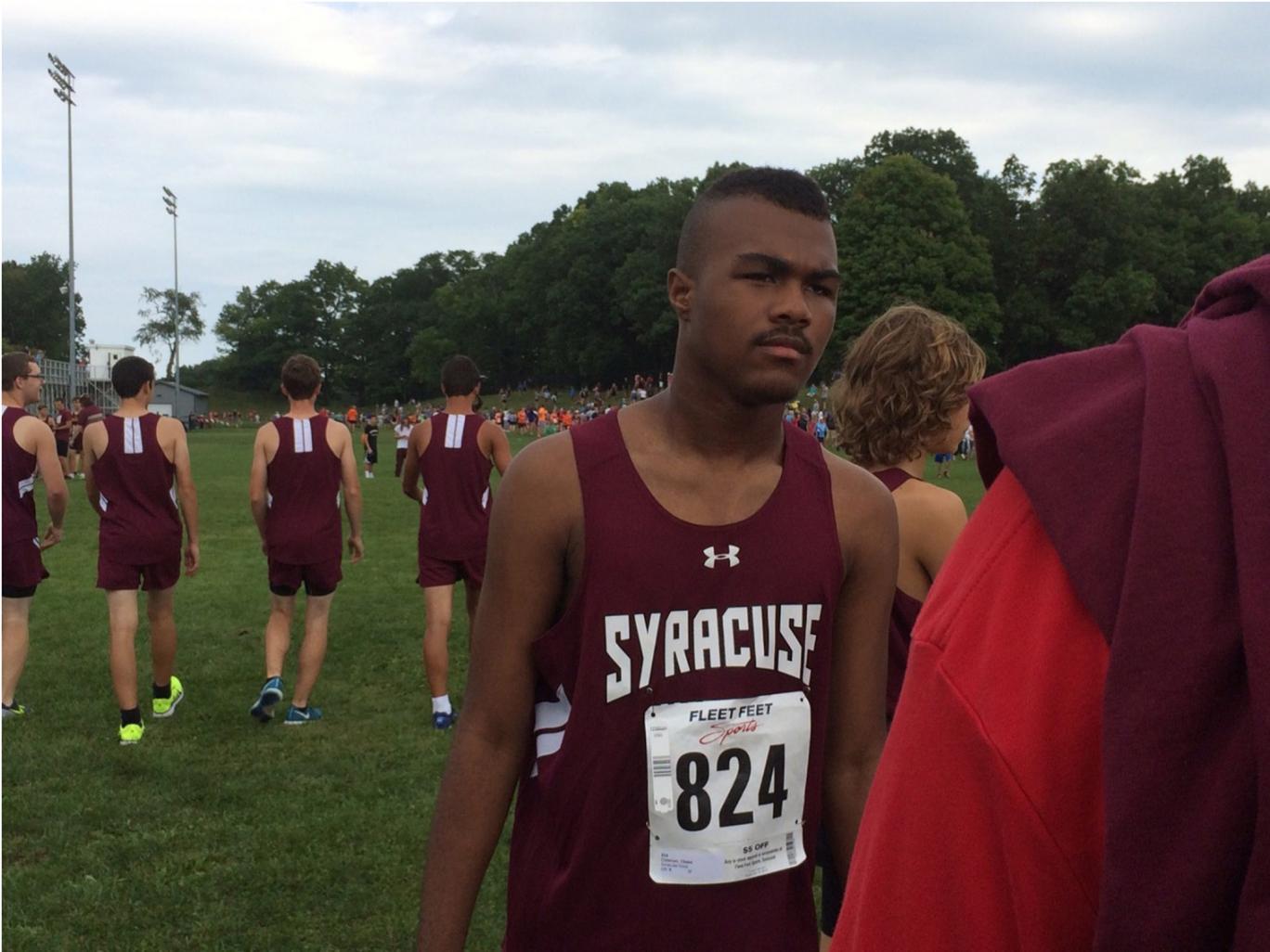 For more than two years, Clarise Coleman faithfully attended every track practice and every cross-country meet for her son, Chase.
Part of it was being a supportive parent, proud that Chase had finally found "his sport." Coleman loved the camaraderie that the cross-country team gave her 15-year-old freshman, even if it meant frequently road-tripping from their home in Syracuse for meets all around New York state.
But as the mother of a nearly nonverbal autistic child, Coleman also knew that she needed to be there for Chase in case he needed help. She often scouted out racecourses ahead of time, noting where the lanky teenager might get lost or confused, as he often did.
A few weeks ago, her worst fears came true when Chase – who was running in a meet in Rochester, New York, with his team from Corcoran High School – was assaulted by a stranger in the middle of a race.
Coleman had been waiting for him near the reservoir in Cobb's Hill Park, at a part of the course where runners would come down a hill – but Chase never appeared. So as she often would do at meets, she went looking for him.
"I started walking that direction, and I'm screaming his name out: 'Keep going, Chase!'" Coleman told The Washington Post. "And a young lady came up to me and said, 'Are you looking for one of your runners?'… She said, 'Some man just assaulted him.'"
Coleman ran in the direction the woman pointed and soon saw her son walking toward her, accompanied by a bicyclist who had assisted him.
"I asked, 'Is Chase okay?' " Coleman said, adding that one often needs to speak to Chase in the third person. "I check his body. I'm checking his face. I pulled his shirt. 'Show Mommy where Chase hurts.' "
Chase put his hand on his back. "Back," he said.
When Coleman was told what witnesses saw, her fears deepened.
The female witness, identified in a police report as Collin Thompson, told police that she had seen Chase running in the middle of the road. Thompson then witnessed an older white male get out of his car, according to a police incident report. Thompson said the man approached Chase and pushed him to the ground, after which he yelled, "Get out of here."
The other witness, Kris Van Metter, told Syracuse.com that he had just finished a bicycle ride when he saw the same scene.
"I see a grown man, who is quite tall and fairly heavy… exit the vehicle and give this young man a shove that puts him back 10 feet and flat on his butt," Van Metter told the news site. "Like, just shoved him across the road. The kid didn't seem to be doing anything but standing there, obviously had nothing in his hands and weighed all of 130 pounds. This guy was easily twice that."
Neither Thompson nor Van Metter could be reached Sunday.
They had, however, caught the man's license plate number and police used it to track down a 57-year-old man named Martin MacDonald at his home in Pittsford, a suburb of Rochester, the incident report said.
When a deputy visited MacDonald's home, he admitted he had pushed Chase to the ground, the report said.
"When [the deputy] asked him why he did that, he replied that he thought Chase was going to mug his wife and take her purse," the incident report said. "MacDonald's wife was sitting in the front passenger seat at the time of the [incident]. When [the deputy] asked him why he thought that, MacDonald told him that some youths had broke into his car recently and that crossed his mind. MacDonald went on to say that Chase wasn't responding to him telling him to move out of the road."
Coleman said the Rochester police relayed MacDonald's explanation to her – noting that it had been black youths who had allegedly broken into MacDonald's car – and she was aghast that this could be used to justify an attack on Chase.
"I said, impossible. That's a lie. Chase don't even know how to defend himself. What? He can barely ride a bike," Coleman said. "[Chase] was in a uniform. He had a number pinned to him. How did you think that he was out trolling to steal your car? … You can't tell me that it wasn't because my son wasn't black. There were Asian kids, there were Caucasian kids. But you picked the black kid to say, 'That crossed my mind'?"
"My son is a minor. [MacDonald is] a grown man," Coleman said she told police. "He put his hands on my son. Of course I want to press charges."
On October 21, Rochester City Court Judge Caroline Morrison sent a letter to the Colemans that shocked them: She had denied their warrant application, and MacDonald would not be charged for second-degree harassment.
On Monday, though,  the case took a new turn – a city official told the Associated Press that Rochester police will renew their investigation into the incident.
The week after the assault, which took place on a Friday, Chase refused to go to practices and skipped running in his last meet of the season. Crestfallen, Coleman watched as her son turned his running uniform in to his coach, who gently encouraged him to change his mind. Chase refused.
His story has spread quickly through the Syracuse City School District, which Chase has been a part of his entire life.
Syracuse city councilor Susan Boyle, who has two children of her own in the district, came across the Colemans' frustration when she saw a plea for help they had posted on Facebook.
"It's just devastating, this poor kid," Boyle told The Post. "There's so many issues around this that are so troubling. That this happened, to begin with. Even if there were no race issues… this grown man jumped out of his car and shoved the kid. If you met Chase you'd probably figure out pretty quickly that he was a special-needs kid… There's no justice. It's just disturbing."
If race was involved, she added, "it just kind of takes the whole thing to another level and I can't understand why the court system doesn't see that." She noted that the police report marked the incident as an 'Argument.'
"Clearly, if Chase is nonverbal it was not an argument," Boyle said.
Last week, Boyle wrote a letter to Monroe County District Attorney's Office demanding that they receive an explanation as to why Rochester court system felt this crime should go unpunished.
"For an Autistic, nonverbal student to have joined a team, to be competing in organised athletic programmes and acting as a part of a team and community is the kind of success we strive for," the letter read in part. "For all of this progress to be lost due to a racist, aggressive, unprovoked attack on a disabled African-American minor with absolutely no consequences is, for lack of a stronger word, unacceptable."
When Chase was young, Coleman and her husband had tried enrolling him in camps for soccer, baseball, flag football, basketball. Nothing seemed to hold Chase's interest until he attended a children's running clinic.
"At the end of that day, he was smiling from ear to ear, and I said, 'Do you like this sport?' And he said yes," Coleman said. She was overjoyed, knowing how much even a single-word response meant. "I found an outlet for him. He spends so much time in his own mind."
He was never competitive – and in fact often finished last – but that never mattered to him, Coleman said.
"With cross-country, it's something that he could do at his own pace and still be a part of the team," she said. "I just thought it was wonderful."
In seventh grade, Chase joined the cross-country team, and it became his family; many of his teammates had come up through the same school system and had been classmates with Chase since kindergarten. When Chase turned 13, Coleman threw him a "bro mitzvah."
"His whole team, boys and girls, they all showed up," she remembers.
"[MacDonald] snatched a joy out of my child that took a long time to establish," Coleman said. "He needs to face the music… This is still a child and it was unprovoked. He needs to wear some handcuffs and go through that whole process."
Still, Coleman knows that the attack has traumatised her son, even if he cannot verbalize how. He has frequently put his head down since the incident, and she worries he has lost one of the few passions that gave him a sense of pride and belonging.
"We just keep telling him, 'You didn't do anything wrong. Chase is good. There are mean people and there are nice people and this person was just a mean person,'" Coleman said. "We just keep apologising to him that happened. Especially me. I kept apologising to him that I couldn't keep him safe."