Europe's crackdown on African immigration is hitting vulnerable refugees
Martin Plaut | Thursday 26 January 2017  | The Guardian
The EU is involved in secret talks with Sudan and Eritrea to prevent an exodus to southern Europe, leaving thousands at the mercy of repressive regimes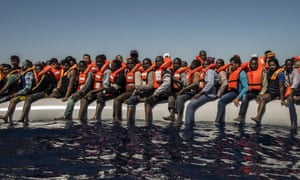 Documents cited in the Guardian on Monday showing that the UK government downplayed the risk of human rights abuses in Eritrea in an attempt to reduce asylum-seeker numbers are the latest indication of Britain's determination to reduce African immigration. But this is a Europe-wide initiative, co-ordinated in Brussels.
With French, German, Dutch and Italian elections later this year, there is intense pressure across the European Union to cut the flows of refugees and migrants across the Mediterranean. European plans to deal with the question have been veiled in secrecy, since they involve close cooperation with some of Africa's most notorious dictatorships.
The German magazine Der Spiegel revealed a warning from the European commission that "under no circumstances" should the public learn what was said during talks held in March last year. A member of staff working for Federica Mogherini, the EU high representative for foreign affairs, warned of the risk to Europe's reputation.
Plans are being formulated under arrangements agreed between the EU and African leaders in Malta in November 2015. These called for close cooperation between European security services and those of African states. Among those around the table at Valletta were representatives of repressive regimes in Sudan (whose president, Omar al-Bashir, is wanted by the International Criminal Court for war crimes) and Eritrea, which has been accused of crimes against humanity.
European civil servants are fully aware of just how dangerous these proposals are, and the document includes in a list of risks the possibility that resources and equipment could be diverted "for repressive aims".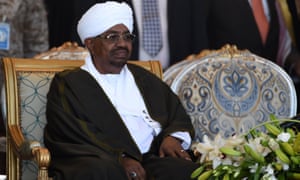 The Sudanese authorities have already begun what is technically termed refoulement of Eritreans – the forcible return of asylum seekers to a country where they are liable to be subjected to persecution. In May last year hundreds were arrested in Khartoum and returned to Eritrea.
Eritrean human rights organisations suggest this process has continued. Refugees in the Sudanese capital are fearful of leaving their homes, afraid they will be picked up by the authorities.
In Europe, these efforts are paying off: the number of people arriving from Africa is falling. The latest statistics from Frontex – the EU-wide border agency – show that two routes have almost been sealed. There is next to no transit by sea from west Africa through the Canary Islands, and only a limited number of people arriving in Spain via the Spanish enclaves of Ceuta and Melilla. A total of 2,162 Africans made it to Spain in the second quarter of 2016.
The second route, via the Sinai and Israel, has effectively ended. A hi-tech system of fences and detection devices, constructed by Israel in December 2013, sealed the border.
This leaves available to Africans just the central Mediterranean route through Libya and, to a lesser extent, Egypt. It was used by 51,450 people in the second quarter of 2016. But the EU is now attempting to cut this final route into Europe. Earlier this month Italy's interior minister, Marco Minniti, was dispatched to Tripoli to broker an agreement with Fayez al-Sarraj, head of Libya's UN-backed government of national accord, on fighting irregular migration through the country.
Minniti and Sarraj agreed to reinforce cooperation on security, the fight against terrorism and human trafficking. "There is a new impulse here — we are moving as pioneers," Mario Giro, Italy's deputy foreign minister, told the Financial Times. "But there is a lot of work to do, because Libya still doesn't yet have the capacity to manage the flows, and the country is still divided."
Such initiatives are developing rapidly, with civil servants using aid and security co-operation to crack down on this African exodus. And while we can all recognise the domestic, political pressures that EU governments face, and which are leading them to seek to halt the flow of migrants across their borders, we must also recognise that those affected are some of the most vulnerable people from some of the most repressive countries in Africa. There must be a legal route for refugees to escape persecution.
Related story: