Michael Cohen and Sam Mkokeli | 
The pursuit of money among some members of South Africa's African National Congress is becoming so intense that senior officials say it's threatening to split the ruling party and damage its ability to govern.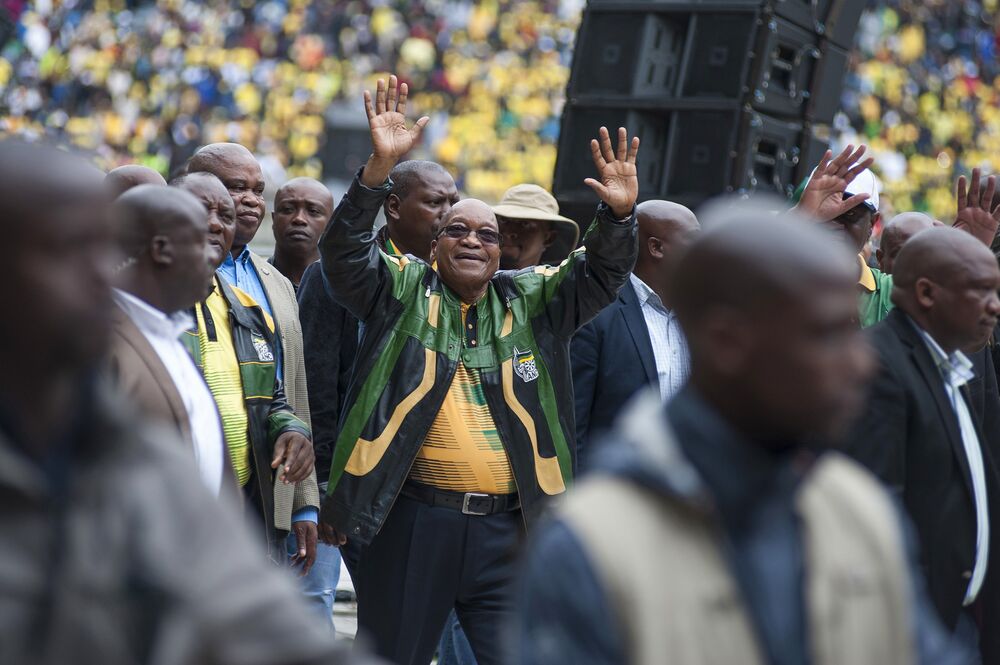 In power since Nelson Mandela led the ANC to power 23 years ago in the nation's first multiracial elections, the former liberation movement is now increasingly seen as an avenue to secure state contracts and jobs, with routine reports of bribery to win positions. The issue has become so worrying that some senior officials are breaking the party's tradition of closing ranks to deal with internal problems by speaking out.
"Leadership contests are accompanied by practices such as gate-keeping, vote buying, electoral fraud and even violence," Deputy President Cyril Ramaphosa said in a speech this month. "We must face the reality that much of the factionalism in our movement is rooted in a competition for access to resources."
The manipulation of government appointments has undermined the state's ability to deliver education, housing and other services. As much as 40 percent of the 600 billion rand ($45 billion) budget for goods and services is consumed by inflated prices from suppliers and fraud, the National Treasury's procurement office estimated last year.
ANC Profiteers
"The problem seems to be getting worse," Mashupye Maserumule, professor of public affairs at the Tshwane University of Technology in Pretoria, the capital, said by phone. "The challenge going forward is that there might be an ANC in name, but the real power might lie with certain individuals who have profited so much from the state."
The intensifying debate comes as the ANC is scheduled to choose a new leader to succeed President Jacob Zuma in December and continues its soul-searching of how it suffered its worst-ever electoral performance in an August municipal vote, when it lost control of Pretoria and the economic hub of Johannesburg to opposition party coalitions.
Zuma, 74, acknowledged the problem in a Jan. 8 address to an ANC rally in Johannesburg, when urged the party to take a decisive stand against those who abuse their positions to further personal agendas, saying members must "live a life of humility, integrity and selfless service to the people."
Critics argue that Zuma, who took office in May 2009 just weeks after prosecutors dropped graft charges against him, hasn't led by example.
Zuma's Scandals
In a 2014 report, the graft ombudsman found that the president unfairly benefited from a taxpayer-funded 215.9 million rand upgrade of his private home, and last year the nation's top court ruled that he violated his oath of office by refusing to repay some of the money. In a separate finding last year, the ombudsman implied that Zuma allowed a wealthy family in business with his son to influence cabinet appointments and the awarding of state contracts.
Scandals implicating Zuma contributed to the ANC's poor showing in the municipal elections in August last year. The president, who's due to step down as ANC leader in December and as the nation's leader in 2019, denies intentionally breaking the law.
Even so, the problem of corruption and the faction-fighting it breeds in the ANC has escalated during Zuma's tenure as leader. The party has received reports of people buying membership cards in bulk, guaranteeing them control of a branch, and of some bodies claiming members that don't exist, according to ANC spokesman Zizi Kodwa.
'Fat Pockets'
"We have never seen the influence of money like we have seen in the recent past," he said in an interview. "Big business and people with fat pockets will want to capture a leader or the whole leadership for their own selfish interests."
Founded in 1912 and widely credited for leading the fight against apartheid, the ANC had about 769,000 members at last count in October 2015.
Ramaphosa, one of the front-runners to succeed Zuma, called on the the party to adopt measures to deal with conflicts of interest, alleged criminal conduct and ethical breaches. State procurement processes also need to be insulated from political interference, he said.
Rooting out corruption and restoring the ANC's tarnished reputation won't be easy, according to Maserumule.
"There is this perception that if you want to benefit in South Africa one way or another, for a tender, for a job, for whatever, you must be a member of the ANC," he said. Those who use to party to enrich themselves "are not just going to just sit down and fold their arms, they are going to fight back. It is going to be a mini-war within the ANC itself."