From chefs to musicians, talented 're-pats' come back to build a modern Ethiopia
Entrepreneurs who were educated overseas are returning home
His dream is to show the world the glories of Ethiopian cuisine, to preserve its rich traditions and to make even his poorest fellow citizens eat better. That Yohanis Gebreyesus Hailemariam's ambition recalls the aims of a slightly better known chef is no coincidence.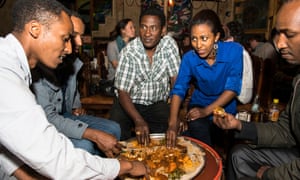 "I'm a big fan of Jamie Oliver. Many years back, my mum and I used to watch his shows," he says. The 30-year-old is one of thousands of talented young Ethiopians who have chosen to return to their homeland after being educated or growing up overseas.
One of the longest economic booms anywhere in the world in recent years has transformed the lives of tens of millions, and opened commercial opportunities unimaginable a generation ago. Growth rates have averaged about 10% for a decade, and most agree poverty has declined steeply.
A vast dam – one of several enormous hydroelectric power projects guaranteeing cheap electricity – and a new railway from the capital Addis Ababa to Djibouti, the Red Sea port 750km away, opened in December. The national airline – once shunned – now flies new aircraft daily to destinations across south and east Asia, turning Ethiopia into an intercontinental hub. In the new commodities exchange in Addis Ababa, prices for coffee flash across an electronic display on one wall. On a sofa in reception, Haile Tiruneh, a 19-year-old from Washington, sits waiting for a 9am meeting with a CEO. "I don't want to stay [in the US]. I see all my relatives struggling with loans. I want to be back here … there are so many opportunities," Tiruneh, who is currently studying finance at Seoul University, says. Other "re-patriates" as they are known here include designers, restaurateurs, musicians and property developers.
Hailemariam grew up in Addis Ababa but spent years training with Paul Bocuse, an internationally renowned French chef, in Lyon before working at top restaurants in California. One of the highest profile Ethiopian re-pats, he has successfully tapped into a growing interest in cooking and gastronomy among an emerging urban middle class. His primetime TV show has an audience of millions, producers say. A key feature of every episode is a recipe specific to each region of the nation of 94 million.
One motive, he says, was to preserve traditions that are being lost as Ethiopia, the second most populous nation in Africa, develops. "I was working in California when I saw my chef using an Ethiopian spice. It struck me that as an Ethiopian I should know and use this product. I should know this … kind of craft, this art, that is being lost in an increasingly rapid and industrialised world," he says.
"I wanted to come back to Ethiopia. I knew it would be a challenge to come from the diaspora and be seen as an Ethiopian chef. So I travelled all over the country looking to use knowledge that has a global appeal. And I noticed that Ethiopia has so much to offer. Because of globalisation, we are forgetting to look inside our own country."
Another motive was to improve the diet of his fellow citizens. The terrible famines of the mid-80s – caused in significant part by the brutal policies of the repressive rulers at the time – are gone but millions of Ethiopians still suffer serious malnutrition rooted in desperate poverty. Hailemariam is now working with nutritional experts at the University of Addis Ababa, government officials and the UN to develop balanced and affordable menus and recipes that will allow even the poorest to eat well and healthily. "I'm absolutely tired of the famine stereotype [associated with Ethiopia], but it is up to us to show the way it is here now," he said.
Yet Ethiopia's growth is far from untroubled. Many of Hailemariam's tens of thousands of Facebook followers may experience some difficulty accessing the chef's latest recipes and instructional videos. Social media have been severely restricted since the ruling Ethiopian People's Revolutionary Democratic Front imposed a state of emergency in October after a wave of bloody protests against its 25-year rule. Hundreds have been killed and tens of thousands imprisoned in the crackdown, prompting fierce criticism from international human rights groups.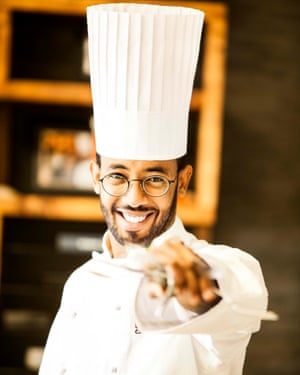 Though the violence has not had any significant impact on the economy so far, it has led to ethnic tension within the diverse country that could threaten future growth. There are fears investment from overseas may slow.
The re-pats are still coming back, however. A private hospital will open next year staffed by 200 Ethiopian doctors currently practising overseas, with a third coming from the large Ethiopian community in the US.
The hospital is the brainchild of Zemedeneh Negatu, a leading businessman who left the country as a child in the 1970s to escape the Derg one-party regime that ruled from 1974 to 1991.
Negatu, 59, now divides his time between the US and Ethiopia. He compares the country – a key western ally – to China in the early 1990s. "This is one of the most exciting, dynamic early-stage economies … [and] the skills that the diaspora brings are extremely important. They bring first world knowledge and knowhow and match it with their Ethiopian-ness." he says.
The "re-pats" are not limited to Ethiopia. Economic slowdowns, rising racism, and soaring rents in Europe and the US have contributed to a wave of educated and talented young people returning almost everywhere on the continent: from South Africa to Cameroon, from Nigeria to Kenya. Statistics are hard to come by but the phenomenon is sufficiently established to prompt a wave of TV series and documentaries.
In Ghana, an online TV show about a group of rich and successful "returnees" has proved wildly popular. Following the fortunes of five young women who returned to Accra, the capital, after years overseas, inspired by​ ​series such as Sex and the City and Desperate Housewives, the show is provocative and explicit. In Cameroon, a documentary series ​​called The Returnees, detailing the experiences of Cameroonians​, ​covered similar ground.
​The new arrivals prompt strong reactions, with some arguing that they represent an isolated and privileged elite. Growth across Africa has flagged in recent years. Nigeria is now in recession, while South Africa is struggling with deep structural issues and social problems. Much of the rest of the continent appears unable to overcome the legacies of colonial exploitation and the cold war followed by decades of misgovernment.
"The 'Africa rising' narrative should have been told in a much more nuanced way … Not everyone was rising. There were always going to be winners and losers," says Negatu, who regularly features in lists of Africa's most influential businessmen.
In Ethiopia, too, there are still significant challenges: an impenetrable bureaucracy, hugely expensive banking, the risk of further political unrest, and – ministers admit – corruption. Hailemariam says it is the difficulties that attract him: "In the US, in Orange County, you just live to live, but if you like challenges, this is the place to be."