Robert Mugabe could contest election as corpse, says wife
Associated Press in Harare |
Grace Mugabe tells supporters that Zimbabwe's 92-year-old president should be on ballot even if he dies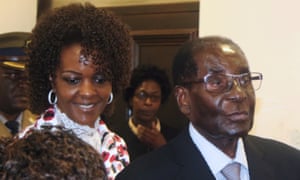 Zimbabwe's 92-year-old president, Robert Mugabe, should run "as a corpse" in next year's election if he dies before the vote, his wife has said. Grace Mugabe accused some ruling Zanu-PF party officials of plotting to take over from her husband and said that if he dies supporters should put his name on the ballot to show their love for him.
"If God decides to take him, then we would rather field him as a corpse," she told thousands of supporters at a rally in Buhera, eastern Zimbabwe. She spoke in the local Shona language. The president, who will be 93 on Tuesday, has scaled back his public engagements, while his wife, who is 51, has become increasingly visible in politics.
Mugabe has been in power since white minority rule ended in Zimbabwe in 1980 after years of war. A big celebration is planned for him on 25 February. Grace Mugabe warned associates of her husband from the era of the guerrilla war against white rule that they were also too old to take power.
"Anyone who was with Mugabe in 1980 has no right to tell him he is old. If you want Mugabe to go, then you leave together. You also have to leave. Then we take over because we were not there in 1980," she said, pointing to herself. Grace Mugabe has professed fierce loyalty to her husband, previously saying she would get him a wheelchair and push it for him so that he can continue to rule.
Mugabe has declared he wants to live until he is 100 and rule for life, and has complained about ruling party factions jostling for influence as a succession battle looms.
Related story: Don't mess with Grace Mugabe – she could be the next president of Zimbabwe