Renee Bonorchis |
Lenders are lining up to set up businesses in Ethiopia, one of Africa's fastest-growing and most under-banked economies. Now they need the government to let them open their doors.
Over the past two years, Standard Bank Group Ltd., Africa's biggest lender by assets, and KCB Group Ltd., Kenya's largest lender, have joined the likes Commerzbank AG and Ecobank Transnational Inc. in setting up representative offices in sub-Saharan Africa's second-most populous country. The lenders are hoping the government will eventually start granting licenses for fully fledged branches.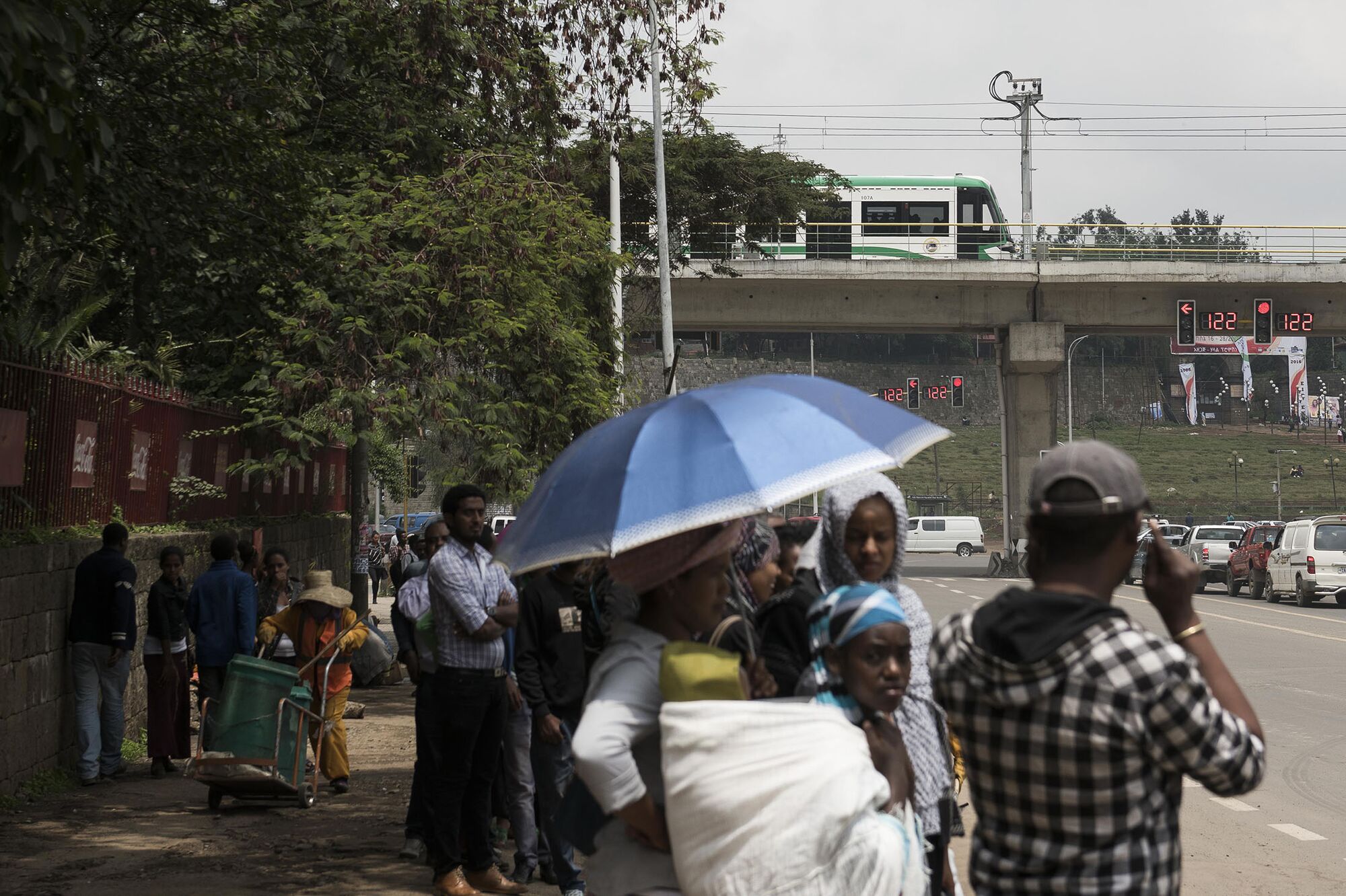 They're wagering that the country's ambitions to join the World Trade Organization, coupled with increasing demand for capital to support the economy, will lead the government to open up an industry closed to investors since a Marxist junta nationalized banks four decades ago. Still, they'll be investing in a country that's cracked down on political opponents, with the benefits of faster growth yet to trickle down to the majority of the population.
"It has the potential to become one of the most exciting banking markets in the region," said Robert Besseling, Johannesburg-based director at Exx Africa, which advises companies on business risks on the continent. "Government has hinted at liberalization and even privatization of state-protected sectors."
Exciting Market
The prize is a $62 billion economy of 105 million people that's grown quicker than any other in sub-Saharan Africa over the past decade and may expand 7.5 percent this year, according to International Monetary Fund data. Only 22 percent of adults in Ethiopia have access to a bank account, compared with 70 percent in South Africa, the continent's most industrialized economy, and a sub-Saharan African average of 34 percent, according to World Bank statistics.
The country's two state-owned banks, Commercial Bank of Ethiopia and Development Bank of Ethiopia, account for more than half of the industry's assets, with the rest split between 16 other lenders, while about 11 foreign companies have been allowed to open representative offices. These so-called rep offices allow the lenders to meet with clients operating in Ethiopia and advise them on issues like cross-border trade while learning more about the economy. With just a rep office, the foreign lenders can't take deposits, open branches or offer full-service banking.Total capital in the banking system increased by 26 percent to 46.4 billion birr ($2.04 billion) in the three months through September, compared with the same period a year earlier, according to the central bank. The value of new loans granted during the quarter increased 20 percent. In comparison, South African banks, the continent's largest, control assets of at least 4.8 trillion rand ($366 billion).
"We're optimistic that the financial regulations in Ethiopia will continue to evolve to deepen financial inclusion," said Lawrence Kimathi, chief financial officer of Nairobi-based KCB Group, which opened a representative office in the capital, Addis Ababa, last year.
The government's growth and transformation plan for the five years through 2020 doesn't allow for the sale of stakes in local banks to foreign lenders, or for those wanting to enter the market to start their own operations. Yohannes Ayalew, the governor of the National Bank of Ethiopia, referred only to that document when asked by Bloomberg on Feb. 10 if rules might be relaxed this year.
Pan-African lender Ecobank wants to expand its presence in Ethiopia from a representative office to a full banking license. The lender, with operations in more than 30 African countries, wants to pursue a license "as soon as the country allows," Chief Executive Officer Ade Ayeyemi said in an interview in Lome, Togo in June.
Retain Control
"I doubt they'll do it," said Maurice Oduor, a money manager at Nairobi-based Cytonn Investments Management Ltd., when asked if Ethiopia will give full banking licenses to foreigners this year. "But if they do, it won't be 100 percent, they will likely want to control employment terms and things like profit repatriation."
Ethiopia isn't without risk. The government declared a state of emergency in October to deal with protests by ethnic communities who said they were being pushed off their land. As a result, foreign direct investment dropped by a fifth in the first half of Ethiopia's fiscal year that began in July. Much of the country's continued growth has been due to the dominance of the state.
The state has previously said that the opening of vital industries won't occur until the government is able to regulate them effectively and domestic businesses can compete with foreign companies. The currency has weakened 5.3 percent over the past 12 months.
"We have seen increasing interest from investors in Ethiopia's economic growth," said Kate Johns, a spokeswoman for Johannesburg-based Standard Bank. "We have key clients who are currently operating, or seeking to establish themselves, in Ethiopia."
Nigerian lenders will also be keen to expand in Ethiopia as economic growth slows at home, according to Doyinsola Afolabi, a banking analyst at Afrinvest West Africa Ltd. in Lagos, citing Guaranty Trust Bank Plc, Access Bank Plc, United Bank for Africa Plc, Zenith Bank Plc and FBN Holdings Plc as likely investors.
"The closed banking sector could be eventually be opened up for foreign investment," said Exx Africa's Besseling. "Although it might not be in 2017."