Richard Lea | Friday 10 March 2017 | The Guardian
Unfinished manuscript considering his time in power has been completed using archival material by South African poet and novelist Mandla Langa
The story of Africa's greatest modern statesman, Nelson Mandela, will gain another chapter this autumn, with the publication of Dare Not Linger.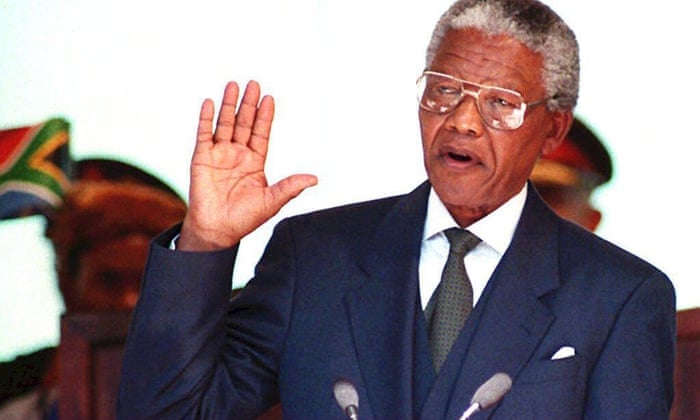 Following on from Long Walk to Freedom, the inspiring account of his early life and time in prison that was made into a feature film starring Idris Elba, the book will chart Mandela's time as South Africa's first black president from 1994 to 1999.
Mandela began working on the manuscript at the end of his presidency, but the first draft was still unfinished on his death in 2013. Fragments from the manuscript featured alongside snippets from diaries, calendars and letters in 2010's Conversations With Myself. But now the South African poet and novelist Mandla Langa has finished the task, knitting Mandela's account together with archival material into one coherent narrative.
Speaking to the Guardian by telephone from Johannesburg, Langa said that at first he found the project daunting, but his guiding principle was to prevent Mandela's words from "being overwhelmed by my own interventions".
"I was really aware of the weight of the kind of person he was and the need for his voice to shine through as much as possible in the writing."
Dare Not Linger is constructed from Mandela's own words, Langa continued, linked together with additional context. "He had written something like 70,000 words, which in other situations would qualify as a fully-fledged manuscript. But there was still a lot more he wanted to write."
According to Georgina Morley, Langa's editor at Macmillan, the book is a remarkable first-hand insight into Mandela's presidency. "It's the closest that you will ever get to a true autobiographical sequel to Long Walk to Freedom," Morley said.
Nothing the former president wrote himself has been reworked, she continued, with the structure of his uncompleted draft preserved, but Langa has returned to contemporary sources to explore the wider picture for readers 20 years on. "Mandela took notes of every meeting he attended, in his own hand. They're all there in the archive, so Mandla's drawn on all that to flesh out the narrative."
Opening in 1993, as the ANC formed a government in waiting, Langa follows Mandela through the 1994 elections – the first in South Africa at which citizens of all races could take part – and into government, laying bare the challenges of making the transition to democracy after five decades of apartheid.
"All of this is recorded history," Morley said, "we know all this. But what we don't have is Mandela's insight – and that's what this book gives us … What's fascinating, as someone reading it from outside who grew up watching it unfold, is seeing how extraordinarily clever and skilful Mandela was at making democracy stick. However flawed this present government is, however difficult the last few years have been, South Africa is still a democracy. The fact that he pulled it off has been astonishing."
Dare Not Linger also dispels some myths, she added. "He wasn't a nice, cosy grandfather in a flowery shirt who left the difficult business to everyone else. He got stuck in."
According to Morley, Langa was the ideal person to complete Mandela's work. Born in 1950 in South Africa, Langa went into exile after being jailed in 1976, and for a period became the ANC's cultural representative in London. His novel The Lost Colours of the Chameleon, which tells the story of a bitter struggle for succession on the imagined island of Bangula, was the African regional winner of the Commonwealth writers' prize in 2009.
But he brings more to the project than his writer's sensibility, Morley said: "He brings an acute understanding of South Africa, and of South African politics, as well as what it was like to be black under apartheid. Many of the accounts we already have of this time are written by commentators who are white."
Dare Not Linger is scheduled for October publication in the UK and the US, with a foreword from his third wife, Graça Machel. Translation rights have already been sold across Europe. According to the book's agent, Jonny Geller, it will play a crucial role in understanding Mandela's legacy by offering an insight into how power is used.
"Freedom is one thing," Geller said. "But what do you do with it?"
The democratic revolution he achieved has made Mandela a powerful symbol of resistance and hope, he continued, but this account of his presidency "only enhances our admiration of him and reminds us of the leadership vacuum that exists in the world".
In writing the book, Langa said he became more conscious of Mandela's role in history and of his importance as a "countervailing force against rashness and impetuousness in leadership".
"Nowadays we are all living in a fast-moving world of social media," he said, "and I believe he would have made the case for reflection. In a divided world he would have looked for ways to build consensus."