Eritreans in the Netherlands complain of pressure to support youth congress
Martin Plaut | Thursday 13 April 2017 | The Guardian
Claims of 'systemic intimidation' as top Eritrean official Yemane Gebreab arrives on Dutch soil to address youth wing of African country's ruling party
Eritreans living in the Netherlands say they are under pressure to support a rally organised by the youth wing of the African country's ruling party.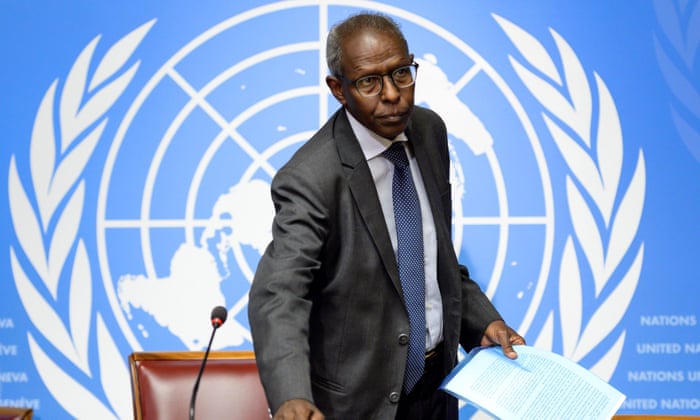 The gathering will be addressed by Yemane Gebreab, adviser to Isaias Afwerki, the Eritrean president, the visit of whom has caused concern within the Dutch government. No assistance will be given to Gebreab, whose arrival has been described by the cabinet as "awkward", and he will not be officially received.
The Eritrean government is among the most repressive in Africa, prompting a huge exodus of people in recent years. The Netherlands has received an estimated 20,000 Eritreans, 2,800 of whom arrived in 2016. Many oppose the Eritrean government and have tried to have Gebreab's visit halted.
Tesfay Yitbarek, one of the exiles, went to a police station in Utrecht to lay charges against Gebreab for allegedly threatening to use violence against members of the disapora.
"He made the threat during a previous visit to Frankfurt, calling on his supporters to finish off the opposition in the diaspora," Yitbarek said.
"Supporters of the ruling party are going door to door in Amsterdam, asking for money. Anyone who refuses is blacklisted: your visa to visit a sick relative will be denied, or your property back home seized by the state."
Kubrom Dafla Hosabay, a former deputy minister of finance in Eritrea, now living in the Netherlands, said members of the party are threatening anyone who refuses to cooperate. "This is the message that will come from the conference," he said.
Hosabay issued a call on Facebook for Eritreans to protest outside the rally, which is due to be held in Veldhoven on Thursday. "We were planning to hold a protest on Saturday," he said. "Eritreans from as far afield as Sweden were coming. But we can't wait, so we are demonstrating today."
He estimates that about 1,000 people will answer the call.
The Dutch media have covered the planned visit extensively. Most political parties now support calls for the rally to be cancelled. Concern at the presence of senior Eritreans has been heightened in the past year by claims that government supporters have infiltrated the Dutch asylum system. Acting as translators, they were accused of threatening the safety of claimants by passing information to the Eritrean regime.
Professor Mirjam van Reisen, from Tilburg University, said government supporters "report on people who are not loyal to the regime and … make sure that this is known so that measures can be taken".
Back home, people are punished, said Van Riesen. "They don't get food vouchers. They are fined. They are put in prison. So their lives are really made impossible and very miserable."
Gebreab is due to address the 13th rally of the ruling party's youth wing to be held in Europe. The Young People's Front for Democracy and Justice said it expects about 650 people to attend, with the aim to persuade "young Eritreans to become more active in serving their communities and the interests of Eritrea".
But Van Reisen sees it as a systemic attempt at intimidation. "The purpose of these organisations is to spy on anyone who does not agree with the dictatorship," she said.
There is pressure on the Dutch to act. Last year, a UN commission of inquiry said officials "at the highest levels of state" bear responsibility for crimes against humanity.
UN members were called on to "exercise jurisdiction over crimes against humanity when any alleged offender is present on the territory of a member state or extradite him or her to another state in accordance with its international obligations".
Related content: 11th Euro YPFDJ Conference