Donald Trump will make 'final decision' on Paris climate deal next week
Patrick Wintour in Taormina, Sicily and Amanda Holpuch in New York | Saturday 27 May 2017 | THE GUARDIAN
President resists pressure from other G7 countries to support treaty

Merkel says discussions on climate deal 'difficult and unsatisfactory'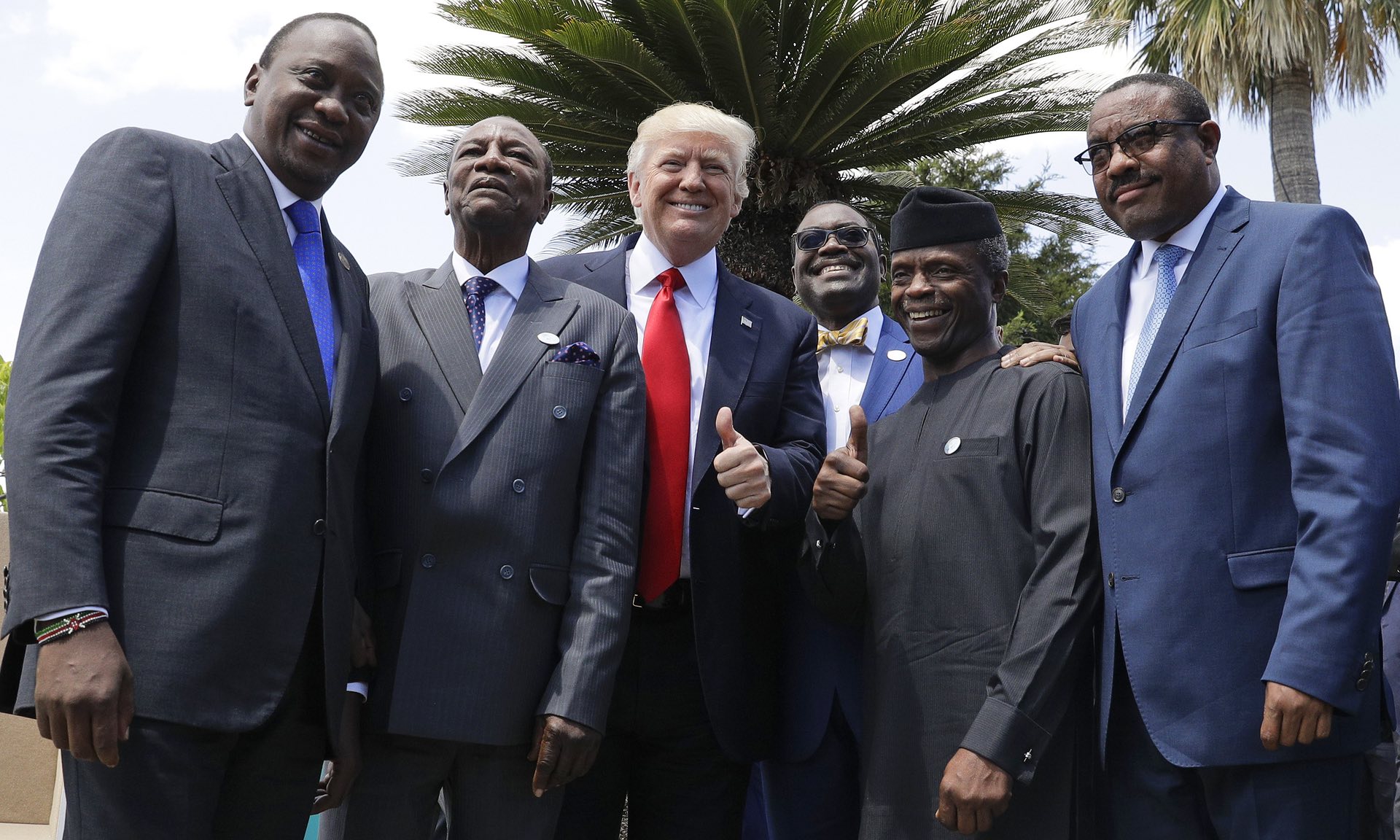 Donald Trump has resisted pressure from Europe, Canada and Japan to declare his support for the UN's landmark climate change treaty signed in Paris in 2015, marking a defiant end to his first international trip as US president.
The deadlock at the end of the G7 summit in Italy left other world leaders frustrated. The German chancellor Angela Merkel said the discussions "had been very difficult and not to say very unsatisfactory."
"Here we have a situation of six against one, meaning there is still no sign of whether the US will remain in the Paris accord or not," she added.
Instead, six of the seven nations used a communique at the end of the meetings to assert their commitment to implement the Paris plan, leaving Trump to tweet that he will decide next week whether the US will join them in their pledge.
The US president announced his forthcoming decision on Saturday morning, on the final day of his first international trip as president. "I will make my final decision on the Paris accord next week!" he tweeted from Sicily.
During the two-day conclave in Taormina, other leaders repeatedly urged Trump to recognise that as world's second biggest carbon emitter, the US had to show leadership on climate issues.
Emmanuel Macron, the French president, said he had seen progress on climate change at G7, but revealed he had told Trump he would be making an error and ceding ground to China if he did not stick with the Paris accord.
Macron said: "It is essential for international equilibrium and the reputation of America that it remains engaged with the Paris treaty. The G7 had shown issues such as climate change are not side issues that can be left to others."
He refused to speculate on the US decision, but he said: "Trump was a good listener, a pragmatic guy and open to debate."
The Canadian prime minister, Justin Trudeau, said he was not going to lecture any country, but he added: "You cannot build a strong economic future unless you are protective and mindful of the climate."
Others warned the US president that he risks a stampede, as others in the 195-nation agreement use American withdrawal from the treaty to reduce their own commitments.
Trump retained the option of pulling out of the treaty altogether or, more likely, scaling back on the specific commitments made by the Obama administration. Obama pledged to cut domestic greenhouse gas emissions 26-28 % below 2005 levels by 2025.
Computer simulations suggest earth temperatures could rise by as much 0.2C if the US pulled out of the UN treaty altogether.
Feverish negotiations by G7 officials until 3am on Saturday failed to forge a closer consensus, reviving the era when George W Bush was alone among G7 leaders in expressing scepticism about climate change.
The White House had signalled at the start of Trump's tour of the Middle East and Europe that the US would not make a decision on climate change until after the summit, but other G7 leaders, such as Merkel and Macron, hoped they could collectively persuade Trump to commit to the principles of the Paris accord.
During the presidential campaign Trump railed against the damage the Paris deal would inflict on traditional US industry. At the summit, his aides said that although his own views were evolving, he would always put the interests of US industry first.
In an assertion of US unilateral power, Trump also forced the Italian prime minister Paulo Gentiloni – the summit host – to shred plans for an ambitious statement stressing the plight of migrants was a global rather than regional responsibility.
Italy had chosen Sicily as the venue for the summit as the symbolic bridge between Europe and Africa. As many as 200,000 migrants are due to reach Italy this year from Libya, and already more than 1,300 have drowned seeking to make the crossing.
During the two-day summit in Taormina, the Libyan capital Tripoli has seen more than 50 deaths in militia infighting, Egypt has twice bombed alleged Islamist training camps in southern Libya, and more than 2,000 refugees have crossed the Mediterranean to the Italian mainland, with scores drowning.
Italy had planned a five-page G7 statement on human mobility, stressing migrants' rights, their positive contribution to host nations and the threat they faced from traffickers. Instead the final statement highlighted the right of nation states to secure their borders, and set migration targets.
Trump also shot down Italian plans on African food security, days after the White House revealed plans to cut American foreign aid by a third. In 2015 the G7 committed to lift 500 million people out of famine and malnutrition, but instead famines have spread in Africa.
Friederike Röder, director at ONE, the aid charity said: "In a year of greatly-diminished expectations, the G7 have managed to set a new low. The early promise of this summit was crushed by the Trump administration's hostile negotiating posture and the evident lack of ambition."
Trump did concede some ground in the final leader's statement by signing up to a pledge to oppose protectionism. His aides insist he wants free, fair and reciprocal trade.
In a win for the Japanese prime minister Shinzo Abe, the statement was expected to repeat a pledge from the Japanese hosted summit in 2016 to respect a rules based multilateral trade system embodied in the WTO.
But Trump still intends to target German trade practices and its surplus, a stance resented by Merkel.
At the end of the summit, Trump chose to give no closing press conference, presumably to avoid questions on whether he knew of his son-in-law Jared Kushner's reported plans to set up a secret communications channel with Russia.
Trump instead chose to address US forces stationed in Sicily, reprising the themes of his first foreign trip and making no mention of the climate change dispute.
He said simply he had staged a series of productive meetings with his allies at the G7, but again opened fire on Nato nations for failing to spend enough on defence, claiming contributions were starting to rise in a way they would not but for his election.
Accompanied by his wife, Trump often cut an uneasy, even glowering figure in Sicily. His aides insisted he had not sought to dominate the discussions and had enjoyed the free-flowing conversations, likening them to a family dinner. Economic adviser Gary Cohn said: "He came here to learn. He came here to get smart. His views are evolving which exactly as they should be."
The two days, along with the mini- Nato summit in Brussels on Thursday, were seen as a chance for Trump to define his "America First" slogan, and test its compatibility with multilateral institutions such as the G7. At one point, Trump was seen ostentatiously not wearing the translation headphones as Gentiloni led a discussion on African growth.