How rainwater harvesting could help save Cape
Michael Morris | 27 May 2017  | WEEKEND ARGUS
Cape Town – Not a drop of rainwater falling on Cape Town should enter the storm-water system and be discharged into the sea and every drop of rainwater thus saved must be used twice.
If this is not the summary of a new official injunction – as Cape Town's water supply falls steadily beyond the most critical levels experienced in a century – it should be.
So says Llewellyn van Wyk, former Cape Town councillor and architect, and now the principal researcher at the Built Environment Unit of the Council for Scientific and Industrial Research (CSIR) in Pretoria.
As cities grow, and demand for resources such as water mount, Van Wyk argues, urban planners are challenged to rethink water catchment and, sooner rather than later, effect dramatic changes.
No more can cities rely on accustomed patterns of weather, or customary programmes of dam-building, to meet the need for freshwater, one of the globe's scarcest resources.
The argument for a new approach was set out in a chapter Van Wyk wrote for the 2015 Green Infrastructure Handbook.
He said this week: "There are two objectives. The first is that not a drop of rainwater falling on the urban area should enter the storm-water system and be discharged to the sea.
"This requires a three-tiered system of water catchment: rainwater harvesting off all roofs; rainwater harvesting off all paved surfaces, and rainwater harvesting off all open spaces.
"This water can be stored in a system comprising rainwater tanks, and controlled recharging of small and large aquifers (natural underground reservoirs).
"The second objective is that every drop of rainwater must be used twice.
"South Africa's national rainwater average is 464mm, which is well below the global average of 860mm.
"However, reusing the water once takes the average to above the global average."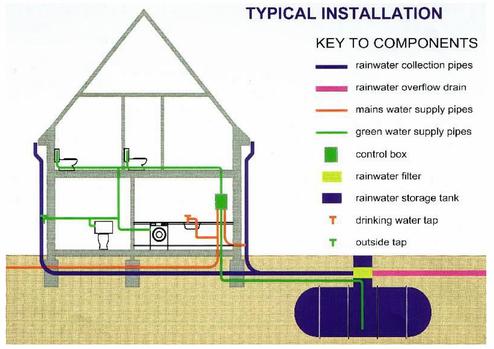 New technologies were available – taking toilets "off the grid", and reusing grey water for non-potable, or non-drinking, purposes – for general application in the building sector.
Both objectives, however, were predicated on adopting a wholly new approach to water, the subject of Van Wyk's chapter in the Green Infrastructure Handbook.
It points out that dam building, the conventional way of capturing water for urban areas, has reached a limit, but that catchment options have not.
The history of dam building – from the Waggenaar reservoir in the City Bowl in 1663 to the Berg River dam in 2007 – revealed a pattern of infrastructure development keeping pace with urbanisation.
"In many ways, dam construction is a proxy for urban growth: the dates (of dams) reflect population growth in Cape Town driven by the influx of settlers post-1820; preparation for and post-war settlement during and after the South African War of 1899-1903; post First World War settlement after 1918; post Second World War settlement after 1945; and rapid urbanisation from the 1950s onwards.
"With traditional catchment areas exploited, new solutions have to be found to ensure a sustainable freshwater supply to the Greater Cape Town Metropolitan Area."
Citing the 2nd UN World Water Report, and scholars in the field, Van Wyk writes that in the light of climate change, the unpredictability of weather, the scarcity of freshwater globally and the steady growth of cities an "Integrated Water Resources Management" approach as a way to rethink the sustainability of a resource as indispensable as water.
The conventional approach to water catchment considered only natural features, but, thinking differently about water, "eco-engineering provides at least two opportunities". Both were predicated on understanding of catchment areas to include every roof and street of the city.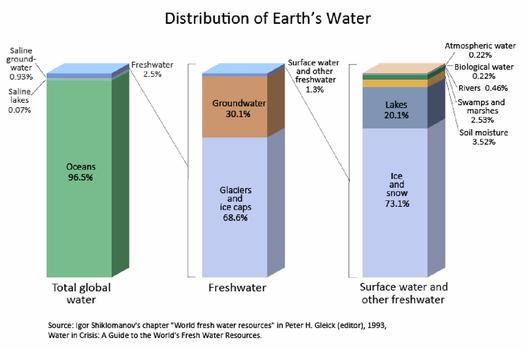 Tapping into the underground water in aquifers was one option. At the present, though, much of the water that might refill aquifers is channelled away – to the sea – as storm water.
In Cape Town's case, the Cape Flats Aquifer could yield significant quantities of water, but "sustainable management of the aquifer would require eco-engineering solutions where rainfall is not diverted to a storm water system but is carefully managed and treated to recharge it". Urban sprawl "severely restricts the ability to recharge aquifers even as it increases demand".
Three strategies were required: "the precipitation loop must be closed by minimising disposal of surface water to the sea; multiple use must be made of available water through recycling and reuse, and demand must be reduced through the application of water-efficient and water-free fixtures, including sanitation systems".
The second key eco-engineering option was harvesting rainwater, recognising rooftops across the city as "catchment areas".
Rainwater harvesting technologies were simple to install and operate and could be undertaken and managed by the local community with local materials.
"Rainwater harvesting is convenient as water is stored at the point of use with the owner of the system having full control over how and when it gets used thereby reducing operation and maintenance costs.
"The range of collection devices has a lower environmental impact than the traditional collection devices such as dams and reservoirs. Rainwater harvesting can provide a continuous source of water supply especially for the poor and rural populations as water collection and storage capacity can be adjusted to suit the local climatic conditions and programmatic requirements."