Iran blames Donald Trump for escalating Qatar diplomatic crisis
Bethan McKernan Beirut | 5 June 2017 | THE INDEPENDENT
Iranian foreign ministry urges all parties involved in unprecedented international row which could have implications throughout the region to solve dispute through dialogue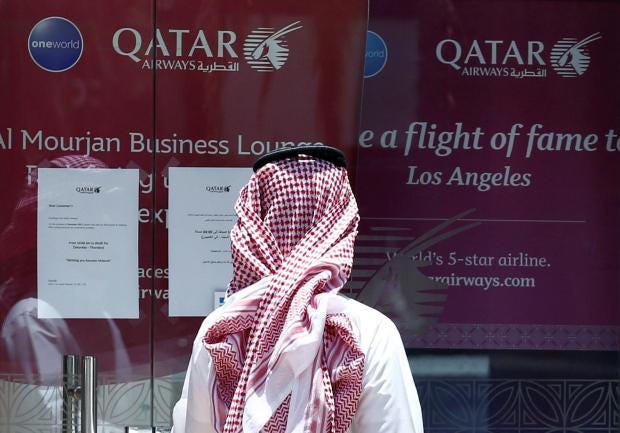 Iran has accused the US of setting the scene for the escalating Gulf diplomatic crisis during President Donald Trump's recent trip to the Saudi Arabia.
"What is happening is the preliminary result of the sword dance," Hamid Aboutalebi, deputy chief of staff of Iran's President Hassan Rouhani, tweeted, in a reference to a traditional ceremonial dance that took place during Mr Trump's visit to the Saudi capital of Riyadh last month.
Saudi Arabia, Egypt, the United Arab Emirates and Bahrain, as well as the Western-recognised governments of Yemen and Libya, severed their ties with Qatar on Monday, accusing it of supporting terrorism.
"[Qatar] embraces multiple terrorist and sectarian groups aimed at disturbing stability in the region, including the Muslim Brotherhood, Isis and al-Qaeda, and promotes the message and schemes of these groups through their media constantly," Saudi state news agency SPA said.
SPA accused Qatar of supporting what it described as Iranian-backed militants in its restive and largely Shi'ite Muslim-populated Eastern region of Qatif, as well as in Bahrain.
Iran, which Mr Trump singled out as a key source of funding and support for extremist groups during his inaugural foreign trip, is the secondary target of Monday's decision by Saudi Arabia and its allies.
The decision of the tiny energy rich country's neighbours to cut off its land, sea and air routes to the outside world is a "violation of its sovereignty," a statement from Qatar's foreign ministry said.
"The Qatari Government will take all necessary measures to ensure this and to thwart attempts to influence and harm the Qatari society and economy," a foreign ministry said.
Doha has denied supporting militant groups. It described the crisis as being fuelled by "absolute fabrications" stemming from last month's hacking of Qatar's state-run news agency.
Also on Monday, a spokesperson for Iran's foreign ministry urged all parties to resolve disputes through dialogue.  

The unprecedented rift could create economic fallout across the Middle East, as well as consequences for the region's many conflicts.
Qatar, Saudi Arabia and the UAE have used their oil and gas revenues to influence events in other Middle Eastern countries, and fallings out between them can alter the political environment in Libya, Egypt, Syria, Iraq and Yemen.
In Sydney, visiting US Secretary of State Rex Tillerson said he didn't believe the diplomatic crisis would affect the ongoing war against Isis in Iraq and Syria.
"I think what we're witnessing is a growing list of disbelief in the countries for some time, and they've bubbled up to take action in order to have those differences addressed," Mr Tillerson said.
"We certainly would encourage the parties to sit down together and address these differences."
Qatari nationals have been given 14 days to leave the three Gulf countries, and the country has been suspended from the Saudi-led coalition fighting in Yemen.
The closure of Qatar's airspace for any significant amount of time will wreak havoc with the country's economy.  Qatar's stock market index has already sunk 7.5 percent with some of the market's top blue chips hardest hit.
The economic fallout could also affect timelines ahead of the 2022 Fifa World Cup, which is being hosted by Doha.
The escalating row is the worst falling out between the neighbours since the 2014 rift over Doha's backing of the Islamist Muslim Brotherhood in Egypt, a pan-Arab movement considered dangerous by many in the Gulf.