Agencies in Harare | Thursday 27 July 2017 | The Guardian
Grace Mugabe appears to contradict 93-year-old husband for first time in sign that battle to be country's next president has intensified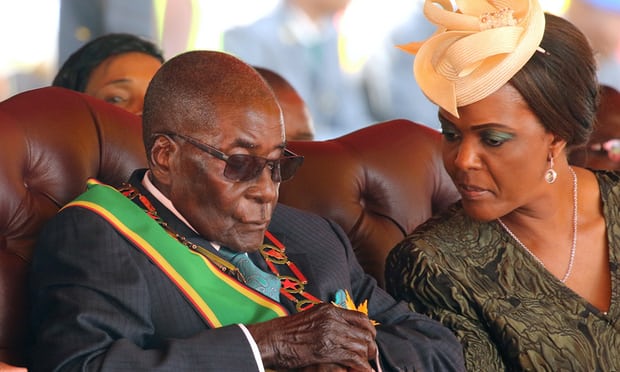 Zimbabwe's first lady, Grace Mugabe, has challenged her 93-year-old husband Robert to name his preferred successor as president to end deepening divisions over the future leadership of the ruling Zanu-PF party, according to state television.
Robert Mugabe, Africa's oldest leader, has ruled the former British colony since independence in 1980 but has insisted that Zanu-PF, and not him, should choose his successor.
But at a meeting of the party's's women's wing in Harare, Grace Mugabe contradicted her husband, who also attended the meeting.
"The first lady and Zanu-PF secretary for women's affairs has challenged the president to name his successor saying this has been the trend in other countries," ZBC said online. "The first lady said there is nothing wrong with Mugabe naming his successor, saying the move will enable all members to rally behind one candidate."
Robert Mugabe did not speak at the meeting.
His wife has previously said Mugabe could rule even from the grave. "If God decides to take him, then we would rather field him as a corpse" in the upcoming election, she said early this year.
This is the first time Grace Mugabe has publicly urged her husband to name a successor, although she did not say whether her statements were aimed at next year's election.
Grace Mugabe, 52, heads Zanu-PF's women's league. Her political power has grown and she has been headlining her own political rallies since 2014. While she is seen as a potential successor to her husband, she has sent mixed signals on her desire for the job.
Speculation about who should lead Zanu-PF after Mugabe's death has intensified in the last three years. Two camps have emerged, one around Grace Mugabe and another supporting vice-president Emmerson Mnangagwa.
Robert Mugabe is Zanu-PF's presidential candidate for the 2018 election, the last one he is able to contest under the constitution. If he completes a full five-year term, he will be 99 years old.
Grace said on Thursday that her husband's choice of successor should be final.
Elections are due after 21 July next year, according to the constitution, but political analysts say Mugabe could call for an early vote, citing his frail health, and that he may want to take advantage of divisions within opposition ranks.
An early election would require parliament to vote for a dissolution, which is highly possible given Zanu-PF's commanding majority.
Zimbabwe has traditionally held elections in March, with the exception of 2000 and 2013, both years when elections were delayed by a constitutional referendum.
Reuters and Associated Press contributed to this report