Daniel Boffey in Brussels | Monday 14 August 2017 | The Guardian
Fears carcasses sent from Belgium may have contained fipronil, which has been found in contaminated eggs across EU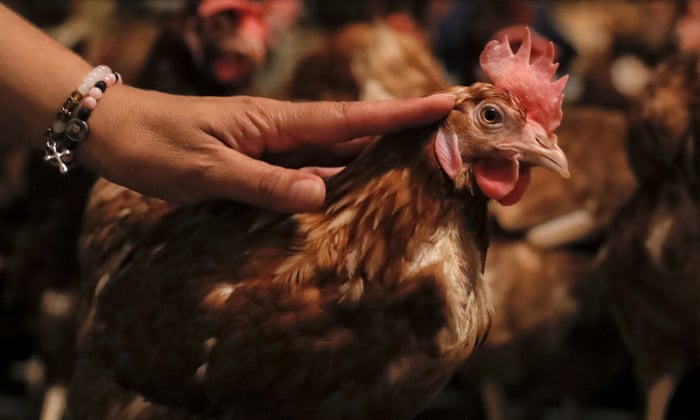 Samples from the carcasses of egg-laying hens are being tested for fipronil over fears that meat sent to Africa from Belgium may have been contaminated with the banned insecticide.
Meat from older chickens that have spent a lifetime producing eggs is not sold on the domestic market in any significant amount, but is frozen and shipped to Africa, in particular to the Democratic Republic of the Congo, a former Belgian colony.
Retained samples of meat already sent abroad are being tested in Belgian laboratories for the insecticide, which is potentially harmful to humans. Egg-laying hens due to be slaughtered next month for export have already been found to have been treated with the banned substance, it has emerged.
Johan van Bosch, the general secretary of Belgium's national association of egg traders, said: "There were a lot of hens that were supposed to be slaughtered in September and October. Older hens. They have had the treatment with the fipronil."
Van Bosch, who said there was no evidence as yet that the scandal had widened to Africa, added: "We have samples of everything we have sent. [Meat from egg-laying hens] is sold all over the world but our first export market is Africa. In Belgium we are mostly used to eating broilers, younger chickens, not the older chickens. We used to use the older chickens for soup here but not any more. It is a matter of taste."
It is unlikely that chicken meat sold in European markets has been contaminated, as broiler chickens bred for consumption have very short lives. The lice the disinfectant is designed to kill by attacking the nervous system would not have time to develop, making treatment of the chickens unnecessary.
Fipronil is widely used to rid household pets such as dogs and cats of fleas, but is banned in the EU for the treatment of animals destined for human consumption, including chickens.
The World Health Organization says fipronil is moderately hazardous in large quantities, posing a potential danger to people's kidneys, livers and thyroid glands.
On Saturday, Spain joined the list of 15 other EU member states, along with Switzerland and Hong Kong, who are known to have received eggs from farms treated with fipronil. About 700,000 potentially contaminated eggs are believed to have been distributed to the UK.
As yet, there have been no reports of contaminated eggs in Africa. However, Belgium exports 35m eggs a year to the Congo alone.
One poultry farmer, Willy De Vloo from Veurne in north-west Belgium, told the Flemish newspaper De Standaard he was expecting 1.5m eggs he had already sent for export to Africa to be returned to him. "Soon they will send all my eggs back," he said, adding that he also had 800,000 eggs on his farm to destroy.
Farms in Belgium, France, the Netherlands and Germany have been blocked from operating in recent weeks after farms were discovered to have used disinfectants containing fipronil.
The Belgian egg industry is preparing to ask the European commission for compensation for the fall in sales, the rise in prices and the harm to consumer confidence. The administration in the French-speaking Belgian region of Wallonia also said it was looking to keep its industry alive "by granting a guarantee to the bank credit but also by lending a direct loan to the companies affected by the crisis of contaminated eggs".