Six-judge bench rules 4-2 in favour of petition filed by rival candidate Raila Odinga and orders new vote within 60 days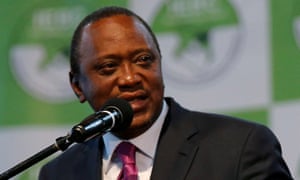 Kenya's supreme court has nullified Uhuru Kenyatta's win in the presidential election last month and ordered a new vote within 60 days.
The six-judge bench ruled 4-2 in favour of a petition filed by the opposition candidate Raila Odinga, who claimed that the electronic voting results were hacked into and manipulated in favour of the incumbent.
Kenyatta had won a second term with 54% of the vote. "The declaration [of Kenyatta's win] is invalid, null and void," said the judge David Maranga, announcing the verdict.
Police were deployed in the capital before the court's ruling. Human rights groups have said police killed at least 24 people in unrest that followed the vote on 8 August.
Unease around the election grew when the official who had overseen the electronic voting system was found tortured and killed days before the vote. International election observers have said they saw no interference with the vote.
Odinga unsuccessfully challenged the results of the 2013 vote.