Cambodia's opposition leader Kem Sokha 'arrested for treason'
Prak Chan Thul Phnom Penh  | 2 September 2017 | The Independent
Incident marks escalation in campaign against critics, independent media and any potential threats to Prime Minister Hun Sen's hold on power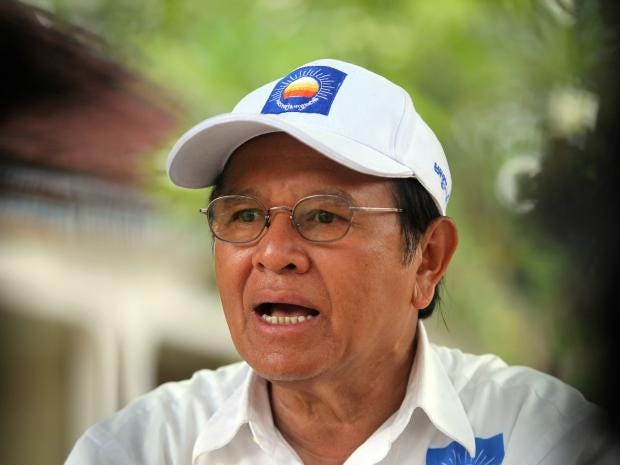 Cambodian opposition leader Kem Sokha has been arrested in the capital Phnom Penh on suspicion of treason, according to the government.
The arrest marks a new escalation in a campaign against critics, independent media and any potential threats to Prime Minister Hun Sen's hold on power ahead of an election next year, at which Kem Sokha was expected to be his main challenger.
The government said in a statement that it had a video clip and other evidence pointing to "secret plans of conspiracy between Kem Sokha, others and foreigners to harm the Kingdom of Cambodia".
"The above act of this secret conspiracy is treason," the statement said.
Hun Sen, 65, has ruled the Southeast Asian country for more than three decades. The former Khmer Rouge cadre has become one of China's closest regional allies and has been making increasingly strident verbal attacks on the United States.
Kem Sokha, 64, has led the main opposition, Cambodia National Rescue Party (CNRP) since his predecessor resigned in February, saying he feared a government plan to shut it down.
Pictures in Cambodian media showed him being led away with his hands behind his back.
Kem Sokha's daughter, Monovithya Kem, who is also an official in the party, said on Twitter that her father had been taken away in handcuffs after a raid by between 100 and 200 police, who had arrived without an arrest warrant.
"Kem Sokha whereabouts is still unknown," she said on Twitter, after earlier saying he had been taken to city hall.
Kem Sokha made no immediate comment and it was not clear if he had legal representation at this stage.
Fresh News, a pro-government website, said before Kem Sokha's arrest that it had video of Kem Sokha discussing to overthrow Hun Sen with support from the United States.
Neither the US State Department nor the White House responded immediately to a request for comment.
The government has recently increased its rhetoric against the US and last month ordered the expulsion of the US State Department-funded National Democratic Institute pro-democracy group.
"Freedom of speech is rapidly becoming a highly endangered right in Prime Minister Hun Sen's march down the road to dictatorship in Cambodia. Kem Sokha is now the latest victim," said Phil Robertson, the deputy Asia director of the Human Rights Watch campaign group. It called on donors to condemn the arrest.
Last month Hun Sen's government stepped up attacks on the media, halting broadcasts by some radio stations and ordering an independent newspaper, The Cambodia Daily, to close if it did not pay a $6m (£4.6m) tax bill within days.
During Hun Sen's rule, Cambodia emerged from the devastating Khmer Rouge genocide to enjoy record years of economic growth of more than 7 per cent, but disaffection for him has been growing and in 2013 he only just won the election against a unified opposition.
His Cambodian People'€s Party also won local elections in June, but the opposition also fared reasonably well, increasing expectations of a close contest in the general election due in 2018.
Kem Sokha took over the party leadership after his predecessor, Sam Rainsy, resigned in February. Rainsy said he had quit to save the party in the face of a threatened ban on any party with a leader who has been convicted of a crime.
Rainsy lives in exile in France to avoid a defamation conviction he says was politically