JASON PATINKIN | AUGUST 31, 2017 | Foreign Policy
The sudden exodus from war-torn South Sudan is the largest Africa has seen since the 1994 Rwandan genocide. This is what a nation without civilians looks like.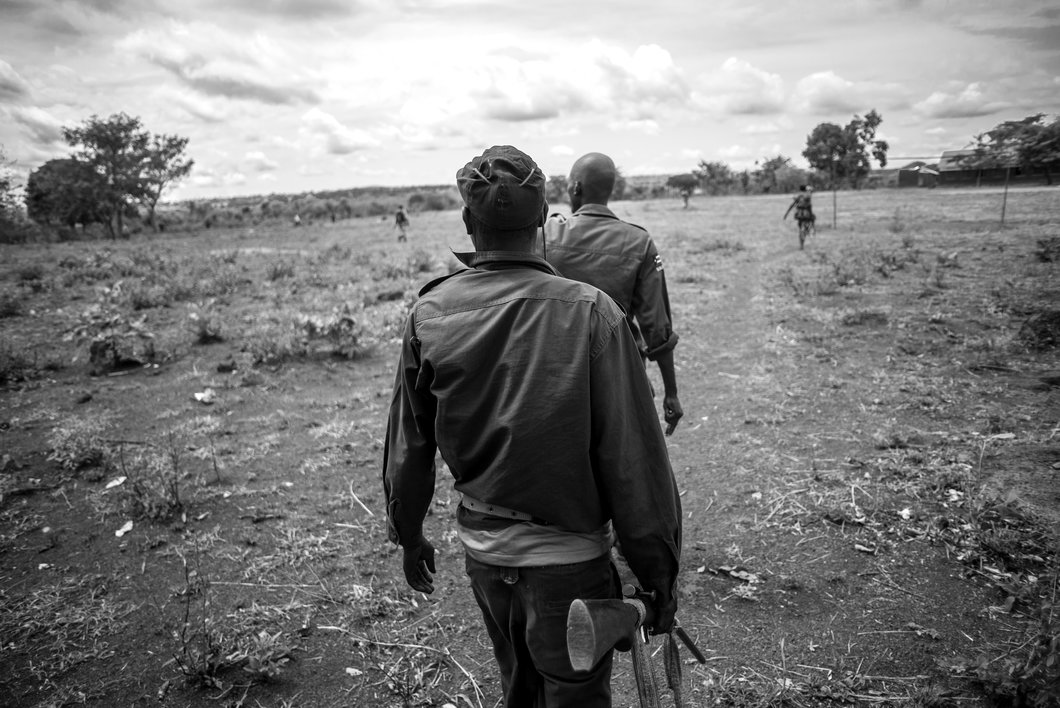 KAJO KEJI, South Sudan — Brig. Gen. Moses Lokujo stood in the ruins of Loopo, a strategic hilltop village in South Sudan's lush southern Equatoria region. Less than two miles to the east, telephone poles poked over a green ridge, marking the outskirts of Kajo Keji, the seat of the county of the same name, where rebels under Lokujo's command stared down government forces across a deserted marketplace, one of dozens of front lines in a grinding, three-year civil war that no one was winning.
It was late April, about two weeks after the South Sudanese army had attacked Loopo from the southwest, blasting through two lines of rebel defenses and wreaking havoc through the village. When the government forces eventually retreated to their base along the Ugandan border, the rebels moved back in to find the place destroyed. The homes were torched, the shops looted. A rocket-propelled grenade had cratered the wall of a primary school building, leaving behind sheaves of white ash that used to be books.
The army had attacked again, flanking the rebel positions around Kajo Keji just days before I arrived, but Lokujo's men had repulsed them under heavy fire. "This is my location," said Lokujo, a tall, well-built ethnic Kuku armed with a quick laugh and a black 9 mm pistol strapped to his hip. "The enemies will not come out and kill our civilians."
The reality is that in Kajo Keji, as in much of war-torn South Sudan, there aren't many civilians left to protect. Loopo was a ghost town except for Lokujo's troops. The rest of Kajo Keji county, once home to perhaps hundreds of thousands of people, has emptied amid a civil war that has become one of the world's worst, with government and rebel soldiers murdering and raping civilians for their ethnicity or suspected political affiliations. Since 2013, tens and possibly hundreds of thousands of people have been killed across South Sudan, though no one is really counting. Untold more have died of starvation and disease. Around a third of the population — estimated to be up to 12 million before the war — have fled their homes. In the last year alone, 1 million South Sudanese have flooded into Uganda, including three-quarters of Kajo Keji's population, amid what the U.N. has described as a campaign of ethnic cleansing. It is the largest sudden exodus in Africa since the 1994 Rwandan genocide.
So Kajo Keji is now a land of soldiers. The army, largely consisting of a notorious ethnic Dinka militia called the Mathiang Anyoor, controls key border posts and towns along the road to the national capital of Juba, while the rebels roam the hilly countryside. In between are empty villages, burned huts, and silence. Dense bush overtakes abandoned fields. For three days, I traveled across the county from west to east and didn't see another car. With a few exceptions, the only people I met were rebels.
"Bush is for guerrillas," said Victor Moses, a rebel who joined Lokujo in February. And the guerrillas, Moses said, aren't going anywhere. "We are ready to fight even for more than five years or 10 years or 20 years."
Moses and the rest of Lokujo's soldiers are part of the Sudan People's Liberation Army-In Opposition, the country's main rebel force. The IO, as it is called, was born in 2013 when the national army, called the SPLA, split following a massacre of ethnic Nuer citizens in Juba by Dinka troops loyal to President Salva Kiir. In subsequent days, Nuer army units defected across the country's swampy northeast and, along with Nuer youth militia, sought to avenge the deaths of their brethren in Juba. Banding together under the leadership of former Vice President Riek Machar, himself a Nuer, they massacred Dinka civilians and others, plunging the country into a cycle of violence that continues today.
Machar remains at the helm of the IO, but he has been in South Africa since December 2016, after a brief unity government fell apart and he was chased into exile. Meanwhile, mechanized government troops have routed the Nuer rebel units in the northeast, where most of the fighting occurred from 2013 to 2016. As a result, the war has shifted south to the region that snakes along the porous borders with Uganda and the Democratic Republic of the Congo, making Equatorian troops a dominant group within the IO. Victor Moses is one of those troops. Born in Kajo Keji in the 1960s, he joined the SPLA in 1987, back when it was a rebel group fighting the Arab-dominated government of then-united Sudan. That war ended in 2005, setting the stage for South Sudan's independence in 2011. Peace was good, he said, but the abuses by Kiir's government and his allies in the army became too great. So this year, he deserted his post in Juba, came home to Kajo Keji, and went back to war. "If the government reforms, then well and good. If it doesn't reform, then the government will reform through fire," he said.
The first night I stayed with them, the rebels camped in a cluster of primary school buildings that once accommodated some 400 students. In one classroom, guns and combat boots lined the wall beneath a blackboard that still listed instructions for some long-canceled social studies paper. The next day, during the visit to Loopo, I saw a ransacked classroom with the same instructions on the blackboard, suggesting that people fled simultaneously across the county. It was not a slow exodus but an immediate, sudden emptying. "It's really painful," said Scopas Peter, a local chief who stayed well behind the front lines. "If there is no education, that means you have lost the future of this place."
In the mornings, the rebels brushed their teeth, drank tea, and gave each other haircuts. Younger soldiers played with a pet monkey that had the honorary rank of lance corporal. When they patrolled in their pickups, piled in the back with weapons bristling, the rebels sang and teased. Near a displacement camp in the west of the county, where the few remaining civilians have taken refuge, the men whistled as they passed a group of young women walking toward the Ugandan border. The women giggled and waved back. "Beyoncé," one rebel whispered as the women disappeared out of sight, provoking much laughter from his colleagues. Another soldier, a tall ethnic Mundari with a pointed goatee, shook his head, declaring that he didn't want a South Sudanese wife. "My first wife is Arab. The next one must be Australian or American," he said. "It is important to mix."
Besides Mundaris, Lokujo's troops count ethnic Kuku, Kakwa, Bari, and a handful of Nuer soldiers who shifted south to fight in Equatoria. With the allegiance of fighters from around the country, such diversity should be the IO's chief strength as they fight the Dinka-dominated government. But Machar has been unable to manage the mix. Non-Nuer soldiers have defected from Machar to join other rebel leaders not affiliated with the IO, accusing him of favoring his Nuer tribespeople. In late July, west of Kajo Keji, fighting broke out between Nuer and Equatorian rebels within the IO after one of Machar's most powerful Equatorian generals defected and joined a rival insurgency. But Lokujo's forces have remained under Machar, launching attacks on government positions even as Equatorian and Nuer rebels battle each other just hours away.
Foot soldiers donned berets, baseball caps, floppy fisher's hats, faux fur bucket hats, and Elmer Fudd hunting caps.
The diversity of the rebels in Kajo Keji mirrored their ragtag appearance. One officer wore a shining green police helmet, another a tiger-striped cowboy hat. Foot soldiers donned berets, baseball caps, floppy fisher's hats, faux fur bucket hats, and Elmer Fudd hunting caps. They wore camouflage army fatigues, blue police uniforms, jeans, T-shirts, windbreakers, and winter jackets. On their feet were rubber rain boots, worn-out sneakers, and flip-flops. Some sported black leather combat boots, shined each morning by a soldier who doubled as Lokujo's personal photographer.
Their armory was just as eclectic. They carried AK-47 and M16 assault rifles, PKM light machine guns, homemade shotguns, and Bulgarian rocket-propelled grenades. One soldier had a battered Czech submachine gun. Another wielded a flare gun built by a company in Florida. A young insurgent, looking barely 18, cradled an ancient-looking grenade with a wooden handle. Another packed a wooden bow with jagged, steel-tipped arrows in a fur-lined quiver. Unlike the government, which has purchased weapons through Uganda, the rebels have no major arms supplier. Nearly all of their kit has been stolen from the government in battle, including Lokujo's pistol, which the general slapped on a plastic table before each meal at the abandoned primary school.
"I took it from an NSS officer I killed," Lokujo said of his side arm, referring to the National Security Service, a government paramilitary force. Sure enough, engraved on the gun's side were the letters NSS, right above a stamp reading, "Made in Israel."
At night, the rebels feasted on boiled pork, taken from abandoned farms. Goats and cows were off limits unless purchased because the rebels considered them the property of the people, but pigs were plentiful and destroyed crops, so local chiefs declared them fair game for the IO. With ample food, the men boasted that conditions were better in the bush than in the government barracks, where soldiers often sit for months without pay. "They tell us that we are thieves," a radio operator nicknamed Lima Tango said of the government forces. "And we tell them we are living better than them."
Lima Tango had been a secondary school student in Uganda but dropped out this year after government soldiers razed his father's fields back home in South Sudan. Without money from the farm, he couldn't afford the school fees, so he joined the IO. Many others in Lokujo's unit were also new to war. There were child soldiers who looked no older than 15 and criminals, too. One man had been locked up in Kajo Keji for having sex with 13-year-old girl but joined the rebels after they broke into the jail and released all the prisoners. There was one woman among the fighters, Jane, who had her own room in the school building. In the mornings, she brewed the tea before picking up her M16.
Samuel Lokujo, who is not related to the commander, was a taxi driver when the war broke out. In December 2015, he was taking passengers to Juba when gunmen ambushed his vehicle. He ran and hid in the forest. When the gunshots stopped, he ventured back to find his passengers, two women and two men, dead with their belongings looted. The men who attacked Lokujo's car wore plain clothes, but he believes they were government troops. So later that night, he waited outside a bar in Kajo Keji where a group of Dinka soldiers were drinking. When one of them stumbled out, he shot him with a bow and arrow, took his AK-47, and fled to the bush to join the IO. He was still carrying the same rifle in April.
"They have been shooting me with this one. Now I have this one," he said, showing off the weapon in the morning sunlight as Jane brewed tea over a nearby campfire. "They are a man. I am also now a man."
The rebels took a mystical view of their fight. The former taxi driver Lokujo wore charms around his neck with bits of supposedly magic tree bark meant to protect him from grenades. The rebels credit forest spirits for a key victory at a place called Jokat, where they blocked the government's advance. According to their legend, a tree fell across the road, trapping an army convoy and allowing them to kill the army soldiers and capture two vehicles and many weapons. After the battle, they claimed, the tree righted itself. They believed history was on their side, too. "Definitely we are going to win," Brig. Gen. Lokujo said, pointing to a mountain that once served as a base for the Anyanya, a southern Sudanese rebel group that fought in the area in the 1960s. "We are following the footsteps of our forefathers."
One person they didn't assign mystical qualities was Machar, who has portrayed himself as the rightful leader of South Sudan according to a Nuer prophecy. Though the rebels in Kajo Keji recognized Machar as their leader, none venerated him personally, and they dismissed the idea that the IO was Machar's personal force. They also scoffed at his sidelining in South Africa. "Even if he is no longer with us, still the war will go ahead," Moses said. "The movement is not belonging to him. The movement is a movement of the people, and people are the ones who fought."
But the people are also the ones bearing the brunt of the war. Dozens of civilians have been killed in Kajo Keji alone, mostly by government forces. Rebels to the east, meanwhile, have repeatedly attacked road convoys, indiscriminately firing on civilians and soldiers alike. It's impossible to say how many IO soldiers have died in Kajo Keji. The officers insisted that they rarely lose men in battle, but they also sought to hide their wounded. In one medical clinic west of Loopo, they told us that a young man with a gunshot wound in his abdomen was a civilian. Later, he was manning a rebel checkpoint.
The only other patient in that clinic was a young boy with malaria with his parents and baby sister. The small family had earlier fled to the forest after government forces burned their village. They stayed for a month in the bush, surviving on wild fruits and leaves, before returning to their village. The clinic's doctor, a former SPLA physician named Mike Abut Ali, said the boy had come for malaria treatment twice that week, but due to a government blockade of aid deliveries to rebel-held areas, he had only enough drugs to administer half doses each time. Ali begged for aid groups to defy the blockade and deliver medicine. "You cannot forget us. We are not animals. We are human beings, like you," he said, cradling a rifle as the small family sat on a stoop nearby. "In the government side, you do assist there, but here you don't assist."
The next day, bumping along the county's orange dirt roads in their pickups, the soldiers sang their favorite war song, vowing to bring "fire" to Kiir, the Mathiang Anyoor, and the Dinka. "Seven years! Six years!" they chanted — a prediction of how long they would fight. "Forget your wife! Forget your child!" At one point, the boisterous rebels drove past the small family we had met at the clinic. The parents, carrying their malaria-stricken son and baby girl, were walking west toward the displacement camps and the Ugandan border. They were one more family leaving South Sudan, a land that is no country for civilians.
 Jason Patinkin is a journalist covering East Africa.