Areruya crowned Africa's best Under-23 cyclist
Richard Bishumba | February 19, 2018 | The New Times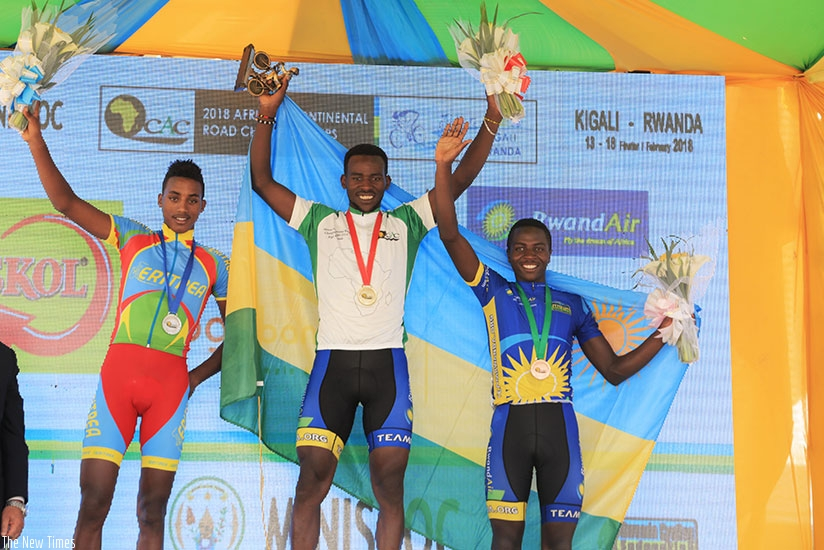 Elite men's road race, top three
1. Amanuel Ghebreigzabhier (Eritrea) 3:56:29
2. Eyob Metkel (Eritrea) 3:58:22
3. Lagab Azzedine (Algeria) 3:58:22
Under-23 category, top three
1. Joseph Areruya (Rwanda) 3:58:35
2. Henock Mulueberhan (Eritrea) 3:58:35
3. Didier Munyaneza (Rwanda) 3:58:39
Final medal table
1. Eritrea – 10 gold, 5 silver, 5 bronze
2. Ethiopia – 3 gold, 7 silver, 3 bronze
3. Rwanda – 3 gold, 4 silver, 3 bronze
4. Burundi – 1 silver
5. Algera – 2 bronze
6. Namibia – 1 bronze
RWANDA's star cyclist Joseph Areruya was crowned Africa's best Under-23 rider at the just concluded 13th African Continental Road Championship in Kigali on Sunday afternoon.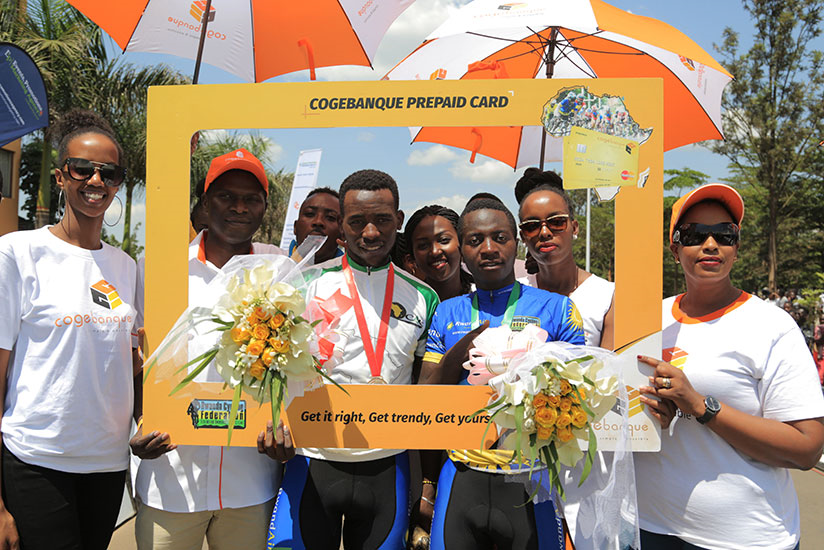 However, the day belonged to Eritrean international and Dimension Data for Qhubeka's UCI World Tour team's Amanuel Ghebreigzabhier who put up a stunning solo performance to win the highly coveted elite men's road race crown.
"I am very excited for this victory, feels very great to win in Kigali. It was a very tough race, but, thanks to my teammates, I had a strong support system backing me up. Congratulations to Areruya for the U23 category victory," Ghebreigzabhier told Times Sport after the historic victory.
The 23-year-old finished in 1 minute and 53 seconds ahead of compatriot Eyob Metkel who finished second. Eyob, the 2016 and 2017 Tour du Rwanda first runner-up, overcame stiff challenge from Algerian Lagab Azzedine in a strong two-man sprint finish.
The new African champion Ghebreigzabhier made a solo escape from the leading peloton in the 10th lap, of 13 laps, and never looked back. He finished the lap with one minute and 3 seconds in a one-man break away before stretching the lead gap to 2 minutes and 40 seconds after the 12th lap.
Africa's top rated Areruya of Rwanda who finished sixth overall, claimed gold in U23 category to make it four medals on his name at the just concluded Africa's biggest cycling event. Another Rwandan youngster, Didier Munyaneza finished third in the U23 category to walk away with a bronze medal.
"The race kept getting tougher with time as our teammates dropped out, which left Eritrea with more riders than Rwanda. Thankfully, we won medals in the U23 category," 19-year-old Munyaneza, who was making his first appearance in African championships, told this paper after the bronze victory.
The 156km race started with a total of 120 riders representing 20 countries but only 30 riders managed to complete the race, which was a total 13 laps around Amahoro stadium – Kimironko – Kibagabaga – Nyarutarama – Gishushu and back to Amahoro stadium. Among those who abandoned the race, were three Rwandans namely; veteran Adrien Niyonkuru, Valens Ndayisenga and Jean Bosco Ndayisenga.
Youngster Henock Mulueberhan, another Eritrean, won silver in the U23 category behind Areruya. Mulueberhan finished in the seventh place overall, 2 minutes and 6 seconds behind champion Ghebreigzabhier who was taking part in African championships for a fifth consecutive time.
African cycling powerhouse Eritrea finished top of the medal table with a total 20 medals; 10 gold, 5 silver and 5 bronze pieces. Ethiopia come second with 13 medals (3 gold, 7 silver and 3 bronze) while the hosts completed top three with 10 medals including 3 gold, 4 silver and 3 bronze medals respectively.
Other countries on the medal winners table are Algeria who won two bronze medals, Burundi that won one silver medal and Namibia that scooped one bronze medal.
Out of six medals that were up for grabs on Sunday, Eritrea claimed three, the hosts Rwanda took two while Algeria clinched one respectively.