Amrita Narlikar | March 5, 2018 | Foreign Affairs
How a Collapse of the WTO Would Hurt the Worst Off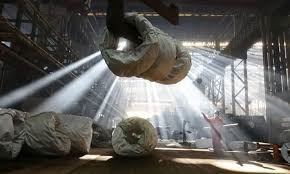 Last week, President Donald Trump's announcement that he would be slapping steep tariffs on imported steel and aluminum set off fears of a global trade war. But in reality, the international trading system has been unraveling for some time. After taking a quick glance at the World Trade Organization today, one might be excused for believing that it is a dead man walking.
Recurrent deadlocks have plagued the Doha negotiations since their launch in 2001, damaging the credibility of the organization that oversees this unfortunate negotiation process. The WTO's Ministerial Conference in Nairobi in 2015, which coincided with the 20th anniversary of the WTO's founding, should have been a moment for celebration. Instead, it turned out to be an embarrassment: for the first time the Ministerial Declaration reflected not consensus but fundamental division over whether even to reaffirm the Doha mandates, which had sought to launch an ambitious round of multilateral trade liberalization with a close eye on development issues. At its Ministerial Conference in Buenos Aires, in 2017, the WTO sank to a new low: this conference was unprecedented in its failure to even produce a Ministerial Declaration. The WTO seems to be whimpering its way to an inglorious end. And if the global trading mechanism does indeed collapse, the consequences will be adverse for all parties, but especially so for the poorest of the world.
PUNISHING DEVELOPING COUNTRIES AND THE POOREST PEOPLE
In 2010, the Millennium Development Goals reached one of its targets, of cutting extreme poverty by half. The most important factor that contributed to this achievement was economic growth in many developing countries, especially China and India. Although such growth was fueled by several factors, one critical driver was international trade. Extensive research shows that the countries and regions that harnessed the opportunities afforded by low tariffs and open markets did particularly well, aided as they were by a reliable system of enforceable trade rules—all negotiated, monitored, and implemented under the auspices of the WTO.
Still, between 600 million and 700 million people currently live under $1.90 per day and are concentrated in middle-income and lower-income developing countries. For instance, 4.5 percent of Brazilians live below the extreme poverty line, six percent do in India, and 34 and 42 percent do in Afghanistan and Nigeria. Much work still has to be done to address the concerns of the poor worldwide, and a minimal step toward this would be to ensure continued market access for developing countries and to maintain the predictability of tariff and non-tariff barriers. If the WTO collapses, rich countries would easily be able to crank up tariffs against poorer countries, while introducing many other protectionist measures to discourage imports. Developing countries, which have experienced growth through exports, and have adapted their production chains to export markets, would be hit hard. A decline in their exports would directly affect their producers and workers in the affected industries, resulting in losses for poor people who can least afford such losses.
The costs, moreover, would go beyond the immediate job losses and price hikes in basic goods. The first fundamental benefit that poor countries derive from the WTO is that they get a relatively level playing field for negotiating with more powerful countries. Outside the WTO, in bilateral and regional settings, it is much easier to coerce countries into accepting harsh terms in a trade deal, such as through stringent environmental and labor standards that they would find virtually impossible to meet. In contrast, the institutional setting of the WTO offers developing countries some indispensable advantages. Formally, all members in the WTO have one vote each (very different from voting procedures at the UN Security Council and the International Monetary Fund). This is a powerful equalization tool, which is rendered all the more potent by the fact that consensus-based decision-making allows even the smallest and weakest player de jure veto power. Informally, having an audience within the institution, and a range of partners to work with, enables poor countries to form coalitions with like-minded states. Some powerful coalitions have emerged over the years, which have allowed poor and middle-income countries to band together (sometimes also with developed countries) to punch considerably above their weight in the Doha negotiations. One example is the G-33. It began as a coalition of 33 developing countries including China, India, Indonesia, Nigeria, Pakistan, and others, but now comprises 47 members and has managed to resist calls for greater market opening for agricultural products in developing economies. The G-20, a coalition led by Brazil, China, and India at the time of its founding, which now includes 23 developing countries, has demanded more ambitious market opening for agricultural products in developed country markets. Without the WTO, developing countries would have neither the institutional rules to protect them nor the support of coalitions to enhance their bargaining power.
The second important benefit that developing countries derive from the WTO is its Dispute Settlement Mechanism (DSM), which allows members to take another member "to court" over violating trade rules. In the event a judgment is made, the WTO can then authorize retaliatory measures against the responding party. Even though there are several deterrents that might make poor countries reluctant to make use of this facility (including the fact that bringing a dispute against a rich country requires extensive technical and legal know-how, and low-income countries sometimes lack the resources and capacity to initiate a case), the figures show considerable learning and growing effectiveness on their part. While the United States and the European Union have been the most avid users of the DSM (they have brought 115 and 97 cases, respectively, since 1995), many large developing countries have also frequently lodged complaints. China, for example, has brought 15 cases; India, 23; and Brazil, 31. Nor should one assume that the DSM has been the stomping ground of only developed countries and rising powers. David has sometimes taken on Goliath. Ecuador, for example, filed a complaint against U.S. action against its shrimp exports in 2005, and won, despite the extreme asymmetry of power.
Allow the WTO to wither away and the world returns to a system of unchecked power politics. The costs, moreover, would not necessarily be limited to the "global South" and its poorest people.
FROM WIN-WIN TO LOSE-LOSE
Even if a WTO collapse would strike the poorest nations the hardest, rich countries will not escape its impact, as the resulting protectionism would greatly hurt poor consumers in developed economies. They would lose access to cheap and competitive imports from developing countries, including essential items such as fruits and vegetables, garments, footwear, and other items on which the average person spends a large proportion of his or her disposable income.
The impact of increased tariffs on employment, however, would be, at best, mixed. Any gains would be restricted to specific sectors. For instance, a tariff increase on steel imports may see job increases in that particular industry—although tariffs would not save the job losses that have occurred due to technological innovation—but many other U.S. industries that rely on steel imports, such as producers of cars or electrical machinery, would see their production costs rise. This, in turn, would negatively affect their domestic and international competitiveness, profit margins, and their ability to hire and pay wages. Further, it is unlikely that other countries will accept such treatment sitting down. Retaliatory action could potentially go considerably beyond the steel and steel-consuming sector. China is the second-largest market for agricultural exports from the United States; if China increased trade barriers against soybeans, coarse grains, meat products, and cotton, it could hurt U.S. jobs across several sectors. Of course, such measures by China would be welfare-reducing for its own consumers too, who benefit from these key and competitive U.S. imports. Almost all parties would thus end up in an entirely unnecessary and sad lose-lose situation. In sum, a trade war would be a lose-lose for all, but particularly the poorest in developed and rising powers.
EXPLAINING THE MESS
There is widespread perception that current U.S. trade policy is the main cause for the mess that has become the WTO, given Trump's anti-free-trade rhetoric, the United States' current backseat role in the WTO negotiations, and its attempt to hobble the organization's DSM by blocking new appointments to its Appellate Body. Unfortunately, the miseries of the WTO run much deeper.
The United States' protectionist leanings predate the election of Trump. The Obama administration, for example, imposed a fivefold increase on steel imports duties from China, dabbled in the rhetoric of protecting U.S. workers, showed great reluctance to make concessions in the Doha negotiations, and precipitated a fundamental turn away from the WTO's multilateralism via its commitment to the mega-regionals of the Trans-Atlantic Trade and Investment Partnership (TTIP) and Trans-Pacific Partnership (TPP).
The institutional processes of the WTO have also failed its members. Decision-making still relies on consensus diplomacy, a great idea in principle, but unwieldy for a 160-member organization with wildly divergent interests and worldviews. The principle of "single undertaking"—nothing is agreed until everything is agreed—has allowed different interests to hold the wide-ranging Doha negotiations to ransom. The organization needs new rules to adapt to the changing balance of power and the changing needs of the time, and it has failed abysmally on this front.
Rising powers, such as China and India, must take some share of the blame for the WTO's failures. Through much of the Doha negotiations, the larger developing countries were quick to demand greater market access in developed countries, but were unwilling to open up their own markets in return. As the BRICs have moved up the development ladder, demands that these developing countries take on more international responsibility have understandably increased. This means showing greater readiness to make reciprocal concessions toward developed countries and among themselves, too. China has been talking the talk on this, but it has yet to open up its own markets. Other middle-income developing countries should also share this responsibility. If they did, at best, this move could bring the United States back to the negotiating table. At the very least, such action would help preserve some essential trade opportunities for the remaining members of the WTO
Both rich and poor members of the WTO would do well to recognize the gains from multilateral trade, but they must also acknowledge and address the domestic costs that international trade generates in specific sectors at home. A failure to do so in the past has contributed significantly to a misguided resentment against the WTO. Correcting this could have a transformative and positive effect on the organization. Even though Trump alone cannot be blamed for the looming collapse of the WTO, the current panic that he has generated over a WTO collapse and impending trade wars might galvanize the organization to set itself on the right course.