Africa's most ambitious joint venture kicks off with $3.4tr trade deal
 BERNA NAMATA | Saturday March 24 2018 | The East African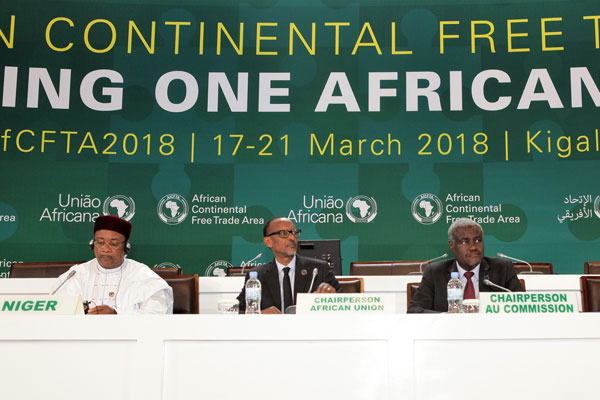 The failure by Africa's largest economies, Nigeria and South Africa, to sign the $3.4 trillion free-trade zone agreements in Kigali on Wednesday has cast a cloud over the integration given the strategic role the two countries play in continental trade.
More than 40 countries signed the protocol to the treaty establishing the African Continental Free Trade Area (AfCFTA) in Kigali with AU chairman, Rwanda President Paul Kagame saying trade and free movement heralded prosperity.
But Africa's economic giants, backed by Southern African Development community (SADC) member states, including Tanzania, Botswana, Namibia, Lesotho and Zambia, failed to ink the deal. Others were Burundi, Benin, Sierra Leone, Eritrea and Guinea Bissau.
"It would have been great if the two biggest economies on the continent had signed, but the most important is that the rest of the continent is sending a right message to these two biggest economies that we are moving ahead without you," Michael Kottoh, an analyst at Confidential Strategies in Ghana, told Reuters.
The project needed at least 22 countries to sign up to get off the ground.
"At stake is the dignity and well-being of Africa's farmers, workers and entrepreneurs," President Kagame said.
National issues
Economists cite the low level of intra-regional trade as one of the reasons for the continent's enduring poverty and lack of a strong manufacturing base.
It is blamed on a host of factors, from colonialism, to high internal tariffs to poor road and rail links to excessive border bureaucracy and petty corruption at frontier checkpoints.
The relatively small size of many African markets — only Nigeria and Ethiopia have populations estimated at 100 million people or more — also inhibit private sector investment.
Africa already has an alphabet soup of competing and overlapping trade zones — Ecowas in the west, the EAC in the east, SADC in the south and the Common Market for Eastern and Southern Africa — although only the EAC, driven mainly by Kenya, has made significant progress towards a common market in goods and services.
Analysts said governments needed to do more to ensure goods and people flowed freely across borders.
"If they just sign the agreement without throwing open the borders, without getting rid of non-tariff barriers and if they do not work on free movement of people, it is not going to work," Mr Kottoh said.
Even the six-nation EAC has its sticking points: Tanzania has been known to kick out Kenyan executives and impound Kenyan goods at the border in violation of EAC rules.
Businessmen said the current setup forced them to look outside the continent, particularly Asia for manufactured goods.
"It is easier and cheaper to buy from Asia than from the sub-region because of less flexible rules of origin and unclear non-tariff barriers," said Meriem Bensalah-Chaqroun, head of the Moroccan Confederation of Businesses.
Sudden changes in rules and impromptu checks on goods also held up supply chains.
"Some countries suddenly decide they are going to do a quality check on goods but don't really know what they want to check. That slows the trade," said Thomas Schafer, CEO of Volkswagen Africa. "For instance, we are not able to bring a vehicle from South Africa into Zimbabwe in a cost-efficient and fast way and that needs to change."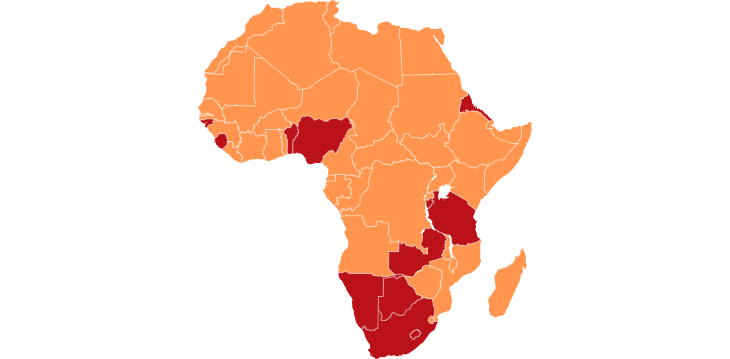 The African Union started talks in Ghana in 2010 to establish a 55-nation bloc that would be the biggest across the world in a bid to increase intra-regional trade, which currently stands at a paltry 15 per cent of the continent's total commerce.
The EastAfrican has learnt that Nigeria, which chaired one of the technical working groups, pulled a surprise and quietly left Kigali on Sunday, as it emerged that President Buhari would skip the event, bowing to pressure from his country's private sector which has concerns over the deal's impact on the Nigerian economy.
"They have been very supportive of the meeting and have been with us in Kigali since February 22 at the working group meetings that built up to the summit. So we were taken aback when they quietly left the country at the weekend," said one insider.
Some of the countries that did not sign the deal cited political decisions while others said certain national issues had to be addressed first. Tanzania, for instance, said that it would first have to seek approval from its parliament and the wider population.
The EastAfrican understands that South Africa asked the Summit to allow it to submit the document to its national assembly for scrutiny before signing it. President, Cyril Ramaphosa said they would sign it once domestic legal requirements were met and approved.
"South Africa has to go through its national assembly first and get its backing before signature," Prudence Sebahizi, chief technical advisor and head of the AfCFTA unit at the AU Commissions' Department of Trade told The EastAfrican.
"That is what its Constitution requires, so there is nothing sinister. We expect that before the next summit, they shall have finished this process and signed it awaiting ratification."
The next summit is slated for July in Mauritania.
Stephen Karingi, director for capacity development division at the UN's Economic Commission for Africa, that is one of the members of the AfCFTA technical committee, said that Pretoria's hesitance was expected, but that Nigeria's came as a surprise.
"For countries like South Africa, national processes didn't allow them to sign, but we are happy that they endorsed this process by signing the Kigali Declaration, which demonstrated the political commitment. Nigeria's was a surprise, but I doubt we would have reached where we have without their support, especially given that they chaired very crucial committees," Mr Karingi said.
AU trade commissioner Albert Muchanga is confident that the two nations will be on the same page with the rest of the continent before the next summit.
"We understand that they need national consultations and once they finish they will come on board," Mr Muchanga said.
The AfCFTA hopes to create the world's largest single market of 1.2 billion people and a GDP of $3.4 trillion. For businesses, it commits governments to removing tariffs on 90 per cent of goods produced within the continent and phase out the rest over time.
Countries now have to ratify the agreement at national level within six months, that is, by September this year. That includes those that did not sign.
Annexed protocols
The technical experts will be looking to the next working group meetings between April 30 to May 10 in Addis Ababa to start the second phase of the process.
In this meeting, it is expected that the technical committee will start scrapping some annexes in the signed document.
The document signed by the heads of state has nine annexes, eight of them touching on trade. They include rules of origin, trade facilitation, non-tariff barriers, sanitary measures, trade remedies, transit and barriers to trade. These annexes are crucial because, without them, the agreement wouldn't stand.
"Negotiations on these annexes have been concluded, but due to time limitations, we couldn't start the legal scrapping. We will therefore strive to achieve this before the next Heads of State summit slated for July in Mauritania," Mr Sebahizi said.
The signed agreement also encompasses three protocols supported by these annexes: Trade in goods, trade in services and disputes and procedures. The priority areas for the committee as it enters the second phase is to complete the outstanding issues from phase one before the July summit.
The committee will also engage the various stakeholders and states that have signed so as to ratify the agreements, within 18 months. Phase two of the negotiations will focus on the three protocols that touch on investments, intellectual property rights and competition agencies.
Some 17 countries have said they will ratify the AfCFTA, partially allowing for free trade but not movement and residency of people from other countries.
Related Content: KARERUKA: African citizens to gain the most from trade deal