Ethiopia prime minister calls for multiparty democracy: chief of staff
Reuters Staff | July 22, 2018 | Reuters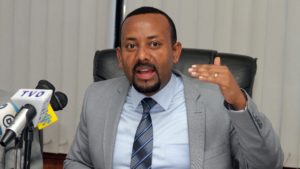 ADDIS ABABA (Reuters) – Ethiopia's Prime minister Abiy Ahmed says the Horn of Africa nation must adopt multiparty democracy supported by strong institutions that respect human rights and rule of law, his chief of staff said on Sunday.
"Given our current politics, there is no option except pursuing a multiparty democracy," Fitsum wrote on Twitter. "This will allow us to mediate our differences peacefully and to ensure lasting progress."
The ruling Ethiopian People's Revolutionary Democratic Front (EPRDF) coalition has been in power since 1991 and holds all of the seats in parliament.