Bobi Wine, Uganda's 'ghetto president', upstages the real head of state
Simon Allison | 22 Aug 2018 | Mail & Guardian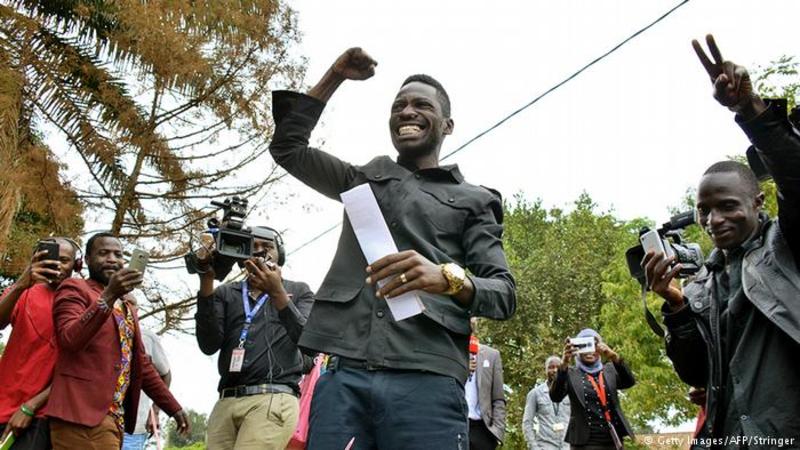 Robert Kyagulanyi cannot remember the day that Yoweri Museveni was first inaugurated as president of Uganda. It was 33 years ago, and he was just three.
Since then, Museveni has been inaugurated a further four times, most recently in 2016. Meanwhile Kyagulani, better known by his stage name Bobi Wine, has grown up to become perhaps the most serious threat to the president's efforts to further extend his residence in State House.
Even two years ago, this would have been impossible to predict. Sure, Wine had forged a spectacularly successful career as a reggae musician and entertainer, and crowned himself 'the Ghetto President' — a reference to his childhood in one of Kampala's poorest slums. But he was more famous for his slick lyrics and his high-profile 'beefs' with rival musicians than for his politics.
Look a little closer at those lyrics, however, and the signs of the political whirlwind he was about to unleash were there. In 2016, when most of his peers had been co-opted into singing a campaign song in support of Museveni, Wine released a track called 'Dembe' that took aim directly at the president.
Lwaki temulabira ku Mandela (Why don't you borrow a leaf from Mandela)
Yafuga kimu n'ata bendera (He ruled a short period and surrendered power)
Abakulembeze okulwa mu ntebe (Leaders who overstay in power)
Ky'ekireetera Uganda okufuuka eddebe (Is the reason why Uganda is rumbling)
In April that year, Wine entered politics in earnest. He chopped off his dreads, bought himself a few well-fitting suits, and contested the vacant parliamentary seat in Kyaddondo East, a Kampala constituency. Running as an independent, he won convincingly, seeing off candidates from both the ruling National Resistance Movement (NRM) and the main opposition, the Forum for Democratic Change.
"Unlike his colleagues that sing about women, he was doing that kind of music with political messages. So when he got his message out of the music and into the political rallies, we started seeing a new politician coming onto the scene," said Sadab Kitatta, a journalist at the Uganda Observer, who has charted Wine's rise to prominence.
A serious force
Wine's victory came as a shock to Uganda's political establishment, but initially just an isolated one. Kampala has long been an opposition stronghold, after all, and his popularity was thought to be confined to the country's Luganda-speaking regions, which would limit his national appeal.
They thought wrong. Since his own election, candidates supported by Bobi Wine — all of them relative outsiders — have gone on to win three parliamentary seats: in Jinji, Bugiri and most recently Arua. "He has been to these by-elections taking a lead role and on the way launching his People Power movement. We see the People Power movement is proving to be a serious force. It now appears that the young generation, which is where his big appeal is, they are picking up his messages so fast," said Kitatta.
If Bobi Wine really has captured the imagination of Uganda's youth, then he has demographics on his side: more than 75% of the population is under the age of 30. They too cannot remember Museveni's first inauguration, or the violent civil war which preceded it — the Bush War which dethroned Milton Obote, and remains the cornerstone of Museveni and the NRM's legitimacy.
"For quite some time Mr Museveni has used the past as justification for his long stay in power, he has been intimidating Ugandans that the moment you get him out of power they will revert back to those turbulent days," said Erias Lukwago, the mayor of Kampala and another fierce critic of the government. "Many Ugandans bought into that rhetoric, but the situation seems to be changing with the new demographics. Many young Ugandans don't remember the wars and the chaos, all they are looking for is for change."
Museveni, however, is not especially interested in change. In January, he signed a law which scrapped the presidential age limit of 75, allowing the the 73-year-old to run for a sixth term in office in 2021.
"The recent amendment of the constitution has really made it worse. There is no hope that this man will leave. Before people said, just wait, when he is 75 he will go…The question we have as people is what is likely to happen now?" said Patrick Wakida, the head of Research World International, a research agency.
Mood change
On August 13 in Arua, a northern town not far from the border with the Democratic Republic of Congo, stones were thrown at the president's motorcade as it passed by an angry crowd. The incident has thrown Ugandan politics into turmoil — thrust Bobi Wine even further into the national spotlight.
The crowd had gathered in support of Kassiano Wadri, who was contesting a parliamentary by-election two days later — a by-election he would go on to win. Museveni was in town to campaign on behalf of the ruling party candidate.
Physically, the president was untouched, and there was no damage to his vehicle. Symbolically, however, this was an unprecedented assault on his authority, and a stunning illustration that he is no longer in total control.
Once the presidential security team had whisked their principal to the safety of a waiting helicopter, they returned to deal with the crowd. When the dust had settled, at least 36 people had been assaulted and/or arrested, including six members of parliament and two journalists. Yasiin Kawuma, Wine's driver, was shot and killed while in his vehicle.
Bobi Wine, whose strong endorsement was the major factor in Wadri's victory, was among the MPs arrested, but he was not transferred to a police station. Instead, he is being detained at the Makindye military barracks in Kampala. He was initially charged with treason, although this has now been reduced to illegal possession of arms. His family claim he has been severely beaten and tortured.
"He is still being denied access to his doctor…I have not seen him but the wife was there, I have spoken to her. She says he is still in pain, he cannot move on his own. The face is shaping up, it was in bad shape, I think the regime is trying to work on his face to address the swellings," said Asuman Basalirwa, Wine's lawyer.
"The charges brought by state are ridiculous and laughable. They cannot be sustained…the evidence is being fabricated as we speak," he told the Mail & Guardian.
Wine's detention, and the events surrounding it, have prompted a groundswell of protest against the government. On social media, #FreeBobiWine is trending worldwide; in the real world, large demonstrations in Kampala were broken up by police with live ammunition, tear gas and another wave of arrests.
"There is a point of no return, that we have been building up to. Now you have many people who were sympathisers with the state now realising…that this lawlessness is completely insane," said Patricia Twasiima Bigirwa, a lawyer with Chapter Four Uganda, a human rights advocacy group. "It's not about Bobi Wine per se, it's that Ugandans are all afraid."
All-action president
Museveni puts forward a different version of events. He is very active on social media — usually offering practical advice on crop selection and planting techniques — and he used his personal blog to set the record straight. In three seperate posts, he blamed Bobi Wine for inciting the crowd, and praised the security forces for their response. "If the Army had not intervened in Arua, a lot of people would have been killed by this Bobi Wine group," he said.
Not that he was at all worried for his personal safety. "[The] President has the capacity, either alone or in company with his personal security, to defend himself, not only against stone throwers but against any attacker," he said, his fighting spirit apparently undimmed by decades of sedentary statesmanship.
And it's true that, politically at least, Museveni has defended himself against all comers. He has fought off factions within the ruling party, and he has fought off several different generations of opposition leader. Does Bobi Wine really pose a different, unique threat?
"Bobi Wine offers the potential for the opposition to galvanise young people, in a language that they understand, and to push them to make demands on a state that is unused to being accountable. [Veteran opposition leader] Kizza Besigye and Museveni were together during the Luweero Bush War, and Besigye is thus a 'known entity' who doesn't threaten the continued role of military men in politics. But Bobi Wine represents a new kind of civilian politics and his popular image, catchy music and youth following are threatening to the status quo," said Nicole Beardsworth, a political analyst at the Interdisciplinary Global Development Centre.
Lukwago, the mayor of Kampala, said that the forces that Bobi Wine has unleashed could do more than threaten the status quo — they could overturn it entirely. "The signs are ominous…It can only get worse. The country may go up in flames. You know the chequered history of this country, we have witnessed enough bloodshed. We have never had an orderly succession to power."